Day three of the Highway 101 Oregon / Washington coast road trip will take you across the Washington border and up into Olympic National Park. The drive is not along the coast for very long though so I spent half of the day in and around Astoria exploring lots of the fun spots in the town before heading out. I would recommend you do the same as there are not as many stops today as there were the last two days.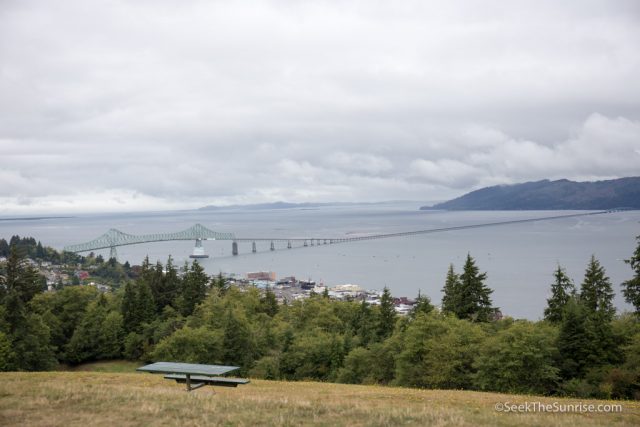 Details
Length: 200 miles
Approximately 4 hours of driving time
Blue Scorcher Bakery Cafe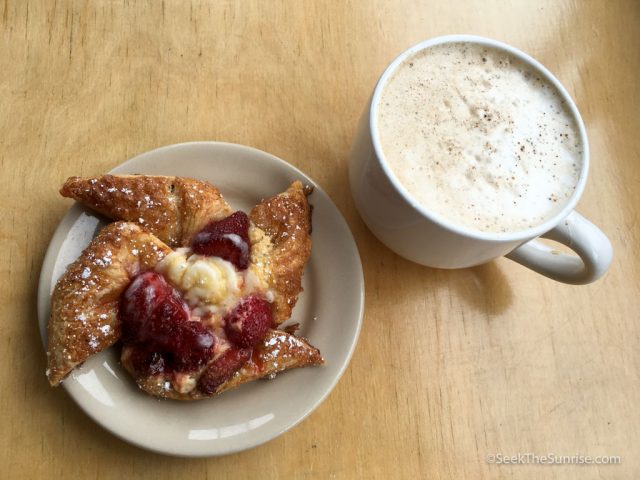 Located in the same building as Fort George Brewery, where we had dinner last night, the Blue Scorcher Bakery Cafe is a large open restaurant with lots of fun breakfast pastries and even an area in the back for children to play. It was a great way to start the day with a relaxed meal.
Fort Clatsop National Park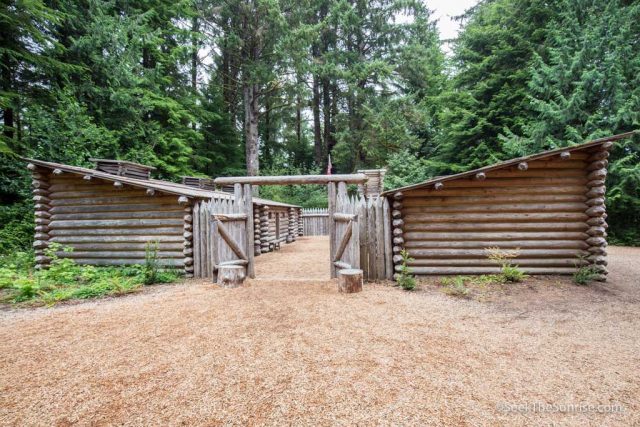 Since we got into Astoria relatively late, we backtracked a little to Fort Clatsop National Park which is a replica of the Lewis and Clark shelter they built when they reached the end of their journey. It was a fun spot to see and while there is not a lot to do there it is a unique part of history and is worth the stop.
Peter Iredale Shipwreck in Fort Stevens State Park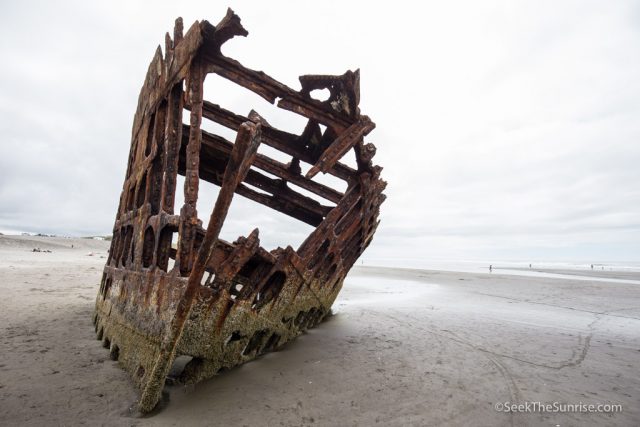 After leaving Fort Clatsop be sure to head over to the wreck of the Peter Iredale which is out on a beach in Fort Stevens State Park. While there is not a lot left to see it still has a big piece of the front of the ship in the sand. It is very popular, so there will be a lot of other people there but it is unique to see a shipwreck like this.
Astoria Tower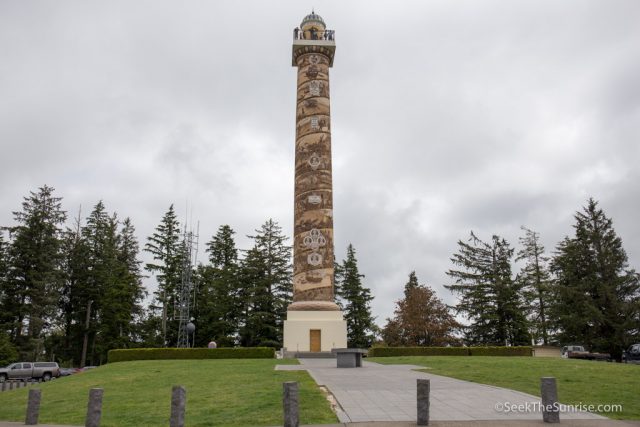 On the way back through Astoria, head to the top of the hill to the Astoria Tower. This pillar overlooks the city below and provides an excellent 360-degree view of the surrounding landscape. You can even climb all the way to the top if you feel so inclined.
Maritime Museum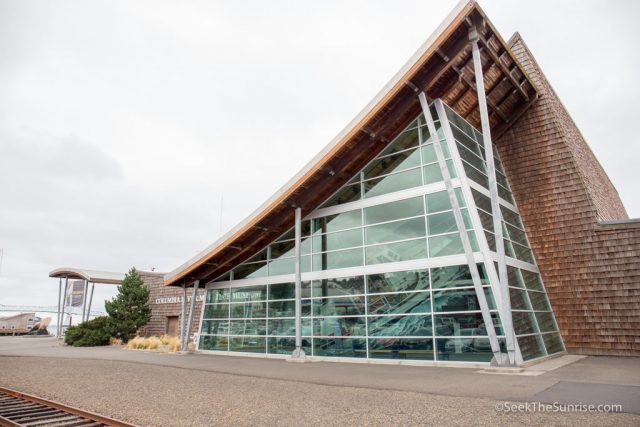 The Maritime Museum in Astoria is one of the cities most popular attractions. It has a full boat inside and a lot of fun exhibits if you're into history. It is also right across from Bowpicker which is the most popular spot for fish and chips along the Oregon Coast.
Bowpicker Fish and Chips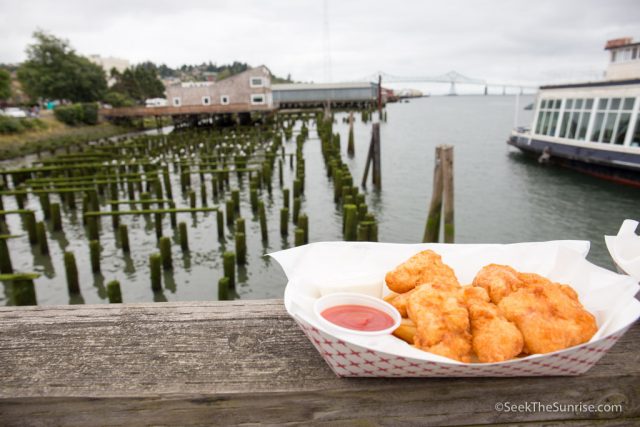 This small boat in the middle of a parking lot is one of the highest-rated fish and chips spots in all of Oregon. It opens most days at 11 AM, and there is usually at least 15 people in line 20 minutes before they open. Expect to wait for at least 45 minutes, but it is a great restaurant with a unique batter that is unlike any other fish and chips I have had.
Astoria Film Museum and Goonies House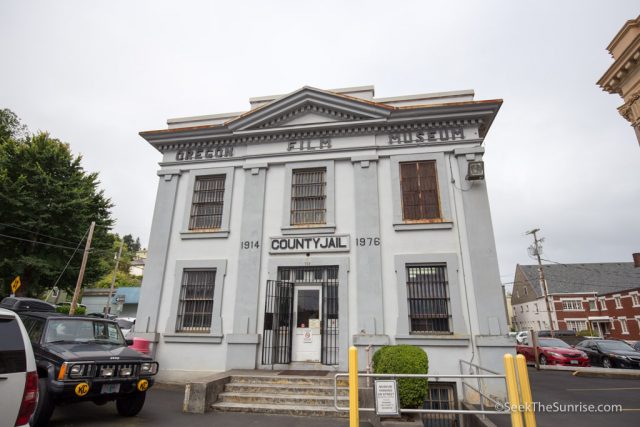 If you are a fan of the Goonies, then you need to head over to the Astoria Film Museum which is pretty much entirely dedicated to the famous movie. The museum is in the old Astoria Jail, and it is a lot of fun, even though it is small.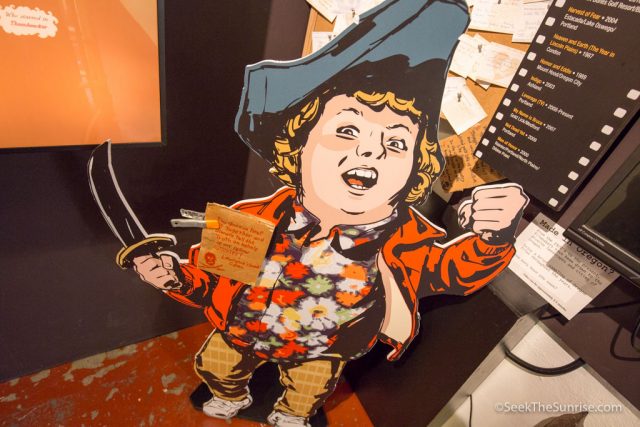 Be sure to ask where the Goonies house is, and even though you can go up to it, they will tell you how to see it from afar.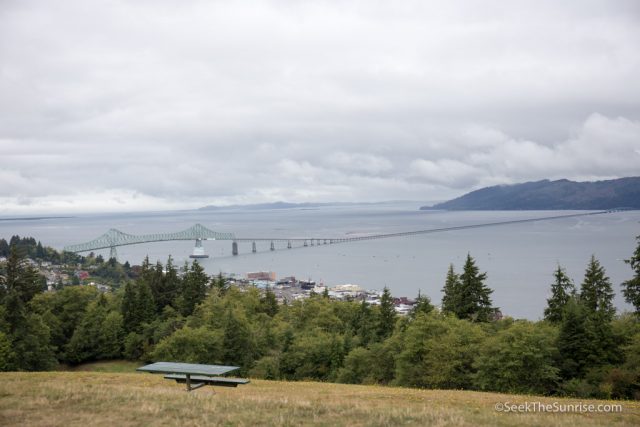 After leaving Astoria, there is not much to do on this next stretch, but the views are beautiful and different with lakes, bays, and fields of grass.
Goose Island Oysters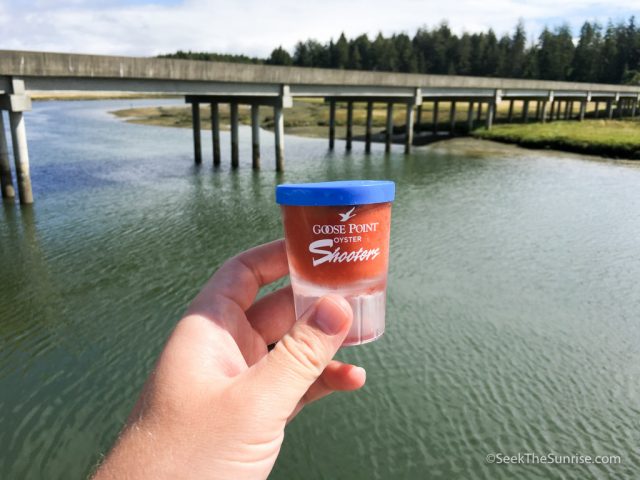 If you are into oysters, then stop here and grab some to take with you. They take them right out of the water and they are super fresh. You can also get oyster shooters with cocktail sauce here if you want to eat them before you leave, but you can't get any on the half shell.
Carriage Museum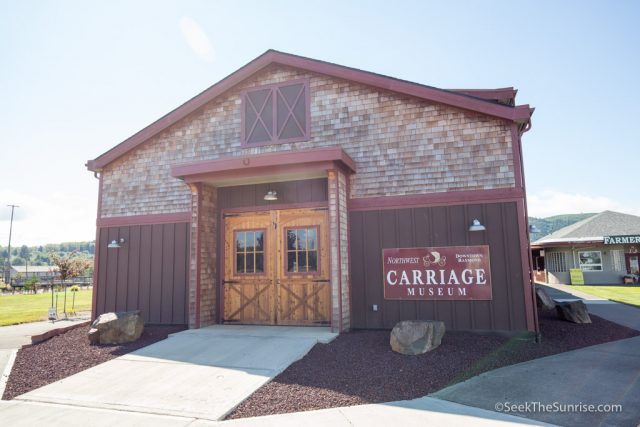 In Raymond, WA sits the Carriage Museum which is actually a lot more awesome then you would anticipate. They have dozens of carriages all around the museum and they are all meticulously restored. It is a quick stop, but it is worth going to.
Kurt Cobain Park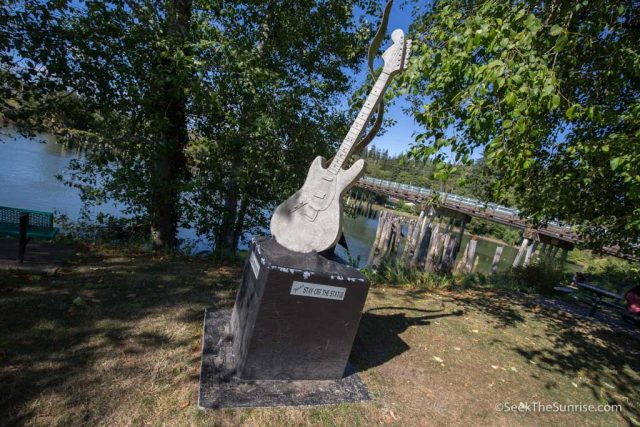 Aberdeen is the home of one of rocks most famous personalities, Kurt Cobain. While there is not much in the city to do in relation to him, there is a small park in the outskirts of town that was named in his honor.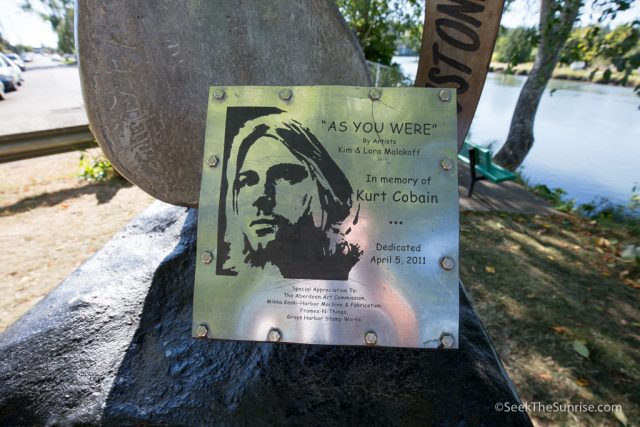 The park is really small and can be a place for some unique people but there is a large guitar dedicated to him that you can see.
Lake Quinault Lodge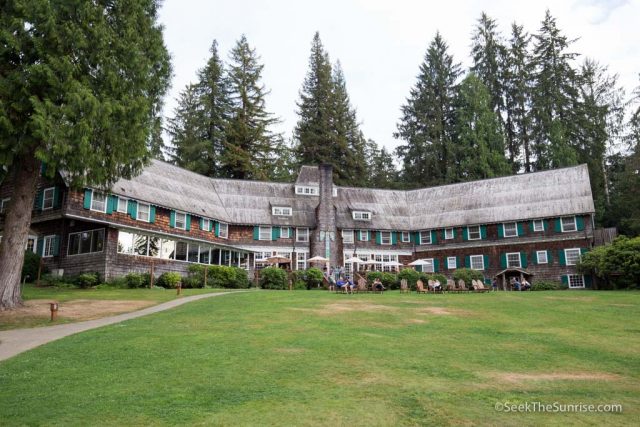 Leaving the city you will soon be in Olympic National Park which is a place you need weeks to fully see. One of the best early stops though is Lake Quinault which has lots of hiking trails and a beautiful old historic lodge you can stay at. Right past the lodge there is a hiking trail for the Oldest spruce tree? as well.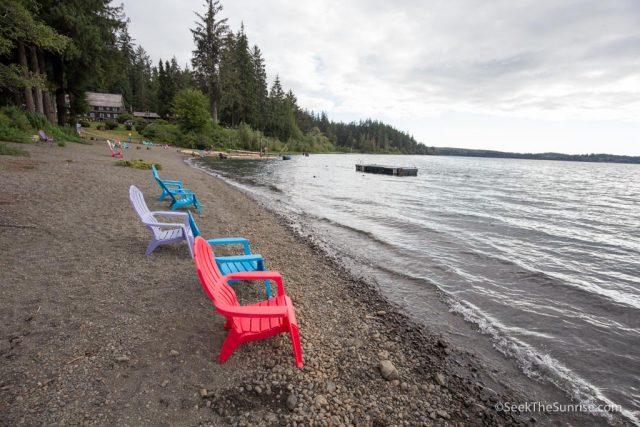 Ruby Beach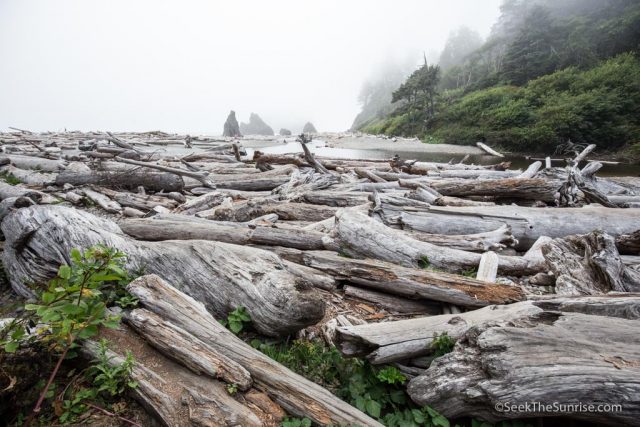 Before reaching the town of Forks there is a series of beaches named Beach 1, 2, etc. The last of these beaches is Ruby Beach though and it is where you need to stop. Walking down to the beach and seeing it is one of those moments you will not forget. The beach is strewn with driftwood and it is stunning in a foggy, gray and somber way. You are going to want to spend some time down here exploring so plan accordingly.
Puffin 101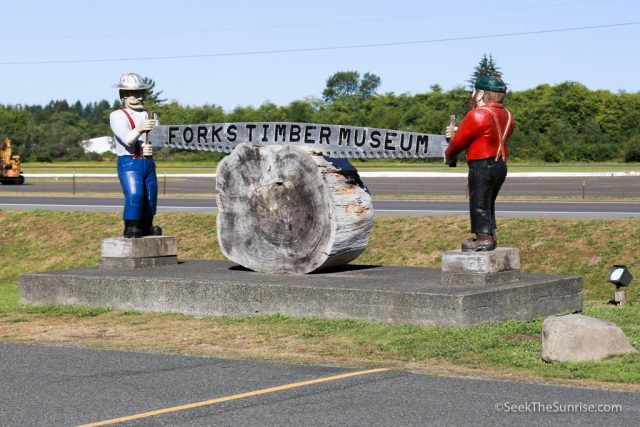 After reaching the town of Forks, I recommend having dinner at Puffin 101, the best-reviewed spot in the town. I had the fish tacos and I was impressed with the taste for how far out of the way Forks is. They also have hundreds of pennies making up the top the tables, so it is a fun place for a meal.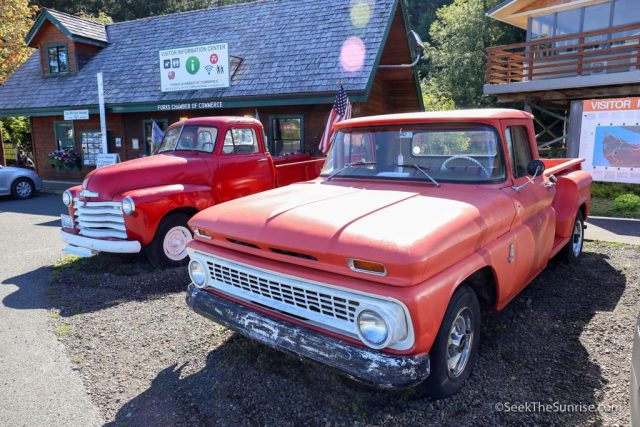 Grab a room in Forks as I have a lot of recommendations for what to do in the city in the next day's post and watch out for all the Twilight vampires.