The second day on the Oregon Coast starts much like the previous (read about that here) with a lot of stops at both the beginning and the end and lots of driving in the middle. This day is full of incredible natural beauty though, and it includes a stop at Tillamook Cheese for lunch which is hard to beat. Follow along with the below information.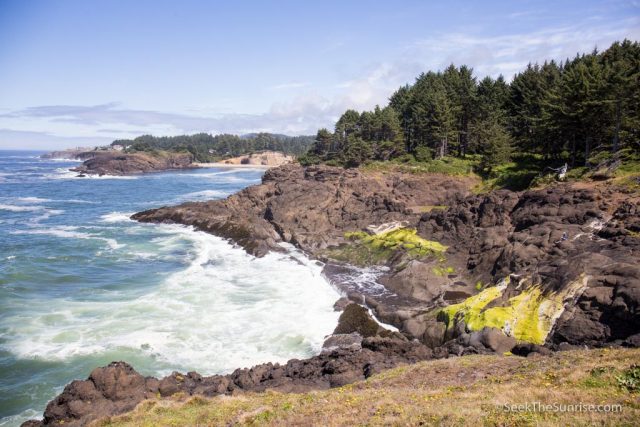 Details
Length: 135 miles
Approx 3.5 hours of drive time
The Coffee House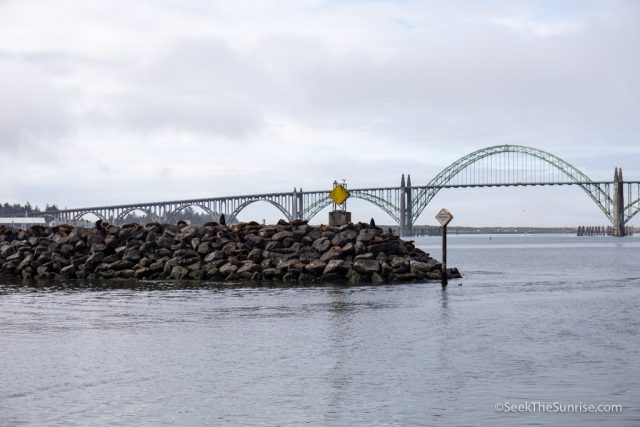 For breakfast in Newport, I would recommend the Coffee House. It is right on the harbor, and when you park, you will be greeted by the smell of fish and a plethora of seals. It is a fun spot, and the food is great. I recommend the hash, especially the veggie one if you are a vegetarian.
Across the street, you will get an excellent viewpoint of both the seals and the bridge in Newport so be sure to check that out before you head out.
Yaquina Lighthouse and Cobble Beach for Tide Pools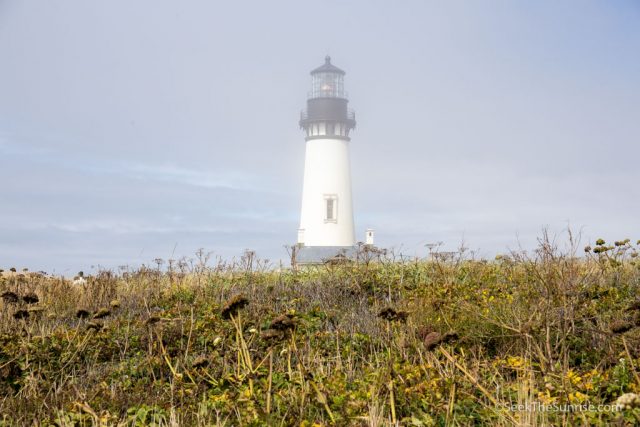 After leaving Newport, head to Yaquina Lighthouse and the state park that it is surrounded by. This park is stunningly beautiful and one of the best you will see along the coast of Oregon. The main places to see are the lighthouse itself and Cobble Beach below it.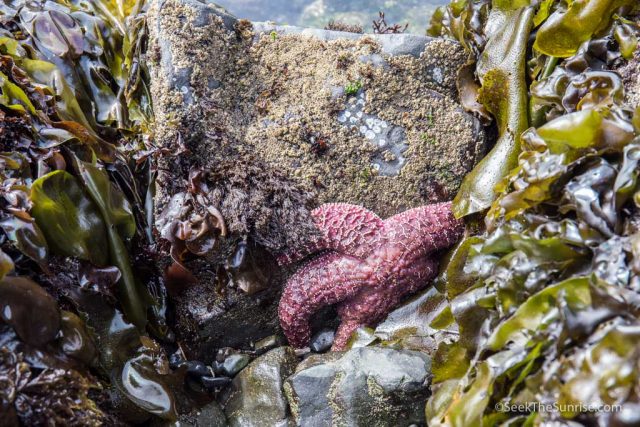 Cobble Beach is a great spot for tide pools, and it is just below the lighthouse so you can get some cool photos of it from below as well.
Devils Punchbowl State Park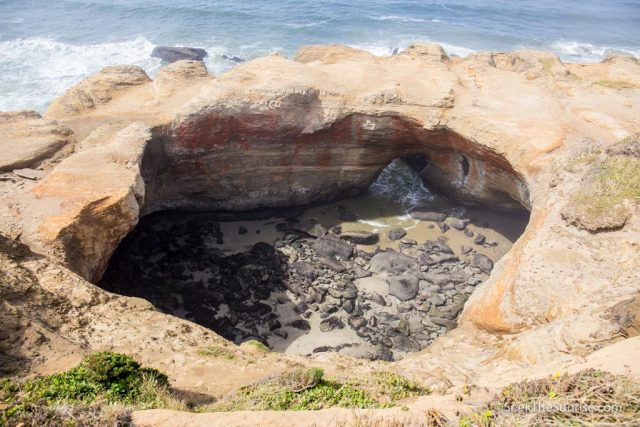 About 10 minutes north of Yaquina, Devils Punchbowl is a viewpoint that looks down on a massive sea cave. You can just spend 10 minutes looking down at it, or you can add another 45 minutes and walk down into the cave itself.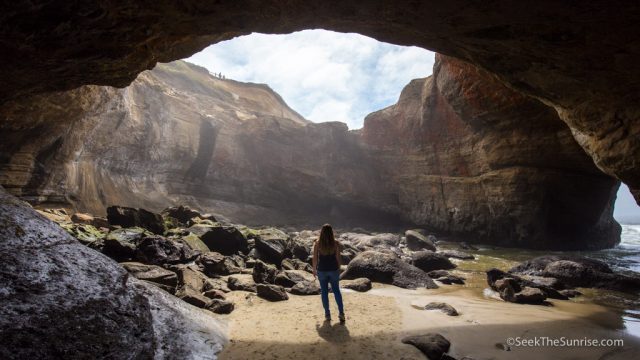 If you want to walk down to the cave check out this post, if not then just take some photos and move on.
Rocky Creek State Scenic Viewpoint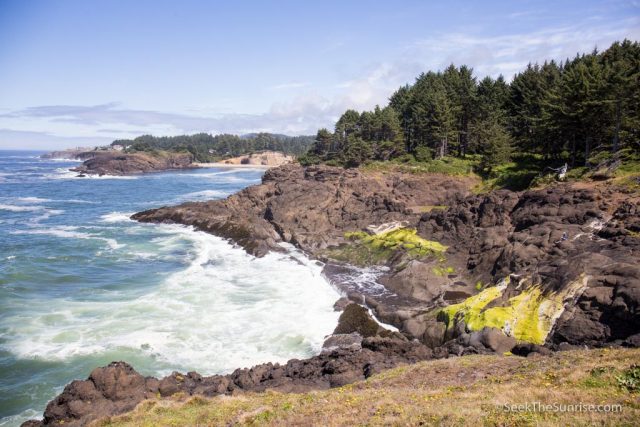 Another quick stop and take photos spot, Rocky Creek is a quick viewpoint off Highway 101, but the views are fantastic. The area looks over a whale refuge, so depending on the season you may even see a whale there. The other direction looks over the Oregon coast and a collection of what appears to be volcanic rock.
Depoe Bay – World's Smallest Harbor and Carmel Corn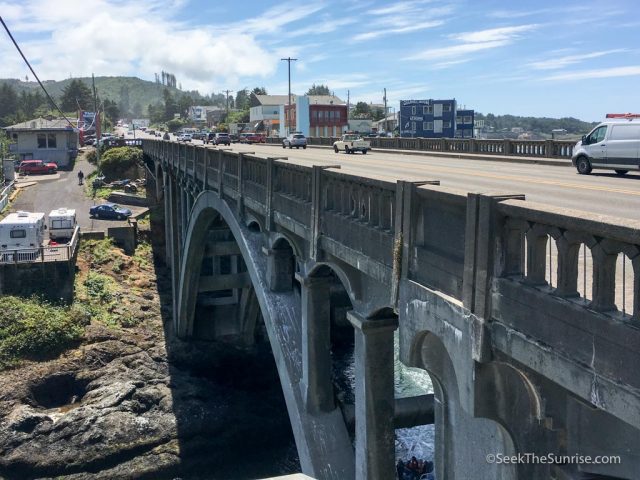 If you are getting hungry and need a quick snack, stop in the town of Depoe Bay which has a cute downtown and which is the smallest harbor in the world.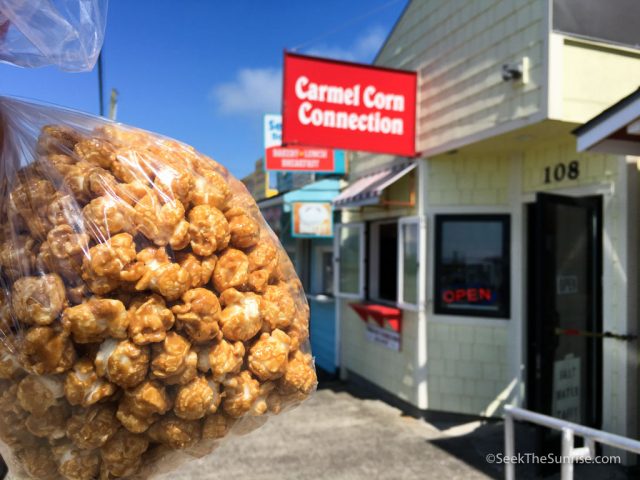 There is a caramel corn shack there that has been making caramel corn for over 70 years; it is warm when you get it and fantastic road trip food.
Tillamook Cheese Factory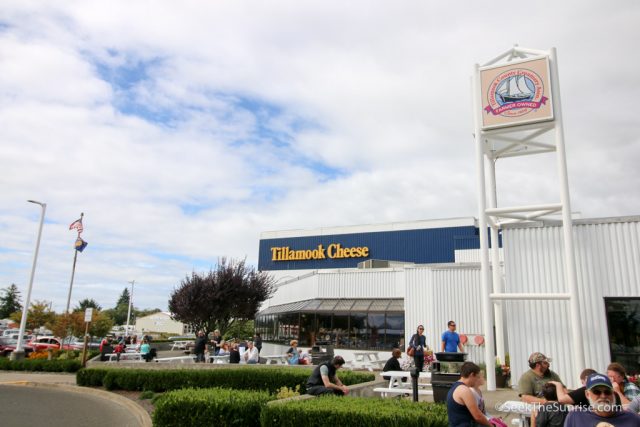 The next hour or so you can choose to stop in some of the small towns or just continue to Tillamook Cheese Factory. I decided just to drive there since it was mostly inland from here and there wasn't a lot of places I wanted to stop at.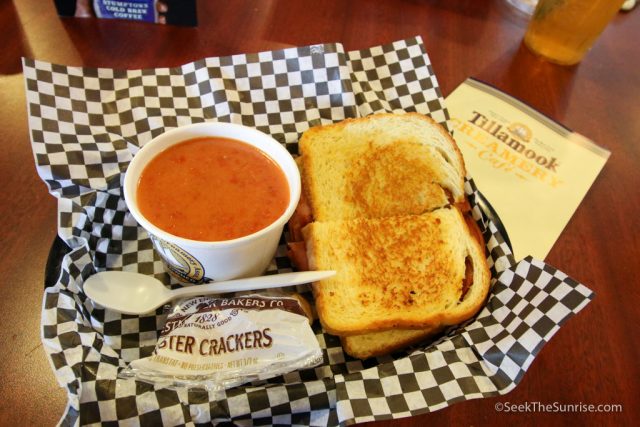 The cheese factory is great though with a cafe for lunch, tons of cheese samples and ice cream. You can take a self-guided tour of the facility itself and watch them make cheese from above while you are there too.
Twin Rocks State Park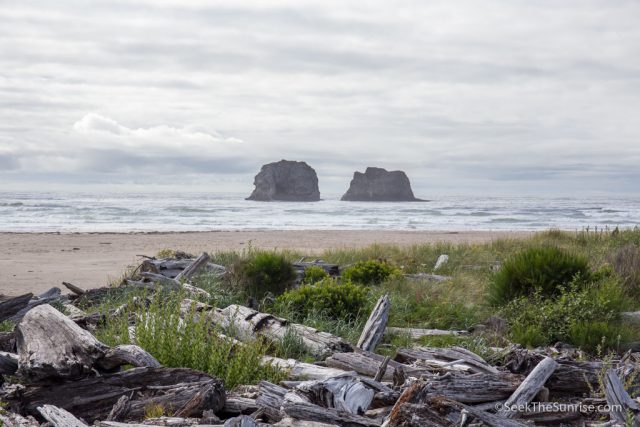 This is another quick stop in the town of Rockaway Beach? They have two famous rocks out in the water called twin rocks. The state-owned area you can see them from is not very large so you can just grab a photo or head down to the beach to walk around if you can get parking.
Hug Point State Park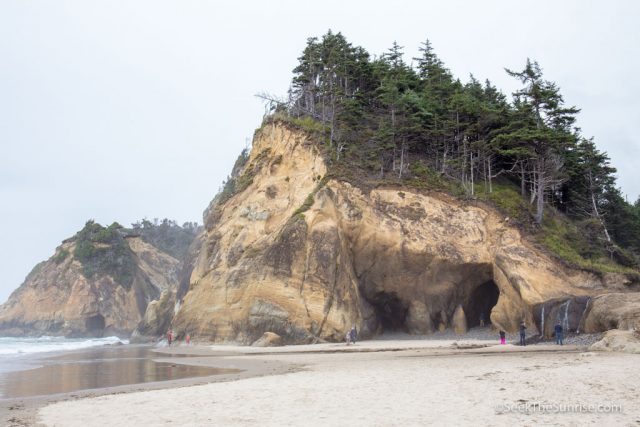 South of Cannon Beach, I recommend you stop at Hug Point State Park as it is much less busy but beautiful in its own right. When you get to the beach, if the tide is low enough, head right and around the rock outcropping, and you will see an amazing set of caves and a waterfall to go with it. I like this place, and even though it is usually busy, it is a great place to see with your own eyes.
Cannon Beach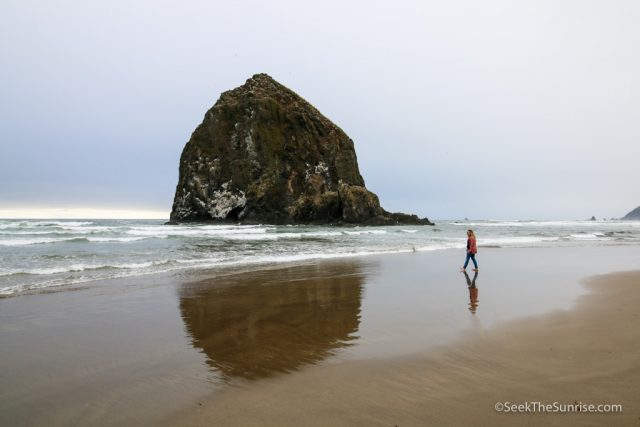 Probably the most well-known place along the Oregon Coast, Cannon Beach is somewhere I am sure you will want to stop. Of course, you should do that as it is cool to see, but after driving the entire Oregon Coast, I would say it wasn't even in my top three beaches. The town around it has a lot of fun hotels and food though so it is a great spot to spend a few nights.
Ecola State Park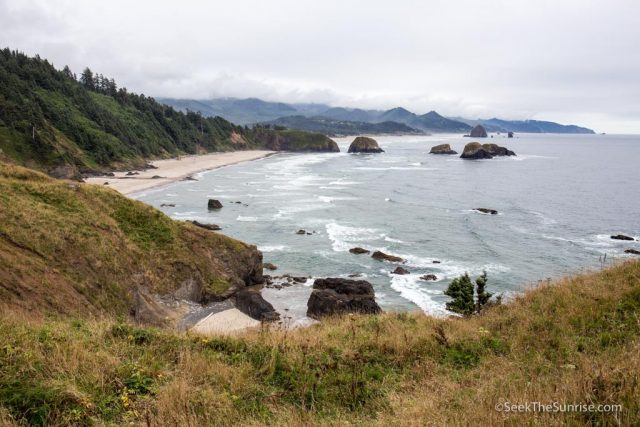 North of Cannon Beach I highly recommend you stop at Ecola State Park. It will coast you $5 to get in, but it is worth it as it has a fantastic viewpoint for Cannon Beach and the beaches next to it from above. It is also a great spot to view the Tillamook Lighthouse as well.
Tillamook Lighthouse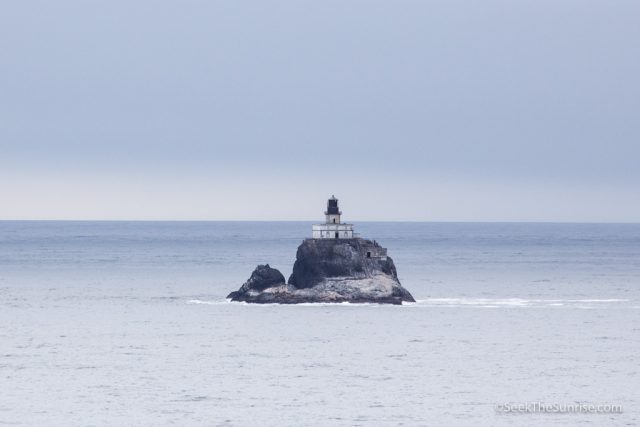 Out on a rock in the middle of the ocean, you can't actually visit this lighthouse. You can see it from Ecola State Park though which is another reason why I recommend you stop and take some time to explore the overlook area.
End of the Lewis and Clark Trail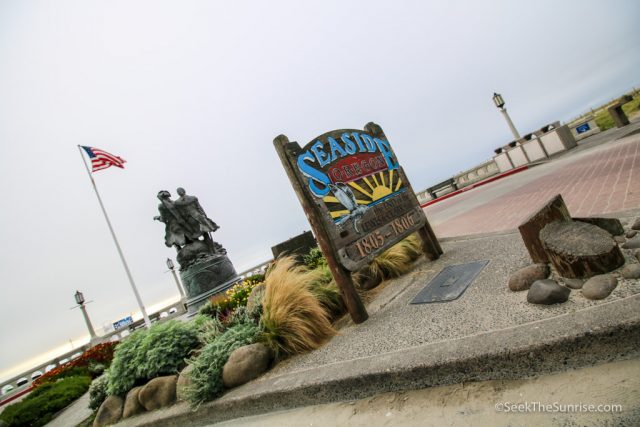 The town of Seaside was the first famous coastal city in Oregon. They built a turnaround at the end of the main street for autos, and in the middle of that turnaround, you will see a statue that notes the end of the Lewis and Clark Trail. People still argue over whether or not you can really call this the end of the trail, but regardless it is still cool to see.
Fort George Brewery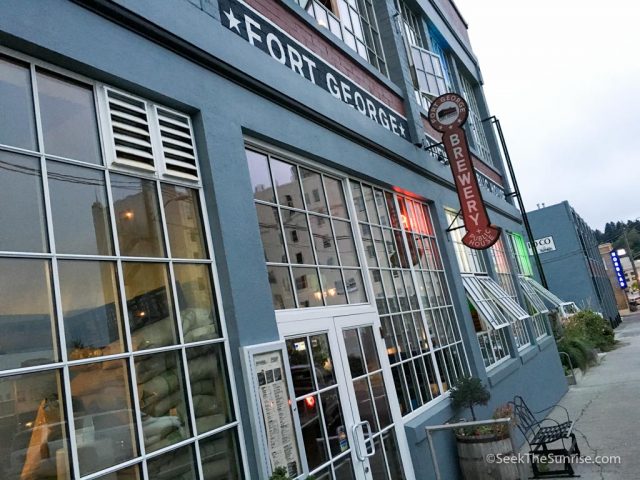 If you are looking for a place to stay you can consider Seaside as it is a beautiful town or head on to Astoria which is a great place to spend some time. If you head on to Astoria, then go over to Fort George Brewery which is a great spot for a meal in an old historic building. I got the sausage sampler, and I was not let down.
If you are in Astoria early then be sure to check out some more popular areas in the town, if not then you can head over to my next coastal day guide were we spend the better part of the morning in Astoria before heading out.