This is Day 1 on my four day trip along the Oregon coast all the way to Seattle. This day is full of a ton of stops, so be sure to leave early to make it to most of them. The beginning of the drive takes you through Samuel H Boardman Scenic Corridor as well which is one of my favorite stretches on the entire Oregon coast, and you are going to want to pull off at the viewpoints for sure. Here is all the information so you can take this drive and see the best spots.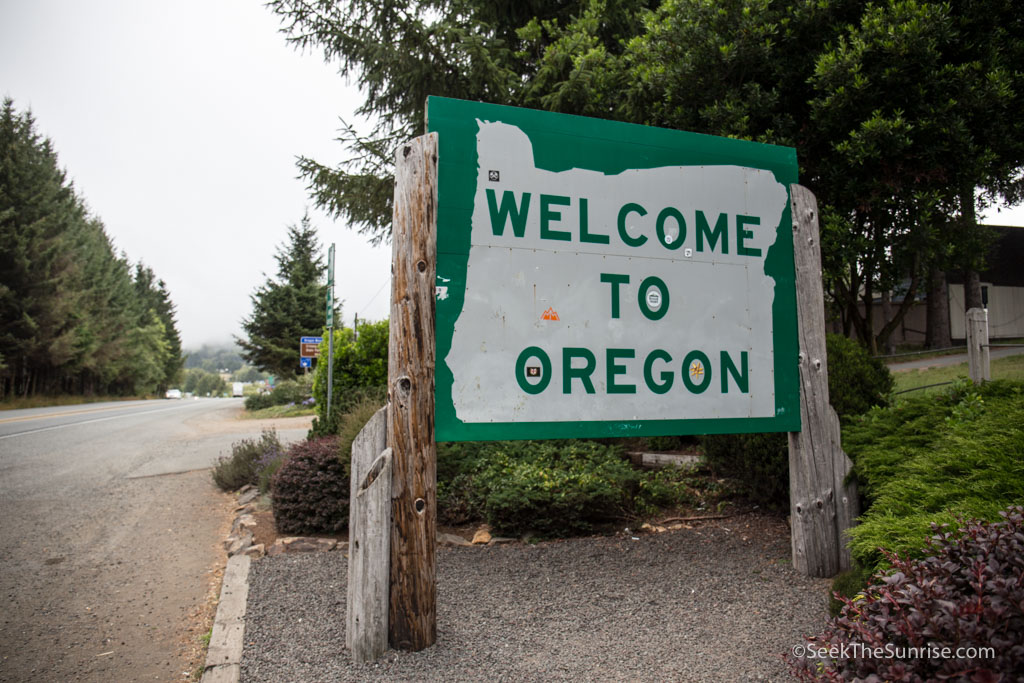 Details
Length: 204 miles
Approx 4.5 hours of drive time
This is a very ambitious itinerary, while it is possible to do in a day be sure to cut things out if you have something specific you want to see.
Dee-Ann's Tea Room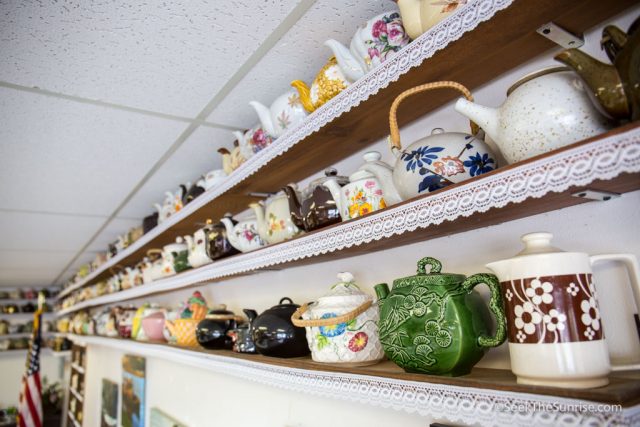 In Brookings there are only a couple of spots for breakfast; however, my favorite is Dee-Ann's Tea Room which has been there for decades. This place is filled to the brim with over 1,400 teapots all around the walls and ceiling. It is a fun and strange addition to a great dinner with excellent homemade biscuits.
Harris Beach State Park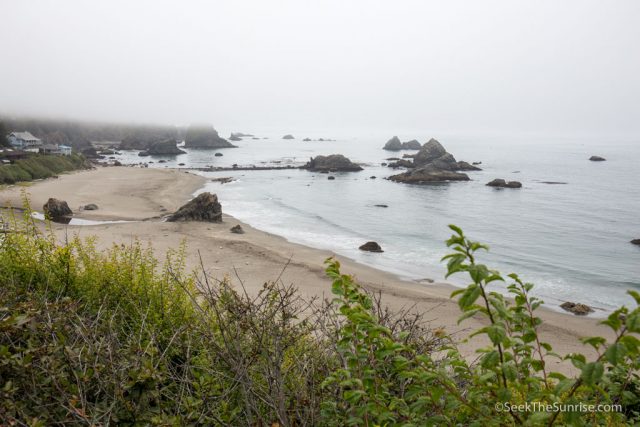 A beautiful beach park with camping and RV hookups, it is also a great spot for a short hike or to walk down to the sand. If you only want to stop for a minute, then head to the overlook as it provides a fantastic spot to see the coastline from.
Samuel H. Boardman State Scenic Corridor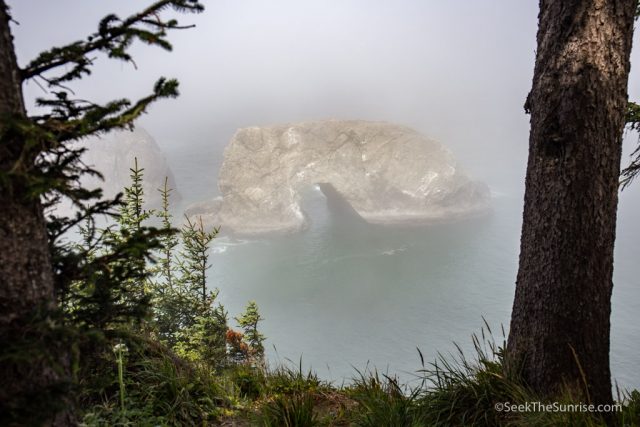 The next 12 miles are some of the best on the entire Oregon Coast in my opinion. The Samuel H. Boardman State Scenic Corridor has a series of 12 pull outs, and you can use this map to see where they are all at.
Here are my favorites:
Thomas Creek Bridge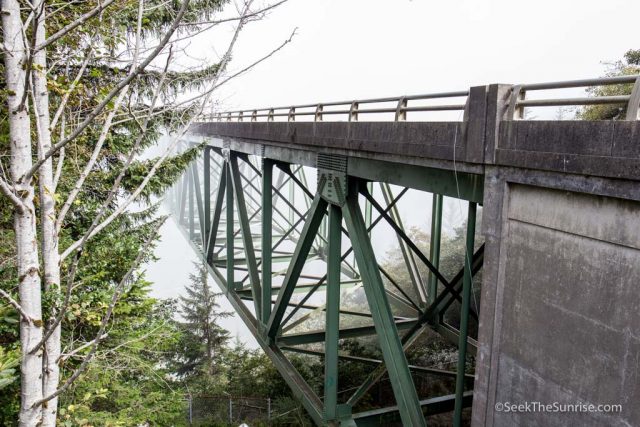 There is a short and steep trail down to the beach from here, or you can just walk from the parking area to see the bridge up close. This short walk is all I did as the trail looked like it would take a little while.
Natural Bridges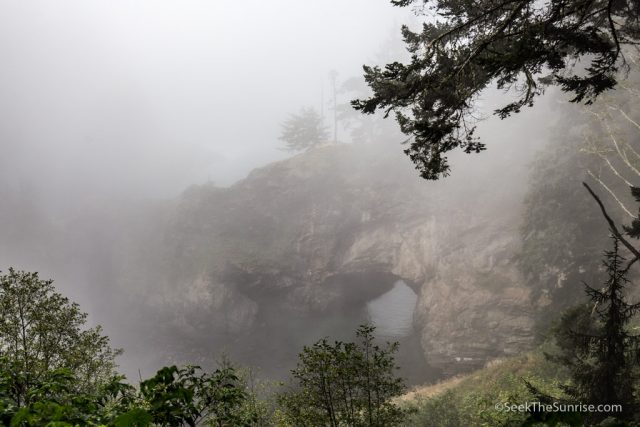 This is the spot you have seen in everyone's Oregon Coast Instagram photos. Unfortunately, it was incredibly foggy when I went, so the above photo is the best picture I got, but when it is clear this is a fantastic view.
Arch Rock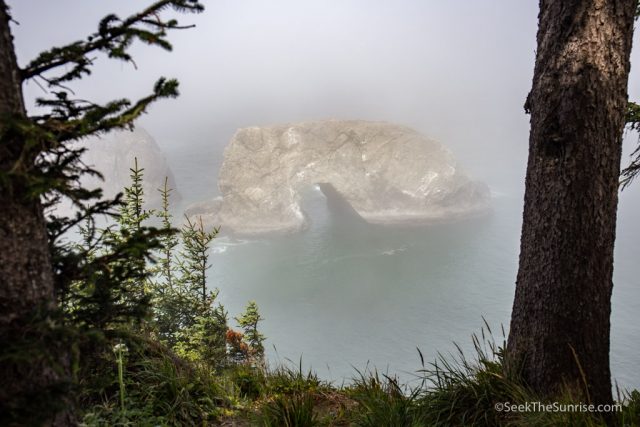 As one of the last viewpoints in an already incredible stretch of land, of course, Arch Rock is excellent as well. The big rock about 100 feet out in the water reminds me of the rock you see in Pfeiffer Beach Big Sur. It is beautiful, and there is an excellent short lookout that you can walk to and see it from.
Meyers Beach
14 miles South of Gold Beach, there is a stunning stretch of coast known as Meyers Beach. Both the North and the South part of the beach are equally impressive, and both of them have large turnouts so you can park and take some photos. Here is what each looks like.
Meyers Beach South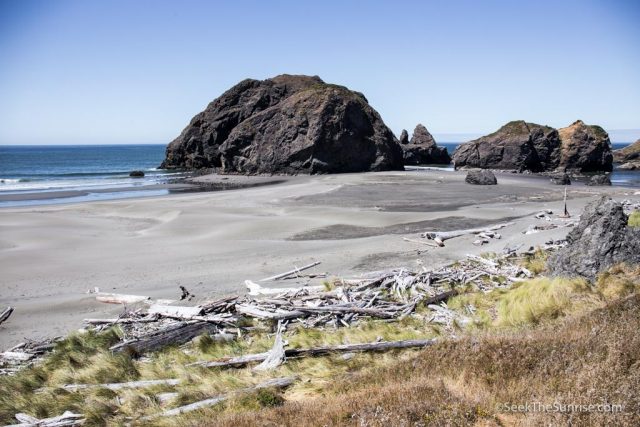 Meyers Beach North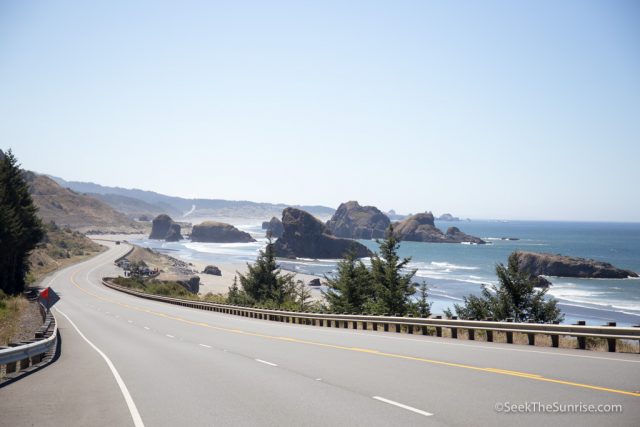 Cape Sebastian Viewpoint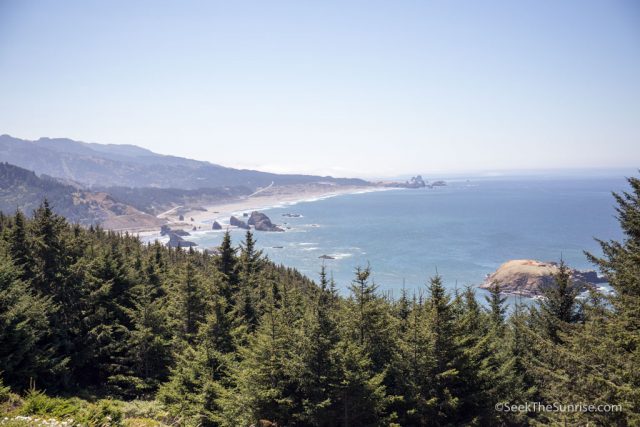 After passing Meyers Beach, you will be heading up a hill and at the top, there is a pullout for Cape Sebastian Viewpoint. This is a great spot to look down on Meyers Beach from. The high vantage point lets you see the massive rocks that are sticking out of the sand.
Wreck of Mary Hume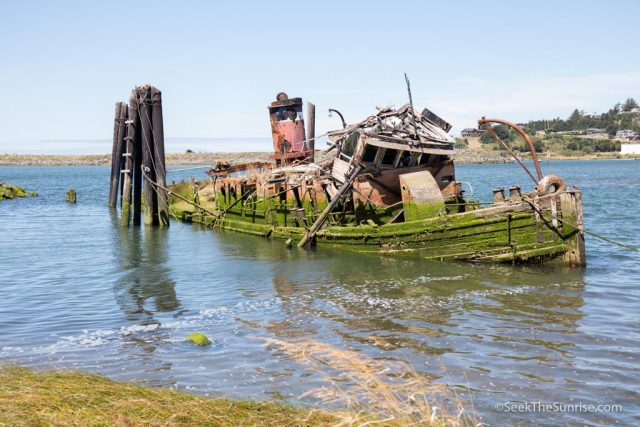 While driving through Golds Beach, you will want to take a left on Harbor Way and pull into the parking lot to see the Wreck of the Mary Hume (just before going over the bridge). This old wreck sits out in the water and has been decomposing for decades. It is fun to photograph, especially with Patterson Bridge in the background.
Rogue Jet Boats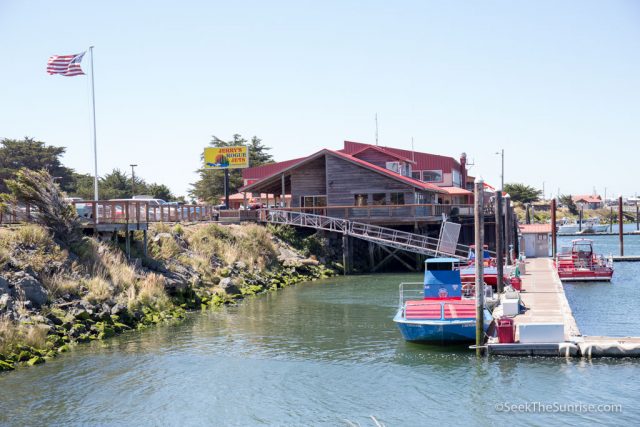 One of the most popular attractions in Golds Beach is to take the Rogue Jet Boats on the Rogue River. I haven't done it myself, but I have heard it is a fun time for the whole family. The tours take off from near the wreck.
Patterson Bridge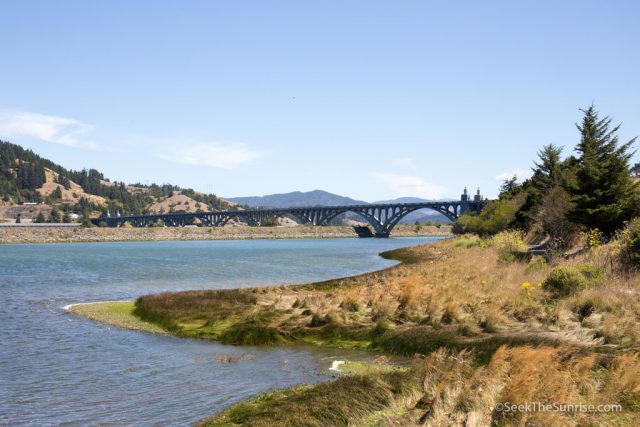 On the way out of Golds Beach you will pass the first of many amazing old bridges you will see in Oregon. You can get great shots of this bridge from the above wreck before heading over.
Prehistoric Gardens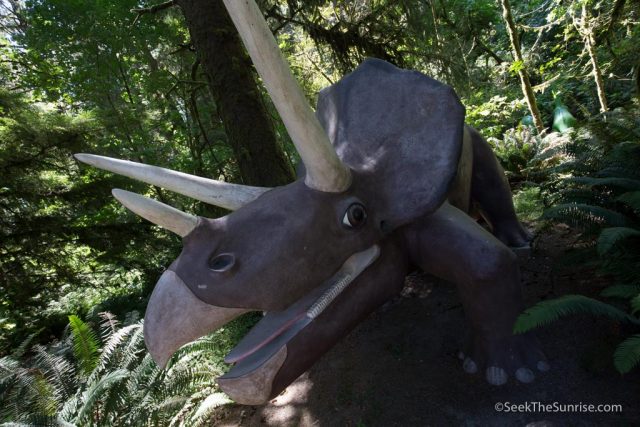 As you know, I love weird roadside stops, and Prehistoric Dinos is one of the best on this stretch of the coast. This parcel of land has dozens of dinosaurs that have been created and placed in a way that makes you feel like you are wandering through the forest and stumbling upon them. It is a little pricey at $14 a person, but it is an excellent way to stretch your legs on a quick stop.
Redfish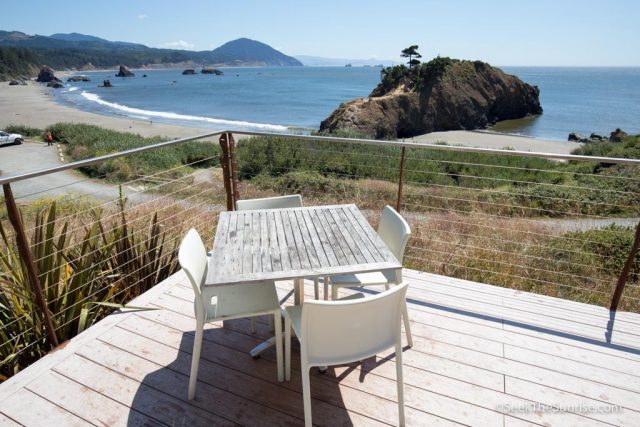 If you are starting to get hungry, then Redfish in Port Orford is a great place to pull off for lunch. This upscale restaurant has a beautiful patio that overlooks Battle Rock County Park. They also have a large menu with fish tacos, burgers and other things for you to enjoy.
Battle Rock County Park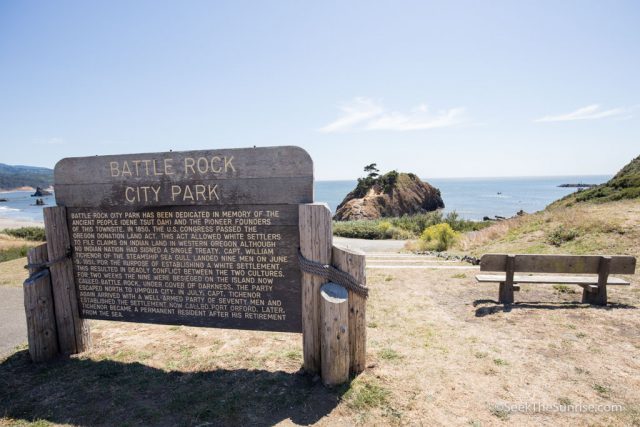 Named for the historic battle that took place here between the settlers and the Native Americans. The beach has a large rock that connects to the sand and that you can climb to the top of to get a view of the coast.
Cape Blanco State Park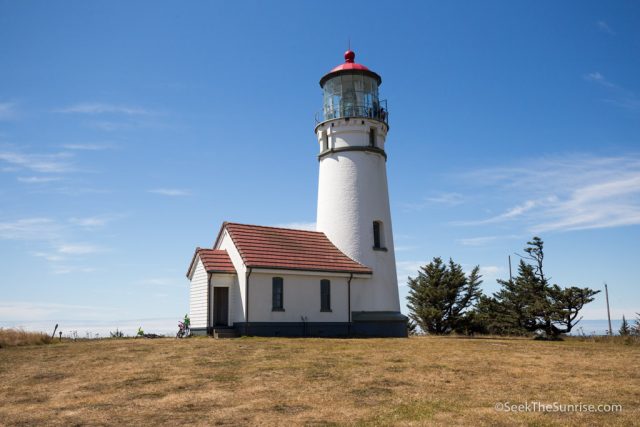 Cape Blanco State Park is one of the best places to see a lighthouse on the Oregon Coast. The lighthouse itself is located about 6 miles off Highway 101, but it is a beautiful drive that ends on a fantastic coastal viewpoint. You can tour the lighthouse but even if you don't it is still worth going out there to see it and the coastal views.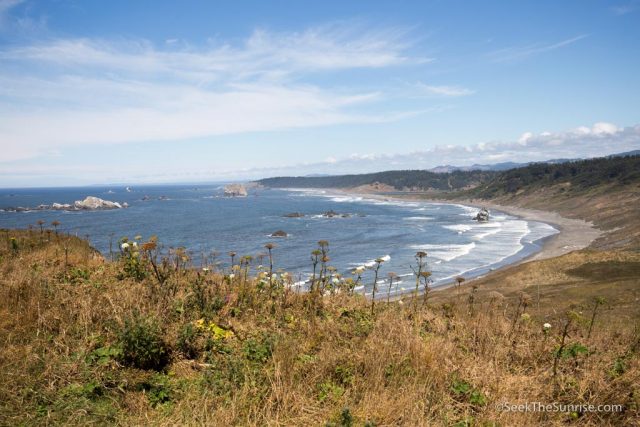 If you are a history buff then on the way back, make a stop at the Hughes House if it is open. This old Victorian home from the late 1800's is a fun place to get a feel for the history of the area.
Face Rock Viewpoint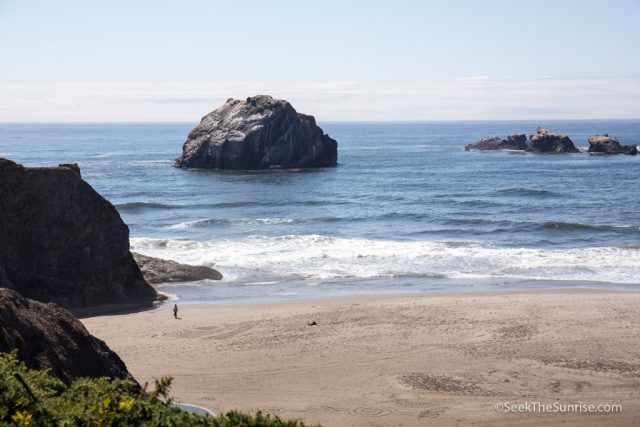 About 25 miles North, right before the town of Bandon, be sure to set your GPS for Face Rock Viewpoint. This is a quick stop, but it is another great coastal view of a set of large rocks. One of the rocks does look a lot like a face coming out of the water (above).
Face Rock Creamery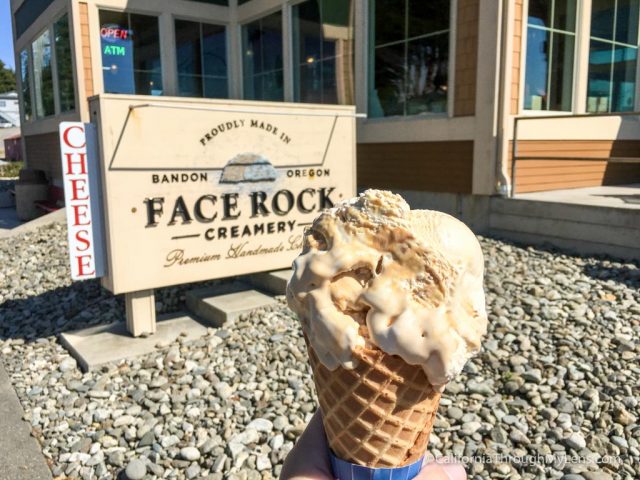 Before exiting the town of Bandon, make a stop at Face Rock Creamery, which was named after the rock you just saw. This cheese and ice cream shop is a tourist favorite, and it is easy to see why. There are dozens of cheeses to try here, and the ice cream is top-notch. I recommend ordering a kid's size as they always fill it up, and it was more than I could even eat.
Coquille River Lighthouse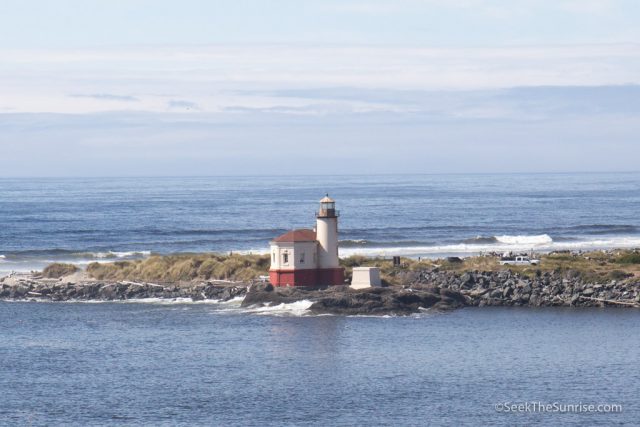 Coos Bay History Museum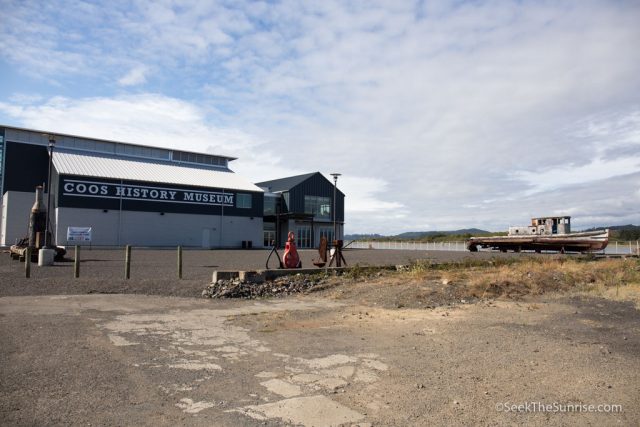 Coos Bay is a large town that an entire guide could be dedicated too, and it is a great place to stop if you have more time on your Oregon road trip then I did. This area is a gateway to the dunes that cover the next 40 miles. They also have an excellent maritime history museum with a large boat right outside. If you are into history, then it is a great stop.
Conde McCullough Memorial Bridge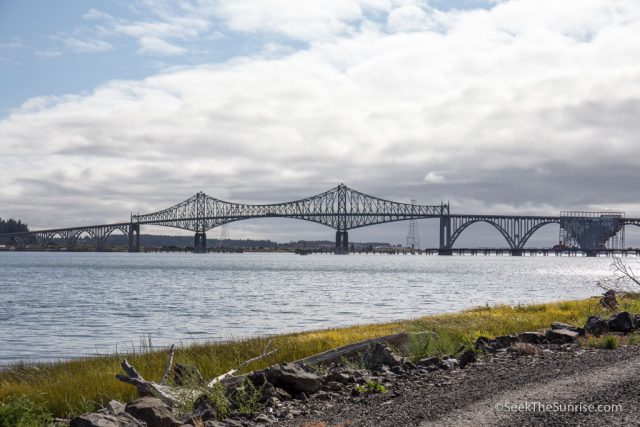 The Conde McCullough Memorial Bridge on the outskirts of Coos Bay is one of the most impressive of the old historic bridges you will see. It is long and has impressive craftsmanship. I pulled off when I crossed the road and drove around to find a good viewpoint.
Oregon Dunes Overlook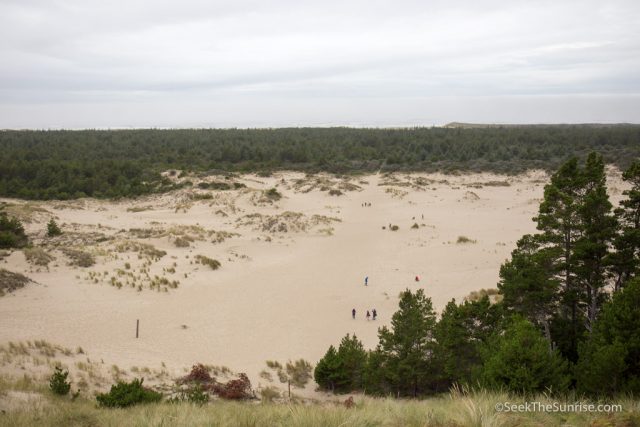 For the next 40 or so miles, you will be driving on and off along a collection of dunes. These are fun to explore if you have some time to rent a vehicle in Coos Bay, but if you don't then make sure to stop at the Oregon Dunes Overlook. This is a great spot where you can walk up to an overlook or actually get out on the dunes for some photography. There are a couple of nice hiking trails that take you to a remote set of dunes from here.
Sea Lion Caves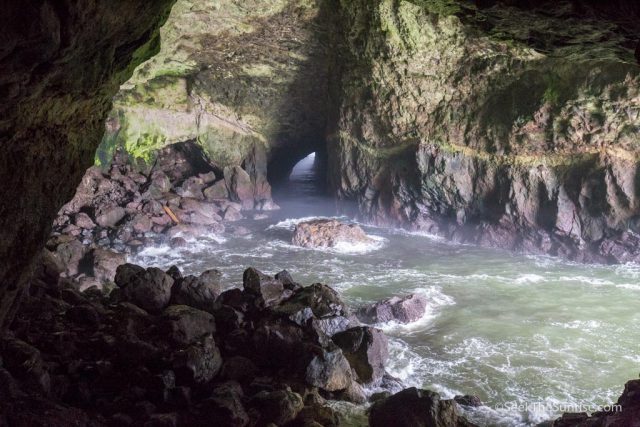 One of the most popular tourist attractions on this drive, you will see the signs for it for miles. The Sea Lion Caves are cool but not as amazing as I was hoping they would be. You can pay your fee and walk to a sea lion overlook which lets you look down on these gentle giants playing in the water far below. After that, you can head over to the elevator and take it down into the cave itself. There were no sea lions in the cave when we went, but it was still fun to see the largest sea cave in America (at least that is what they told me).
Heceta Head Lighthouse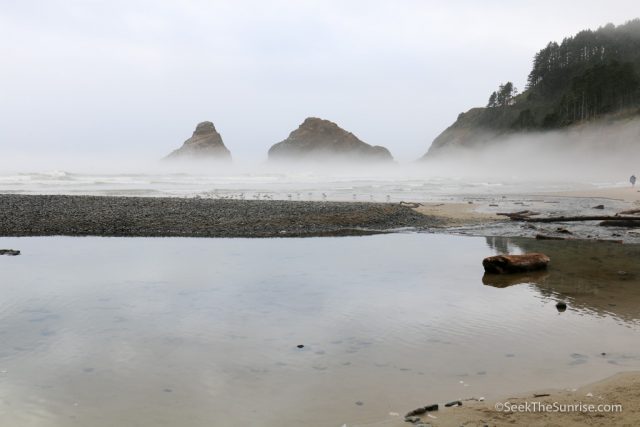 This lighthouse can be seen from the base of the Sea Lion Cave, or you can hop off the road once you cross the bridge and wrap around to the beach below it. This place is fantastic for photography, and it is the spot you will be starting your hike to Heceta Head Lighthouse from.
Cape Creek Bridge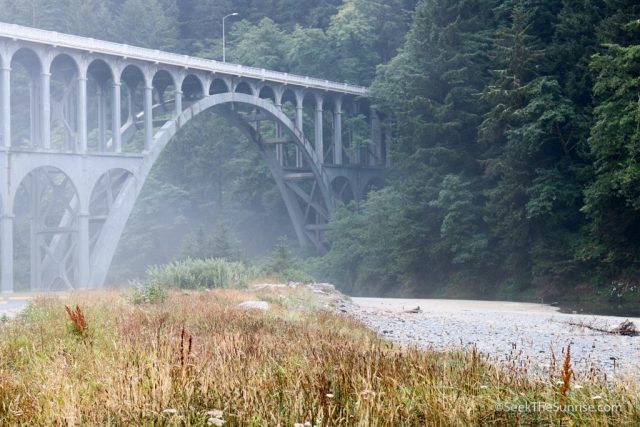 While down at the beach below Heceta Head Lighthouse be sure to turn around and marvel at the Cape Creek Bridge which is stunning as well. I spent the better part of a sunset here once, and it provided amazing photo ops.
Thor's Well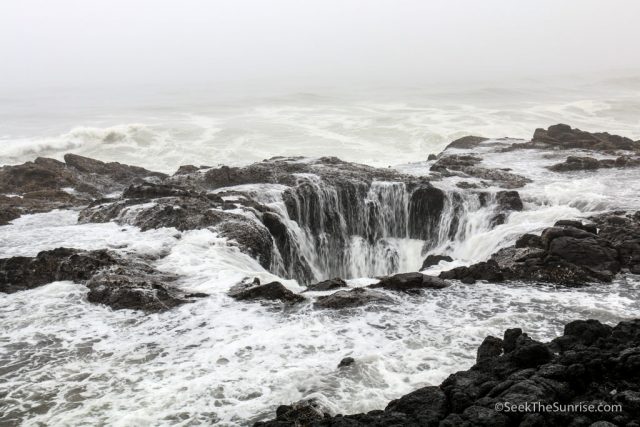 Thor's Well was one of the main reasons why I wanted to make this drive along the Oregon coast. I had heard of the amazing natural hole that can get water shooting dozens of feet into the air. There is a parking pullout above it, and from there you can walk down to the well. Be sure not to get too close though as I saw the water got about 15 feet in the air and you would not want to get stuck in the well as it would certainly lead to death.
Cooks Chasm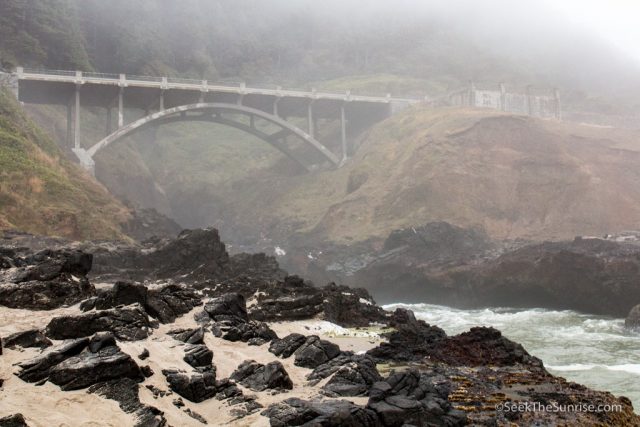 Right next to Thor's Well is Cook's Chasm which is impressive in its own right. This large canyon that splits the coast has booming waves that crash against it. The sound they make reminded me of the sound of a kick drum that you can feel in your chest.
Devils Churn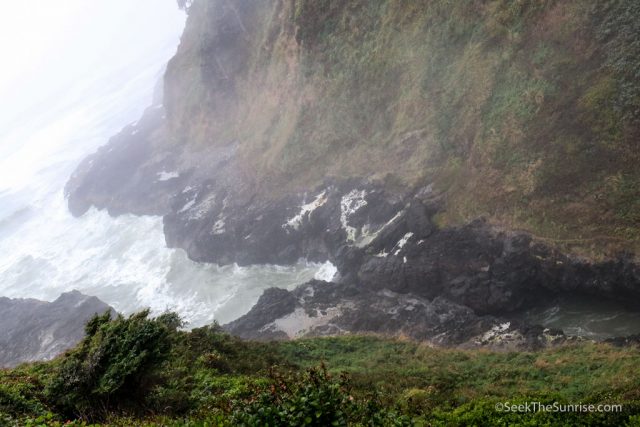 The last stop of the day for us, the Devil's Churn is about 3 minutes down the road from the last two spots. There is an overlook here, and it looks a lot like Cooks Chasm. There was a trail that took you closer, and I wish I had been able to take it but I was running out of light, so I just looked at it from above.
Rogue Ale House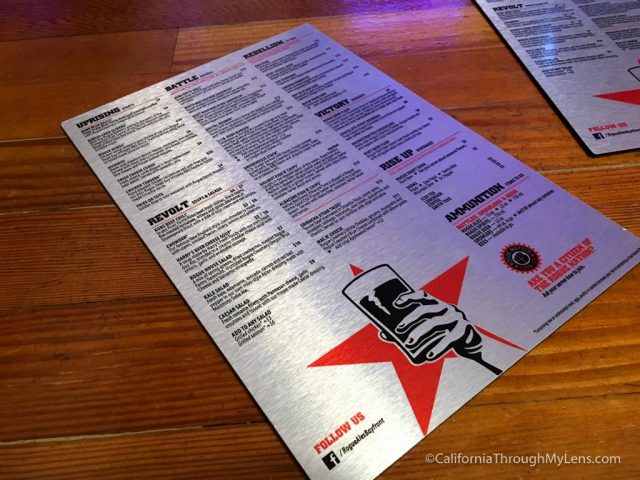 When you finally reach Newport, which is where I recommend stopping for the night, then head over to Rogue Ale House which is open late. They have a lot of great libations and a selection of excellent pizzas and sandwiches you can partake in as well.
So there you have it, my recommendations for the first day on the Oregon coast, head over to this post for the next day or this post for the previous.