On the ninth day of our 14 day Route 66 journey, we made our way from Tulsa, through the 12 miles of Kansas that Route 66 crosses and over into Missouri. This day was a little sad as Oklahoma had been pretty amazing for stops on Route 66, and we didn't want to leave. Some of the highlights on this day were the Blue Whale of Catoosa, Ed Galloway's Totem Pole Park, and getting to spend a little time in Kansas (even though there wasn't a lot to do, it was still fun to cross through another state). Check out all the stops on day nine below.
Details
Mileage: 140 Miles
Tulsa, OK to Carthage, MO
Read about the whole trip here
Blue Dome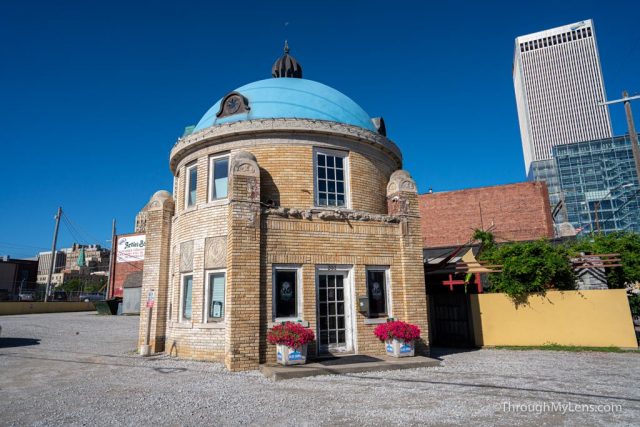 After waking up in Tulsa, we took a different alignment of the route since we had driven most of the other alignment the previous day. We started our drive by heading to the Blue Dome. This building was built in 1924, and it was unique because of the dome structure, with the attendant living in the dome. There wasn't much to see there anymore, though.
Circle Theater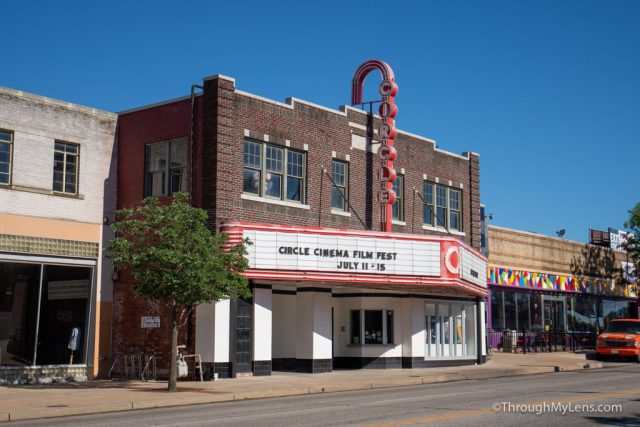 On the way out of Tulsa, we stopped at the Circle Theater for a photo as it has been there since 1928. It is still used as a movie theater today, but we didn't get to go inside as it was not open.
Route 66 Rising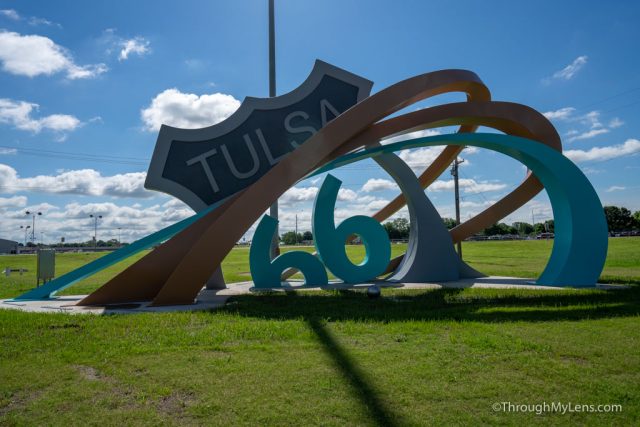 As we were making our way out of Tulsa, we entered a roundabout and saw the Route 66 Rising art installation. It was not easy to access since it was in the roundabout, but it was a cool example of what Route 66 is like in Tulsa, with how they are preserving and invigorating the route.
Blue Whale of Catoosa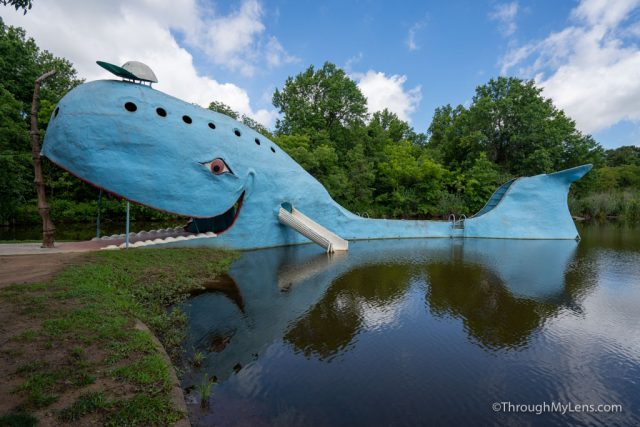 If you know nothing about Route 66, you probably still have seen this iconic whale. It has been featured in movies and tv shows, and it was in my top three favorite stops. Huge Davis built the whale as an anniversary gift for his wife in the early 1970s. For a while, the lake was open for swimming, and people stopped to slide off the whale into the water. You cannot swim there anymore, but it is still an entertaining stop as you can explore the area and walk through the whale to its tail.
Will Rogers Museum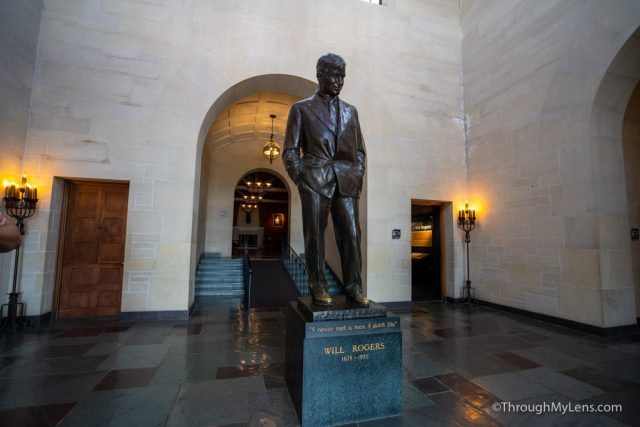 Heading on, we stopped at the Will Rogers Museum in Claremore, OK. Route 66 is known as the Will Rogers Memorial Highway, so it is worth stopping at the museum to learn more about the man. I didn't know a lot about him myself, but my dad did, and the museum is well done with lots of exhibits and videos you can watch.
Ed Galloway's Totem Pole Park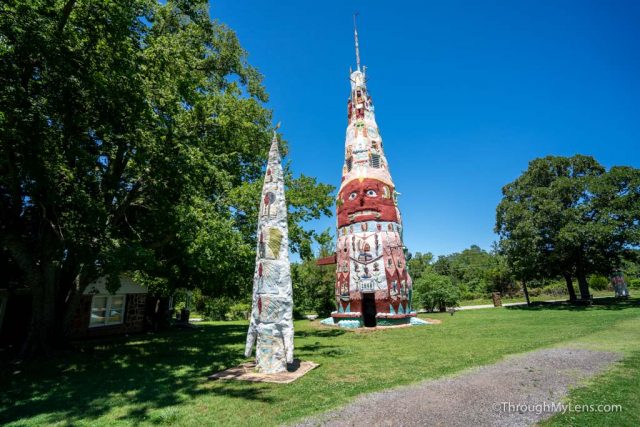 After leaving the museum, we made a short detour off Route 66 to Chelsea, OK, which is the home of Ed Galloways Totem Pole Park. This 19-acre park features many different totem poles and other pieces of art from Ed Galloway, and it claims that it has the world's largest concrete totem pole. The totem polls are very impressive, and I wouldn't doubt that claim. It was about 4 miles off Route 66, but it was a fantastic stop.
Afton Station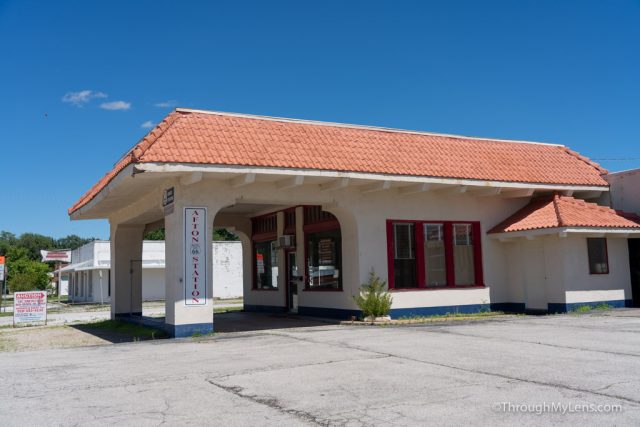 This was another old service station we stopped at for a photo.
Ku Ku Burger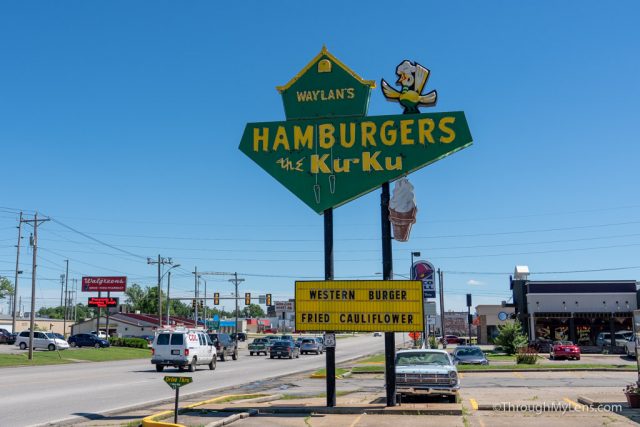 Ku Ku Burger is well known in this section of Route 66 because of its historic sign. We didn't eat here, but we stopped to take a few photos.
Mickey Mantle's Childhood Home and Memorial Statue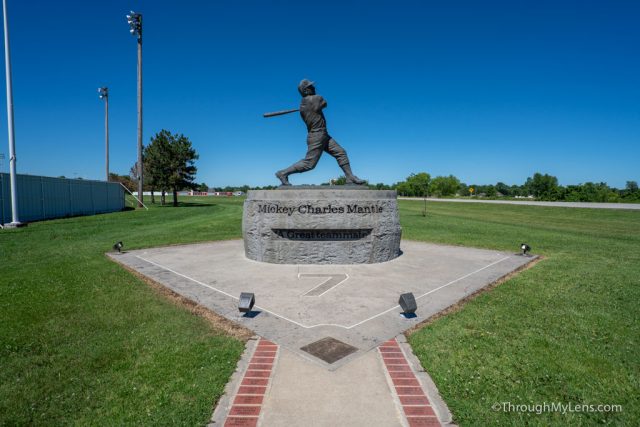 When you enter the town of Commerce, note that this town is where Mickie Mantle grew up.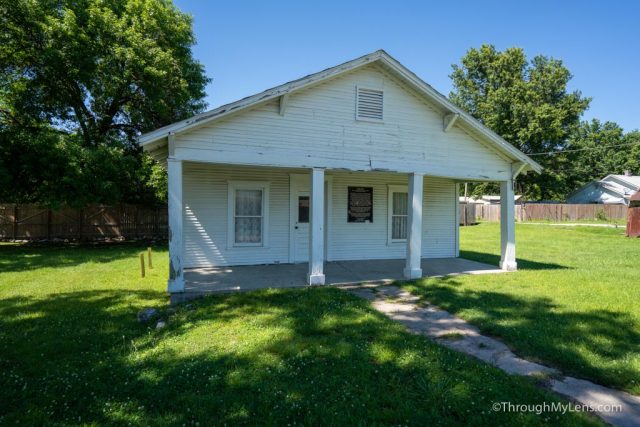 You can still see his childhood home, and you can see a statue of him near the baseball field. If you are a baseball fan, then these two spots are great places to see.
Cottage Style Gas Station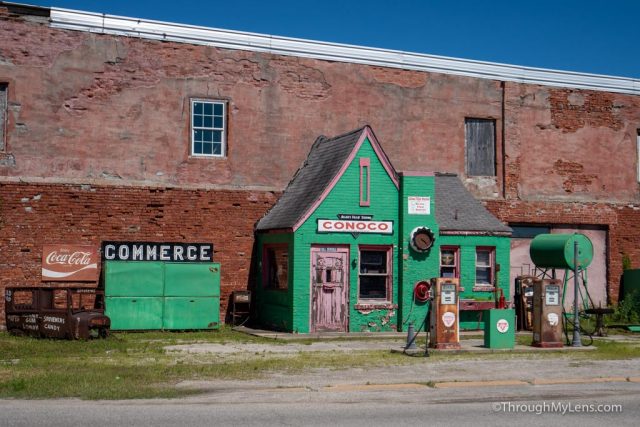 Continuing through Commerce, you will see the cottage gas station on the right. I was excited about this gas station because it is so unique looking, but a local told me this is not original and was just added in because it looked cool. I don't know if that is true, but I am guessing it is because I didn't see a lot of information about it online.
Dairy King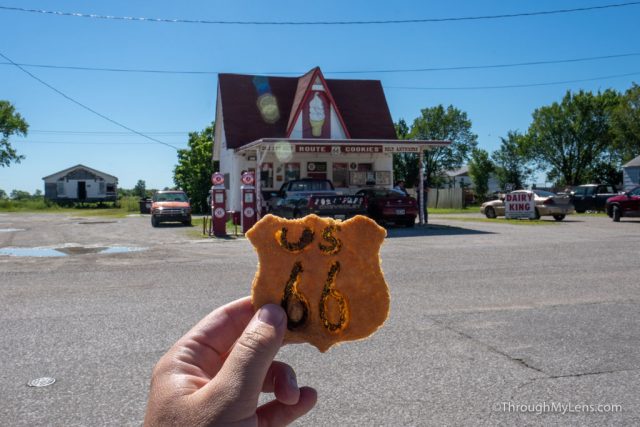 Across the street from the gas station is the Dairy King. Dairy King has been here for decades making great food and fun Route 66 cookies. We spent 30 minutes just chatting with the owners about Route 66 and purchased a couple of cookies when we left. Don't skip it as they are great people.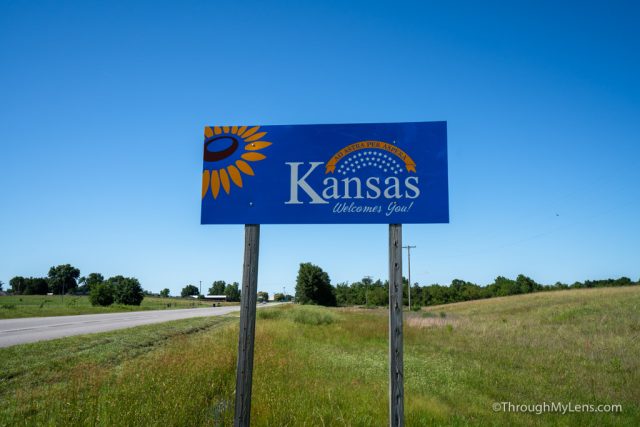 From here, Route 66 crosses into Kansas, but you will only be in Kansa for 12 miles. We came through around 4 PM, and most everything was closed, so we didn't get to experience a lot, unfortunately.
Cafe on the Route (Kansas)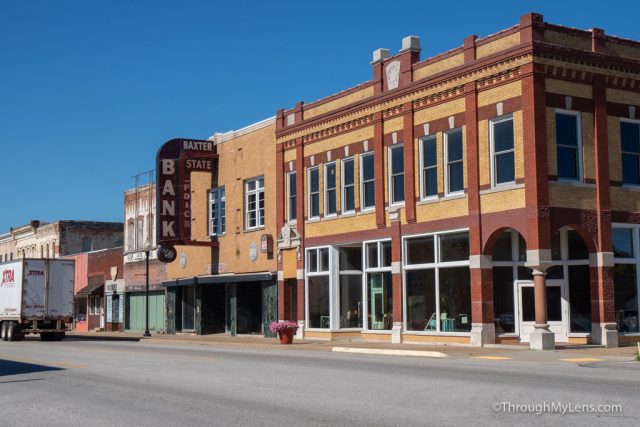 The first town you will get to in Kansas is Baxter Springs, and they have a couple of stops. Cafe on the Route is a restaurant that is housed in an old bank building that Jesse James once robbed. It wasn't open when we came through.
Baxter Springs Oil and Gas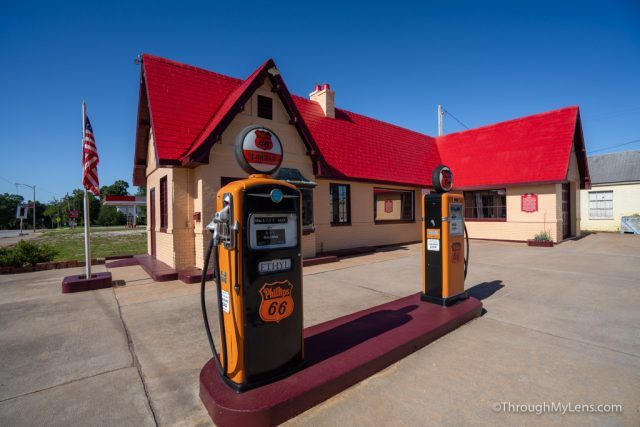 A few blocks away is another recreated gas station. It is the home of the Route 66 Kansas Welcome Center, but it was also closed when we were there.
Brush Creek Bridge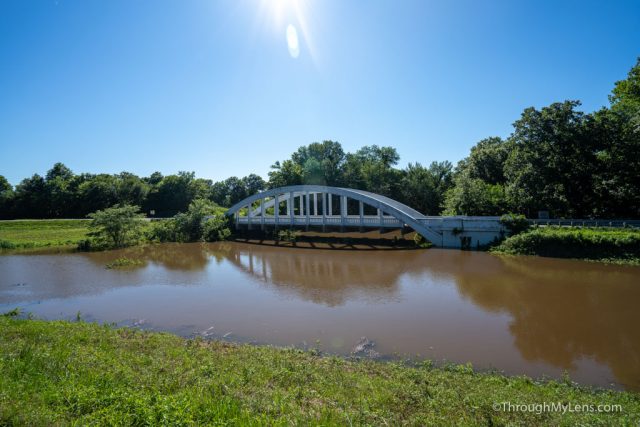 Known as the Rainbow Bridge, this is probably the main attraction in Kansas. This bridge was built in 1923, and you can only drive on it in one direction now. We stopped for some pictures, and it is a great, historic bridge to see in the state.
Williams Store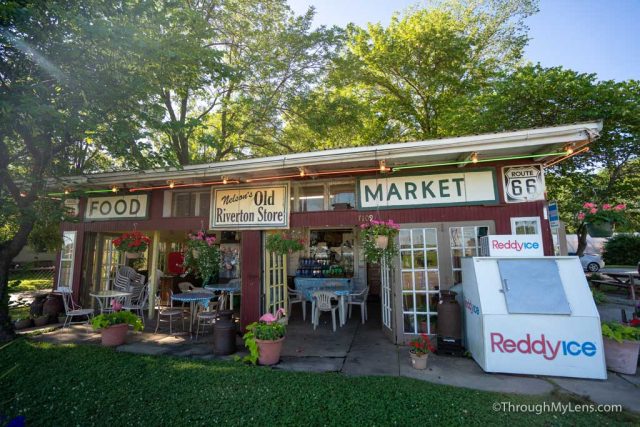 When you get to the town of Riverton, make a stop at the Williams' Store. It was built in 1925, and it is still a functioning store today. There are lots of historical items and photos on the wall in the store as well.
Galena Mining Museum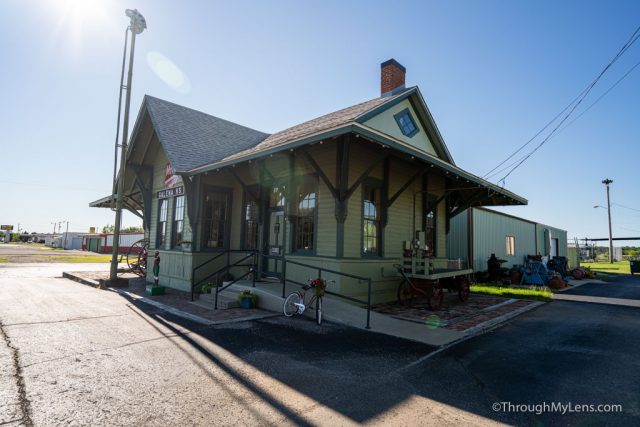 Galena is the last town you will enter before leaving Kansas. We stopped at this museum as it looked interesting, but it was closed, and we only got to see the mining equipment from the outside.
Cars on the Route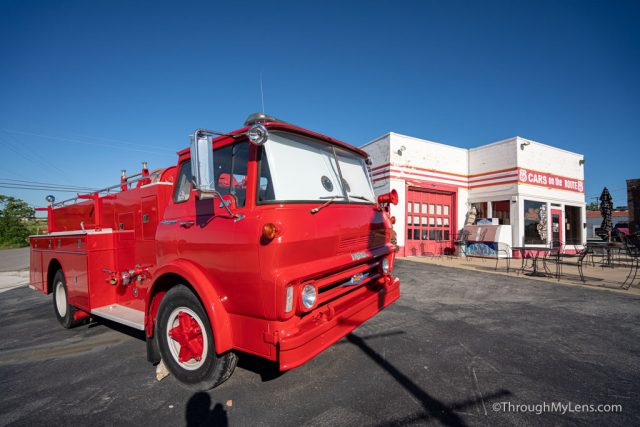 A few blocks off Route 66 is "Cars on the Route," which is another old gas station that has capitalized on the Cars movie. It is an entertaining stop though, especially for kids, as it had some of the best Cars inspired vehicles that we saw, including a great one that looked like Mater.
Galena Park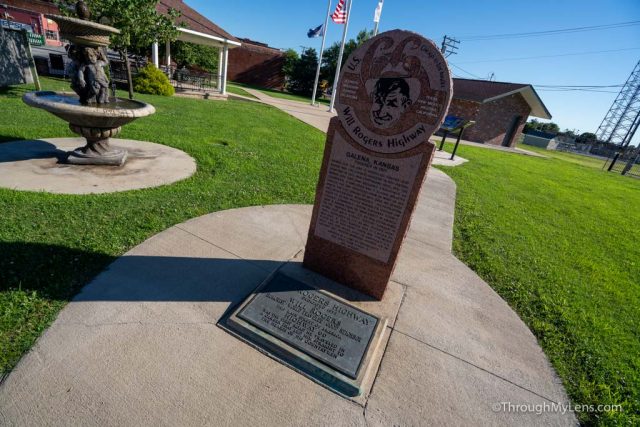 In the Galena Park near Cars on the Route, you can see a Will Rogers Memorial Plaque and from there you will leave the town and cross over into Missouri.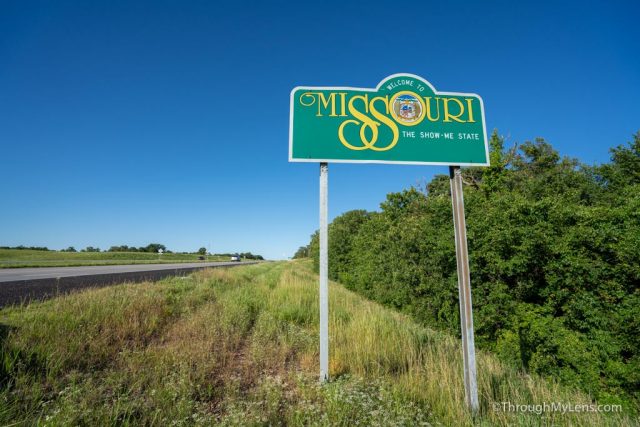 Grand Falls (Joplin)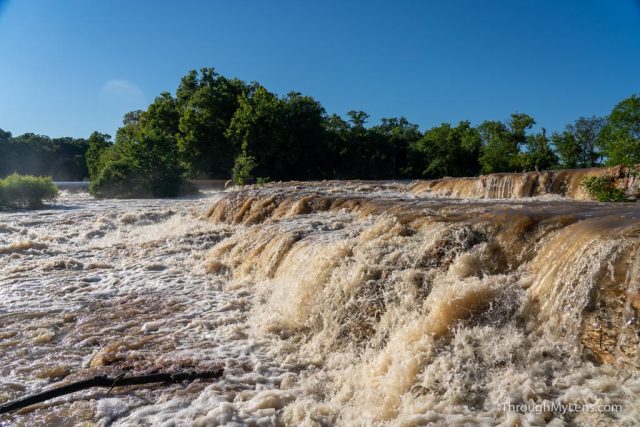 Heading on into Missouri, we made a detour to Grand Falls, south of Joplin. There had been a lot of rain, so we knew the waterfall would be flowing, and it was pretty crazy to see how much it was rushing.
Praying Hands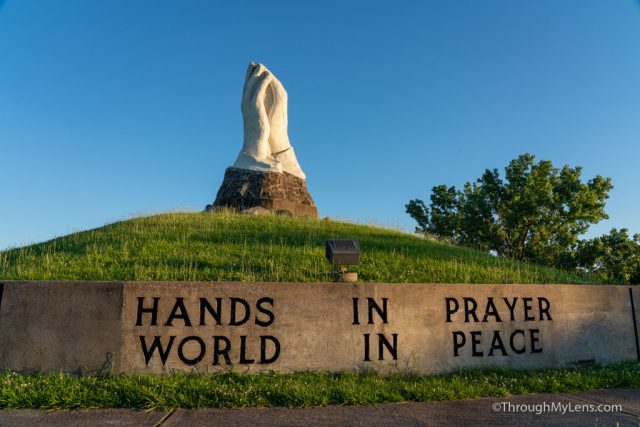 After that, we headed on towards Carthage, which is where our hotel was for the night. On the way, we saw the large praying hands roadside attraction, and we stopped to walk up to them.
66 Drive-In Theater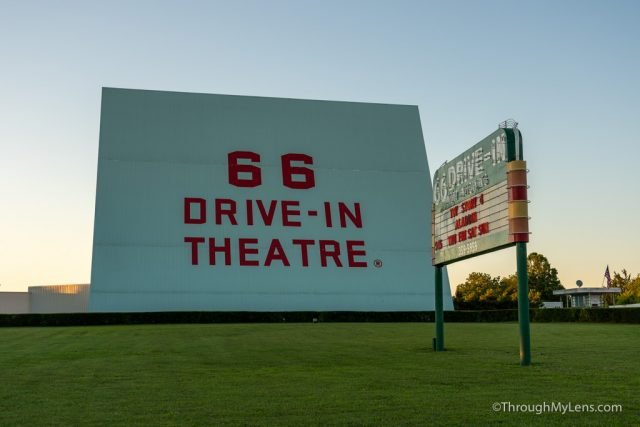 Continuing on, there is also another old drive-in movie theater on the outskirts of Carthage. It was only open on the weekends, so we couldn't see a movie there, but it was fun to see a few of these still in business.
Boots Court Motel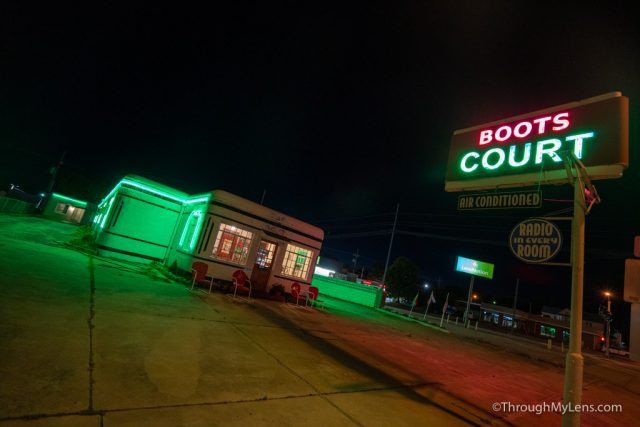 I tried to book a night at the Boots Court Motel but it was sold out, so we stayed down the road in a cheap motel. We did head over to the Boots Court Motel to see it lit up at night though, and it had a great neon sign to see.
Highlight
Jeff – Going to Dairy King as it was a fun historic spot, and I got to talk to Charles, whose family has run the restaurant for over 50 years. He knew all about the history of the area, Route 66, Bonnie and Clyde, and all sorts of stuff. Fascinating person to talk to.
Josh – The Blue Whale of Catoosa. It is such an iconic spot, and we basically had it to ourselves. Plus, it was a lot bigger then I thought and fun to climb on and explore.