Day 8 on our 14 day Route 66 journey found us in the state of Oklahoma for the entire day. We started and ended in two of the larger cities, Oklahoma City and Tulsa. Still, in between, we got to see all sorts of unique spots like the Arcadia Round Barn and the Seaba Station Motorcycle Museum. Plus, Tulsa is one of the best cities for Route 66 as they still have a lot of cool history preserved there as well as new attractions like Buck Atoms Space Cowboy. Read about all of our stops below.
Details
Mileage: 120 Miles
Oklahoma City, OK to Tulsa, OK
Read about the whole trip here
Milk Bottle Building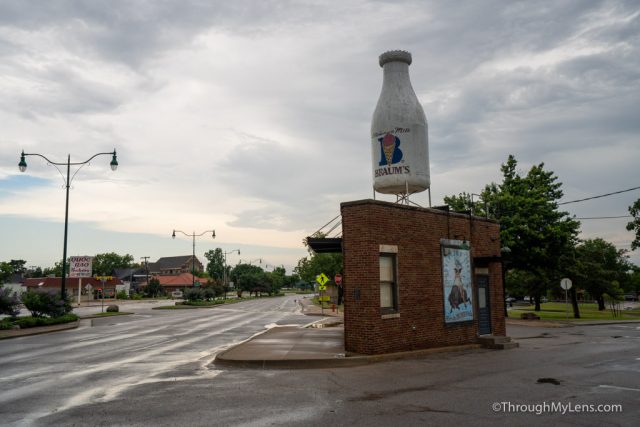 The milk bottle building in Oklahoma City is one of the iconic Route 66 photo spots. You can't go in the small corner building, but you can park at the Walgreens next door and take some photos. The milk bottle is unusual to see, and it has been there for over 80 years.
Old West Trading Post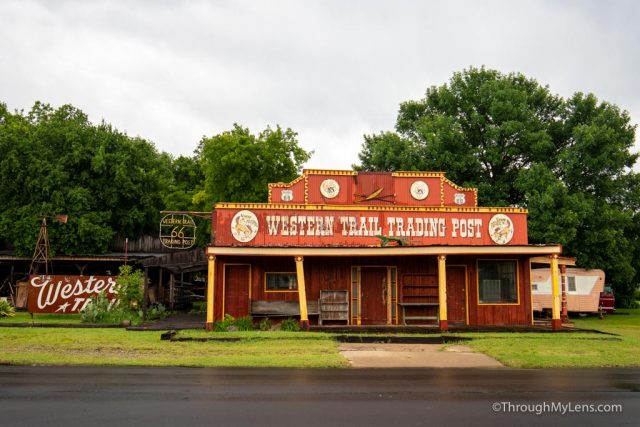 Om the outskirts of Oklahoma City, you will see the broken down Old West Trading post. I am not sure whether it is still in business at all, but it is worth stopping for a few quick photos regardless, as it has some fun signs.
Owl Court Gas Station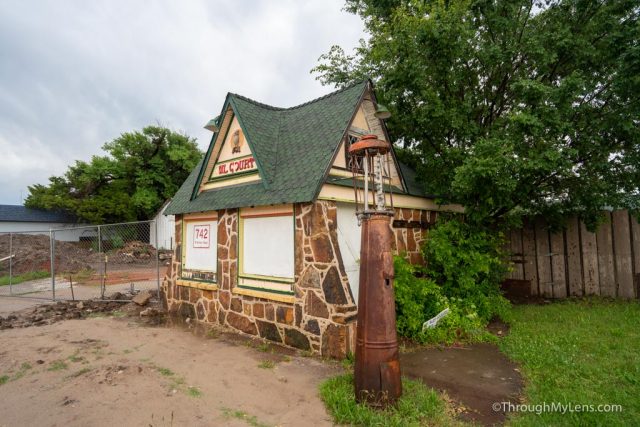 Another quick stop, this small gas station is being redone to its original glory. There was not much going on there when we went, but it may be refreshed in the coming years.
1880 Territorial School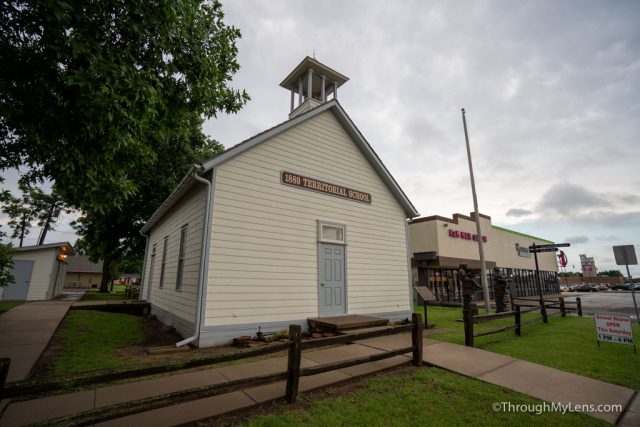 This school on the outskirts of the city was the first in the county and also where the county's first wedding took place. It is only open one day a week, but there are some information plaques you can look at outside.
Pops Soda Ranch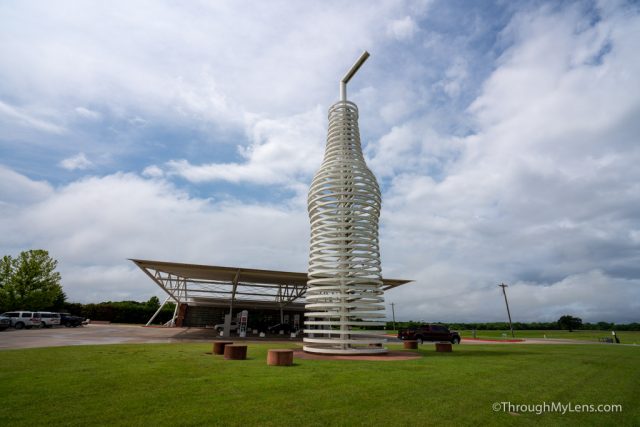 Pops is part of the Route 66 revival as it is relatively new, opening in 2007. The store features hundreds of sodas to choose from ranging from regular sodas to crazy ones like ranch dressing. Out front, they have a large LED soda bottle that is the main attraction though, especially at night. It is continuously blinking and changing color, making it a great stop on Route 66, especially for families.
Arcadia Round Barn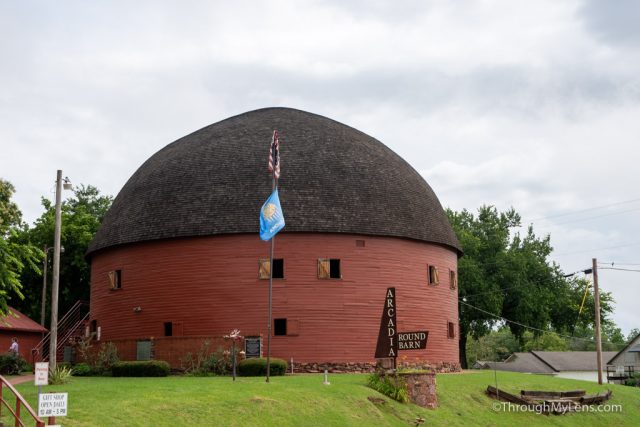 Arcadia Round Barn is another of the famous Route 66 stops in Oklahoma. The barn is two stories and was built in 1898. It is an engineering marvel that even the most unastute carpenters will be impressed with.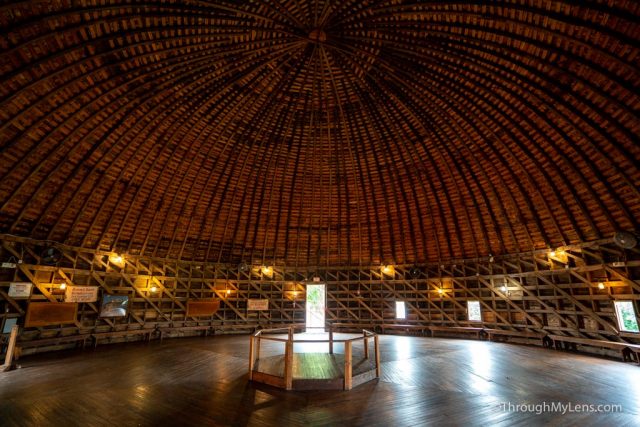 The second story features a massive wooden dome and both me and my dad exclaimed "wow" when we walked into it. You don't want to miss this spot as it was a highlight for the entire trip.
Gas Station Ruins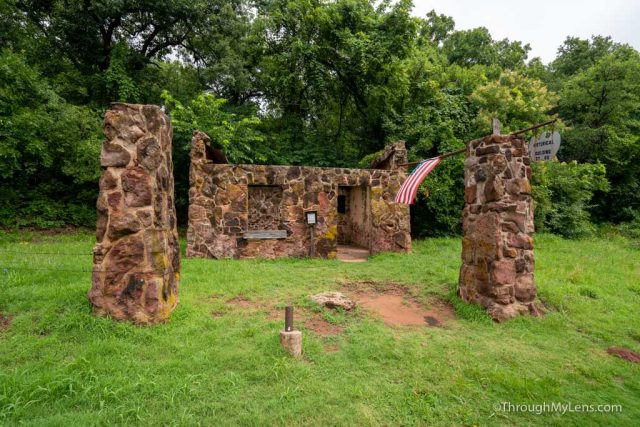 Along the road, you will see a collection of stone walls in a blink, and you will miss it area of the route. If you get a chance to stop here, you can see the remains of a gas station that had a back room that was used for counterfeiting. There is a small sign that tells you about the story.
Threatt Filling Station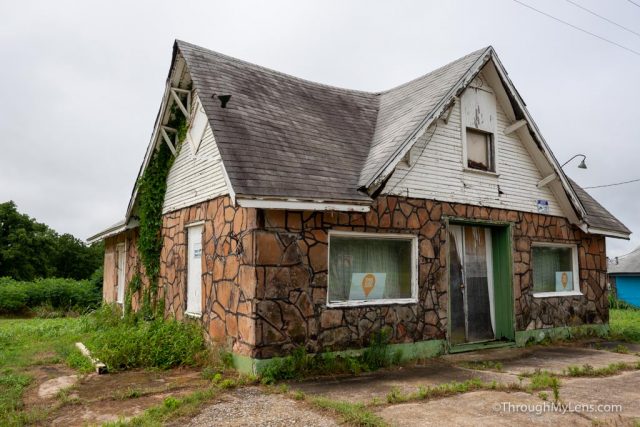 This is a historic building that was built in 1915 and was a house style service station, but there is not really much to see here now.
Butcher's BBQ Stand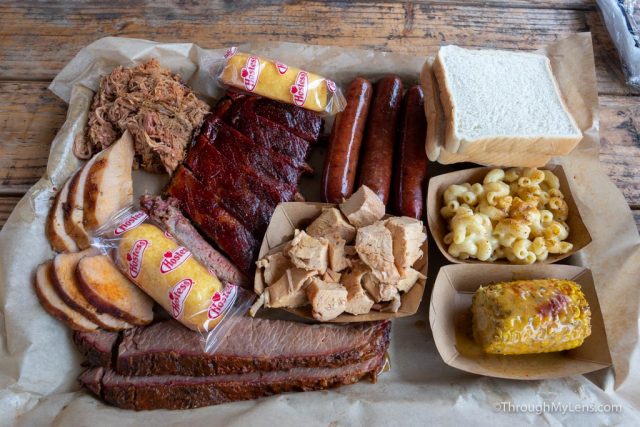 If you are ready for lunch (and it is open) then you really should stop here on your way to the museum. This BBQ stand has won many awards for best in the nation, and let me tell you, it was incredible!
Seaba Station Motorcycle Museum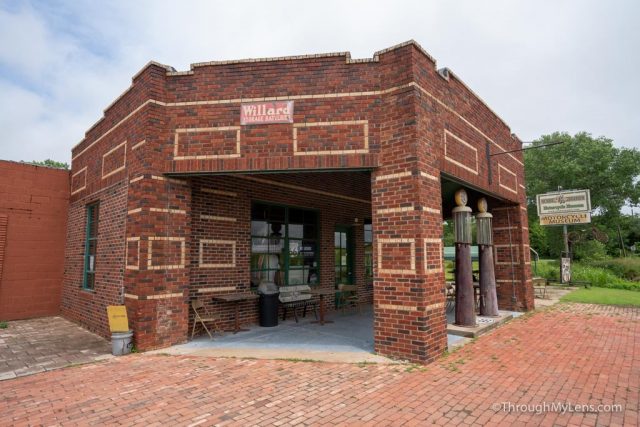 While I am not a motorcycle fan myself, the Seaba Station Motorcycle Museum is really impressive. The owner has collected dozens of rare motorcycles, and they are all on display in a free museum attached to the store.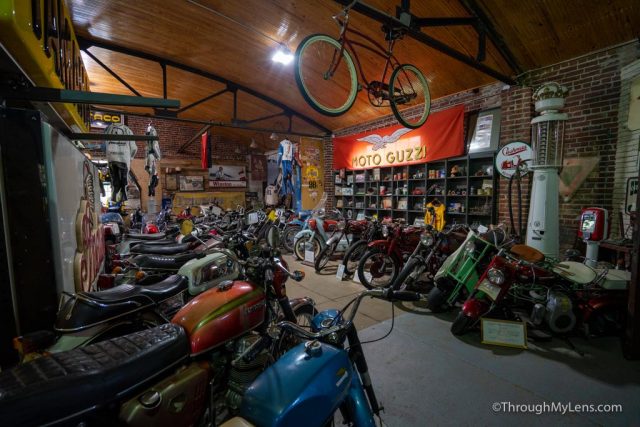 There is also a store here with a few antiques, as well as a restored exterior for the gas station and an old outhouse.
Meramec Caverns Sign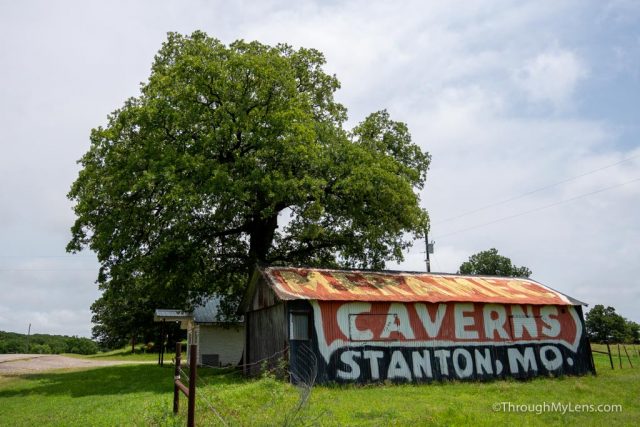 Meramec Caverns is coming up on the route in Missouri, but you will see signs like this that farmers were paid to paint on their barns. There are not many left, but this one is a great one to see if you want an example of what used to be on the route.
Service Station in Chandler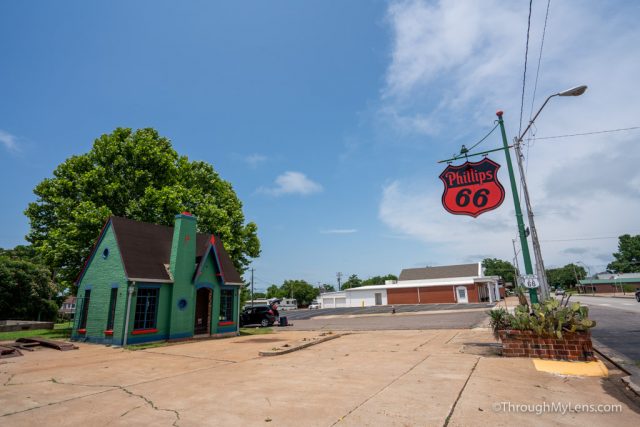 In the town of Chandler, OK there is another old service station which is in the restoration process. We actually had to stop here to change a flat tire, which made us feel like we were really on Route 66.
Chandler Armory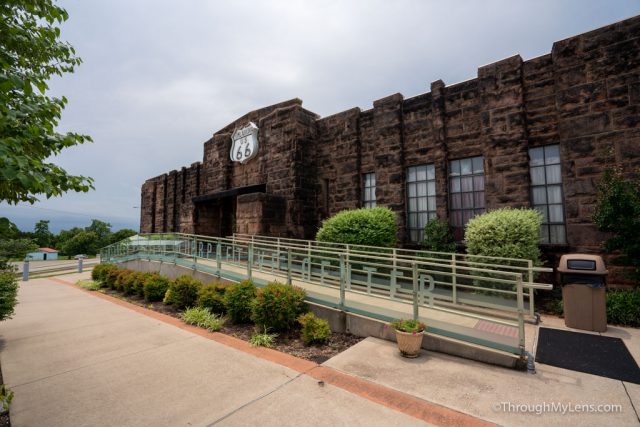 The large stone building in the middle of Chandler belongs to the armory which was built in the early 1900s. The armory has an "interpretive Route 66 museum," but I am not sure what that means. The museum is a fun quick stop though and they have a lot of photos and videos that talk about the route.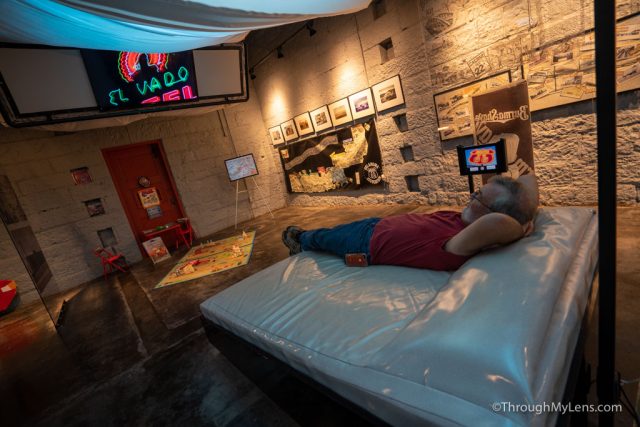 You can sit in theater seating, or even lay on the provided beds and watch the movie playing above you. Have you ever seen anything like this at a museum before?
Service Station Davenport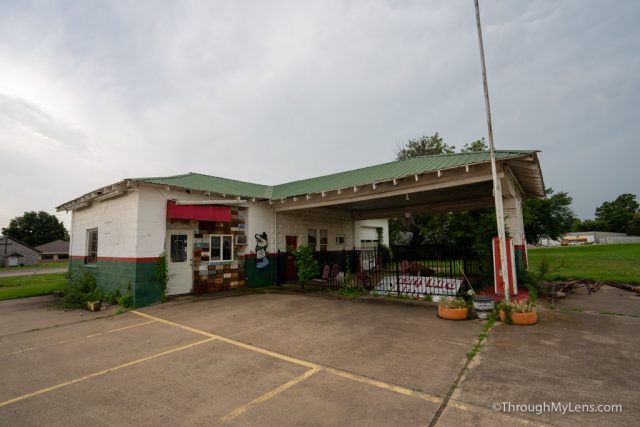 As you will see in all of my Route 66 posts, there are a lot of gas stations that are restored and that you can visit along the route, here is another one we stopped at on the way to the Rock Cafe.
Rock Cafe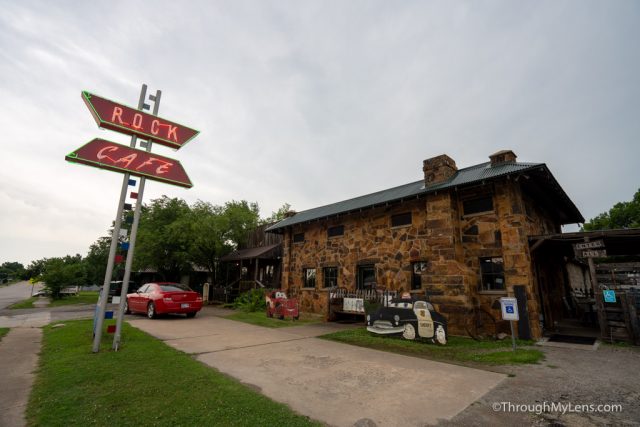 The Rock Cafe is a popular lunch spot in Stroud, OK. We didn't get to eat here but we poked our head in, and it smelled good. The building was built in 1939, closed for a while and then reopened in 2009. They also have a gift shop in the building it is connected to and a beautiful old neon sign out front.
Chrysler Sign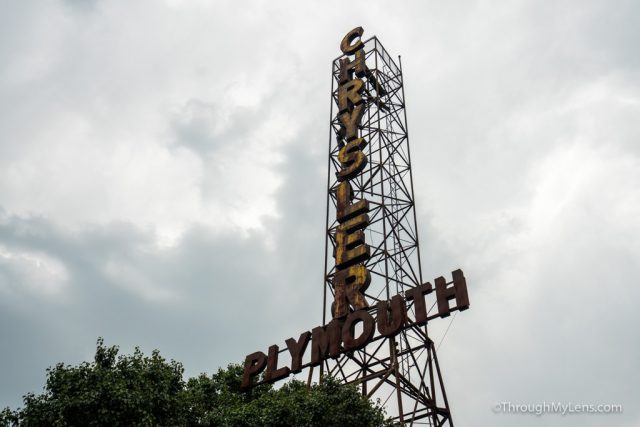 In the town of Bristow, you can see a large Plymouth Chrysler sign which is situated on one of the telephone poles in the middle of the city. It's a good spot for a quick photo of an old sign.
Heart of Route 66 Car Museum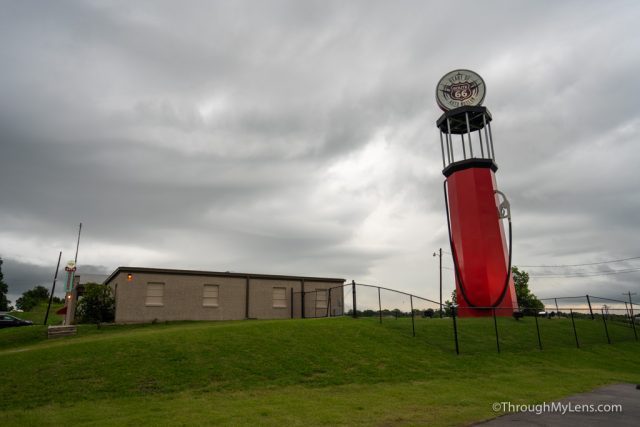 I didn't get a chance to explore this museum, but we were drawn in by the massive old gas pump that is probably 40 feet tall outside of the museum. I had no idea it existed, and I would recommend stopping there to check out the museum if you go when it is open. Let me know how it is in the comments.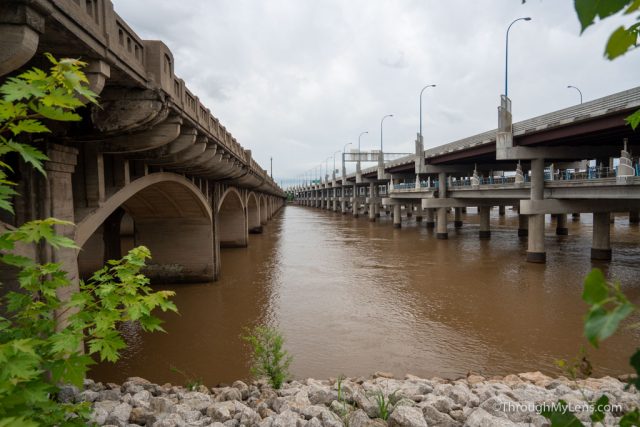 From there, we headed into Tulsa, which is one of the best cities on the route to experience the Route 66 revitalization. Tulsa is trying to keep the road going with lots of fun things to see in the city related to Route 66, including old signs, art, and a Route 66 food hall.
East Meets West Statue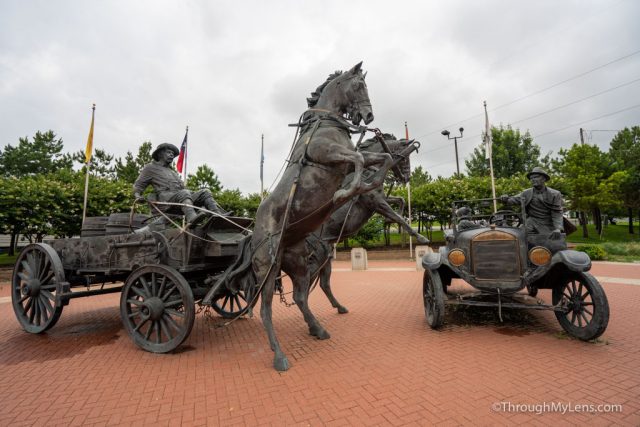 Our first stop in the city was at the 11th Street Bridge and the Cyrus Avery Centennial Plaza. The sculpture in the plaza called "East meets West" was commissioned to showcase the two modes of transportation that were used to make the drive on Route 66 over the years. It is a great example of a sculpture that preserves the history, and I enjoyed seeing it in Tulsa.
Meadow Gold Sign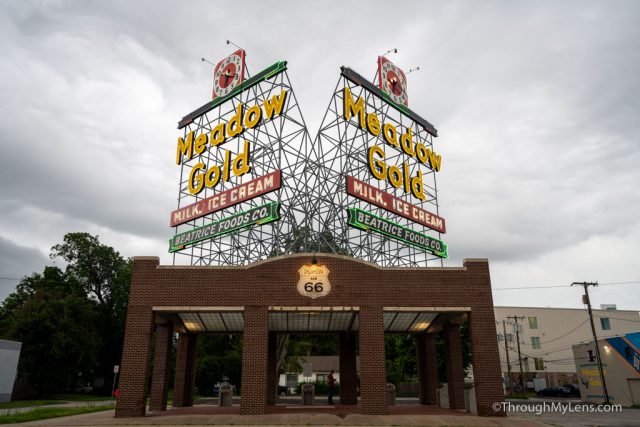 Meadow Gold is another historic Route 66 sign. It is in great condition and it has two sides, both of which have been well preserved. My dad and I liked this sign, and we went back to it a few times for photos.
Buck Atom Space Cowboy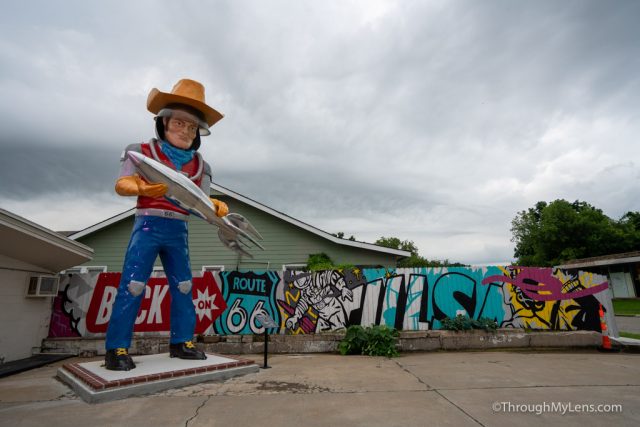 Two minutes from the Meadow Gold sign is the Buck Atom Space Cowboy, which is like the popular muffler men on the route but a new take on them. I didn't know this guy existed before we went and he quickly became one of my favorite stops.
Mother Road Market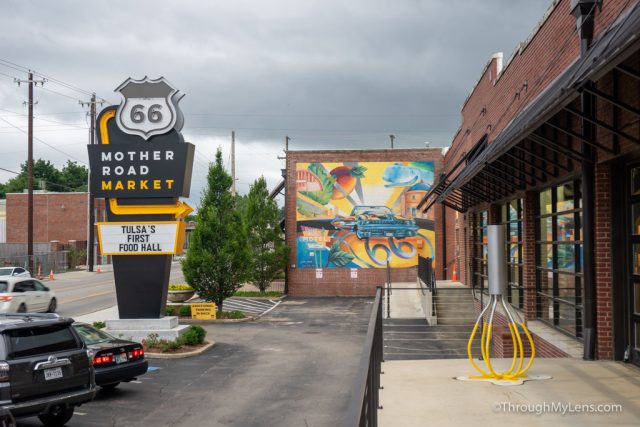 If you are looking for lunch or dinner in Tulsa, head to the Mother Road Market. This food hall has dozens of places to choose from and a great Route 66 vibe with signs and art on the walls. Plus, they have an outdoor mini-golf course where each of the holes has a famous stop on Route 66 as a hazard.
Tully's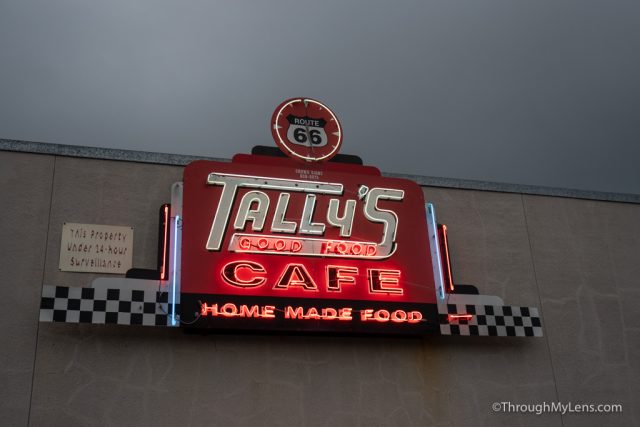 Tullys is another good restaurant on Route 66, which is in a historic building and has wrapped neon lighting. We didn't eat there, but we did stop for photos.
Oil Driller Statue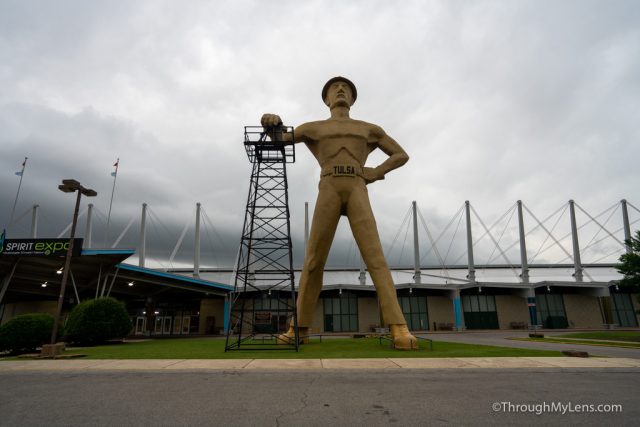 Our last stop of the day was at the giant oil driller statue which Tulsa is a Tulsa landmark. While not on Route 66, it is an excellent quick detour to see this 75-foot tall gold man, and it was put in in the 1950s. We went in both the afternoon and morning to check it out.
Highlight
Jeff – The BBQ Stand because it was the best I have ever had and the Arcadia Round Barn, which was amazing on the second floor with the way it was constructed.
Josh – I liked Tulsa the best, so many cool things to see there, and they really seem to be excited about their Route 66 history.
Let me know what your favorite part of this day was if you drive Route 66, and you can read about all of the days here.