Day 12 on our 14 day Route 66 journey took us from St Louis into Illinois and to the town of Bloomington. It was a bittersweet day as it was our second to last long day on the route. We spent most of day 13 with my grandma, so we didn't do a lot of touring again until our last day. This is a full day with lots of stops, especially if you want to spend time in St Louis. We didn't spend a lot of time there since I was coming back to the city a month later, but we did stop and see the arch. Also, you will need to decide if you want to go into the city or go out and see the Chain of the Rocks Bridge, which is on an earlier alignment and a historic Route 66 bridge. It is hard to do both in one day unless you have more time in the city. Here are all the places we stopped on day 12.
Details
Mileage: 165 miles
St Louis, MO to Bloomington, IL
Read about the whole trip here
Route 66 State Park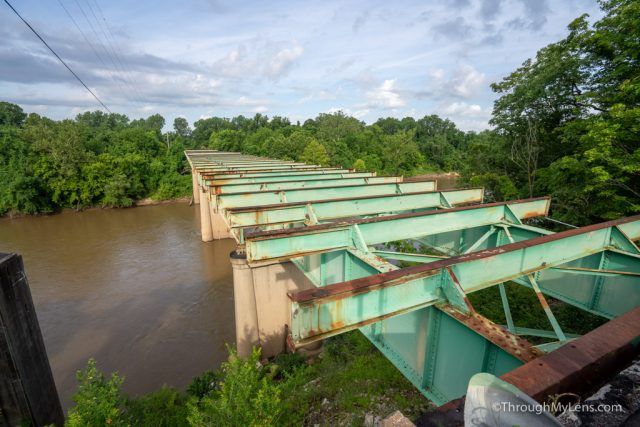 Route 66 State Park once housed a popular resort and beach. It is since gone but the park features many walking and biking paths, as well as great views of an old bridge Route 66 used to use. There is also a small museum and visitors center on the east side of the park.
Ted Drewes Frozen Custard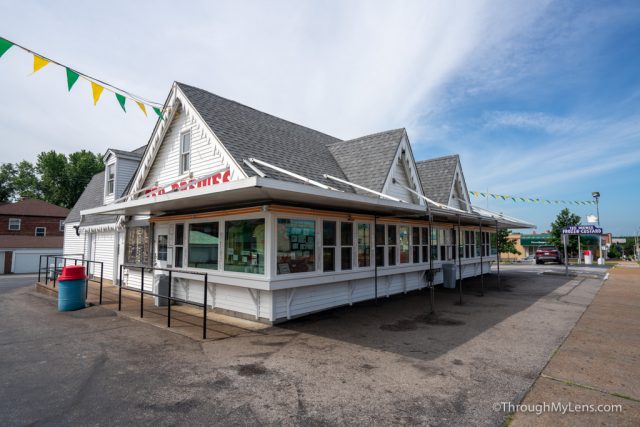 Ted Drewes is a frozen custard shop in east St Louis that has been there since the 1930s. People line up early to try their custard, with the most popular dish being the concrete, which is a thick ice cream that you add toppings into. I do have to say it is worth the wait.
St. Louis Arch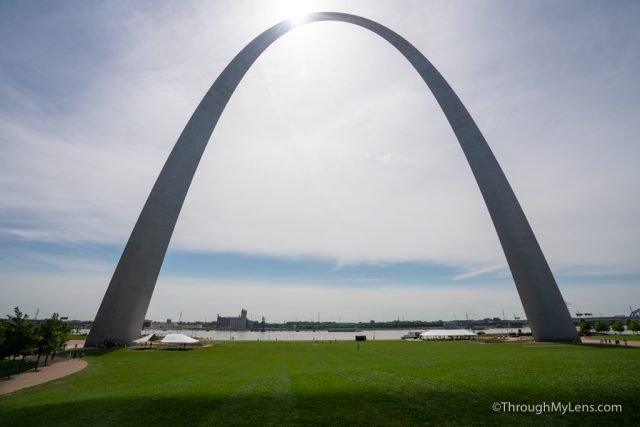 While not specifically Route 66 related, any road trip through St Louis should stop at the St Louis Arch. Standing at 630 feet tall and built in 1965, this arch is much more impressive in real life than it is in the photos. You can go up in it if you would like, but do note that it can be busy in the summer and that there is not any parking close other then some of the downtown garages.
World's Largest Ketchup
The world's largest catsup bottle stands high over the city of Collinsville. The bottle was initially used as a water tower when it was built in 1949 but has since been preserved as a novelty. You can see it as you drive down South Morrison Ave, and it is about 3 miles off Route 66.
Pink Elephant Antique Mall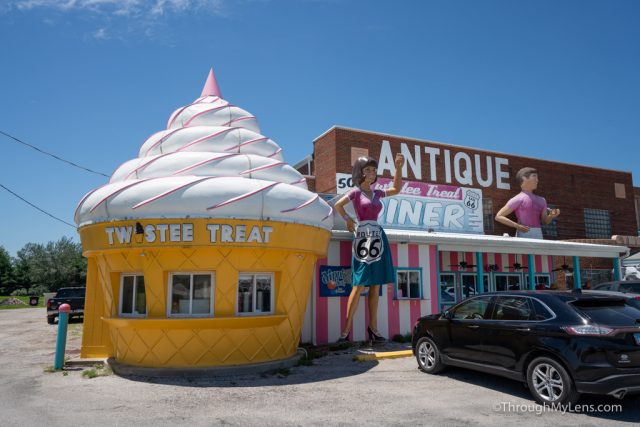 Right off the highway in the town of Livingstone, the Pink Elephant Antique Mall is an old high school that was purchased and renovated to become a roadside attraction. The mall features all sorts of sculptures outside, including a giant pink elephant and a muffler man. The inside features a diner, candy shop, and a large consignment store with all sorts of antiques.
Hare it is (Henrys Rabbit Ranch)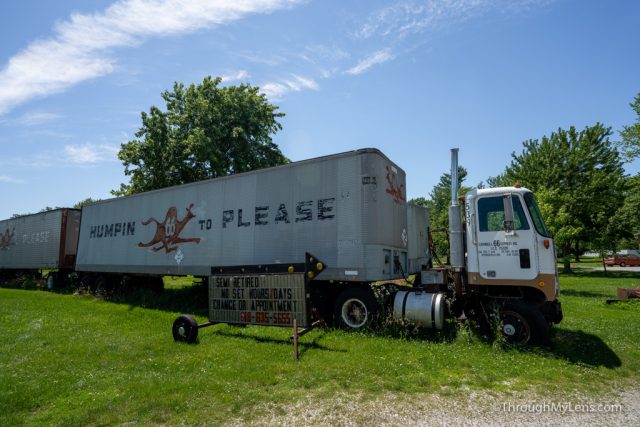 Located on an older alignment of Route 66 in the town of Staunton, Henry Rabbit Ranch is a must-stop on day 12. This former gas station features many artistic takes on things you have already seen on the route, including a large jackrabbit you can sit on for photos, cars stuck in the ground like Cadillac Ranch (you cannot paint them though) and many different old signs and ads.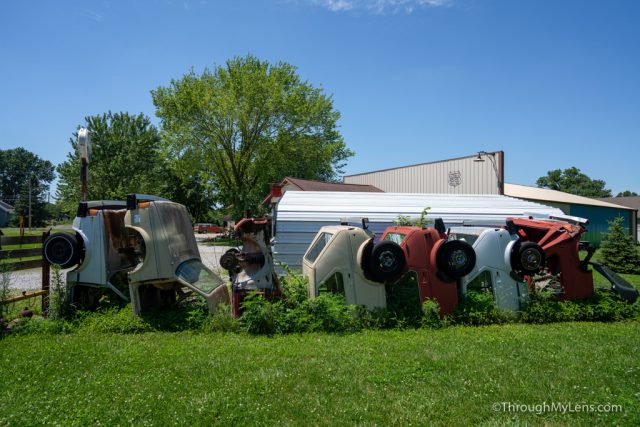 The owner also has a bunch of rabbits, and you will see them when you walk in the store. I got a chance to meet and pet Gilbert, which was one of the rabbits roaming around, and it was a fun little stop on the drive.
Soulbys Service Station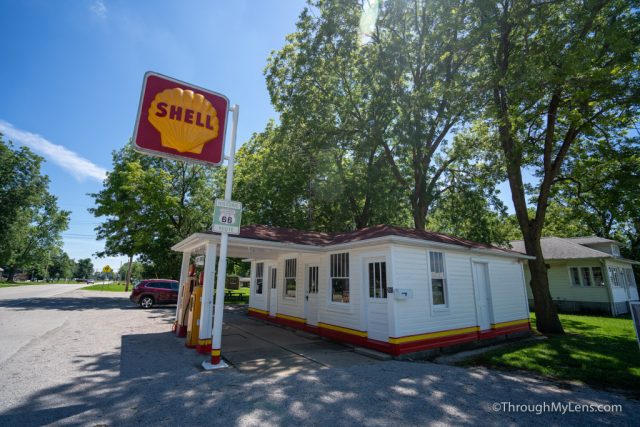 In the town of Mt Olive, you can stop by Soulsby Service Station, another of the replica gas stations you will cross on Route 66. The station was built in 1926 and stopped selling gas in the 1990s. The station now has a bunch of old photos, artifacts, and even signs that you can see if the inside is open.
Sugar Creek Covered Bridge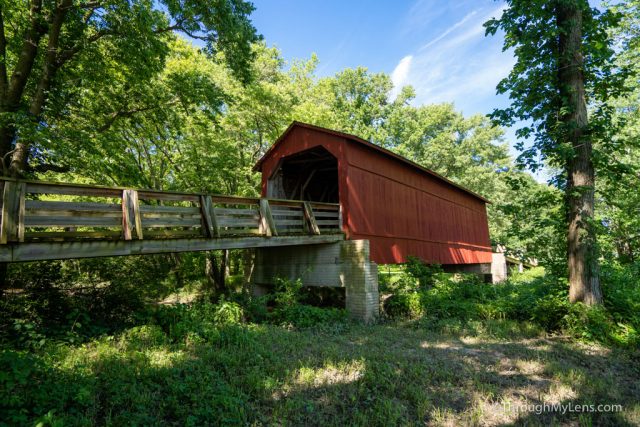 Built in 1880, the Sugar Creek Covered Bridge is 3 miles off Route 66 but worth the detour. At only 60 feet across, it is not a long bridge, but it was beautifully restored in the 1960s, and you can walk through it (can't drive through it).
Cozy Dog Drive In
Cozy Dog Drive In is a Route 66 institution that claims to be the birthplace of the corn dog. The creator, Ed Waldmire, opened the first Cozy Dog out of his house in 1946. The location you visit today is from the 1990s, but it has all sorts of art (from Ed's son Bob who is a famous Route 66 artist) and history on the walls of the restaurant. Even if you are not hungry, you will want to stop here to try the original corn dog and explore the historic shop.
Muffler Man at a Muffler Store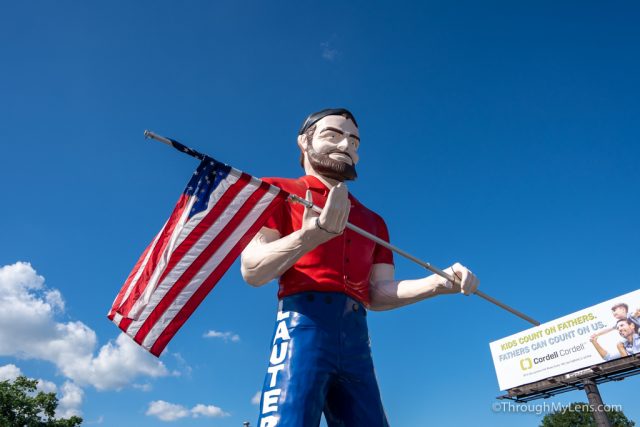 One of three original muffler men in the Illinois part of Route 66, this one is about 2.5 miles off Route 66, and it sits in front of an auto shop. It is one of the least exciting of the three to see, so you can skip this one unless you have the time and want to check it out.
Springfield, Illinois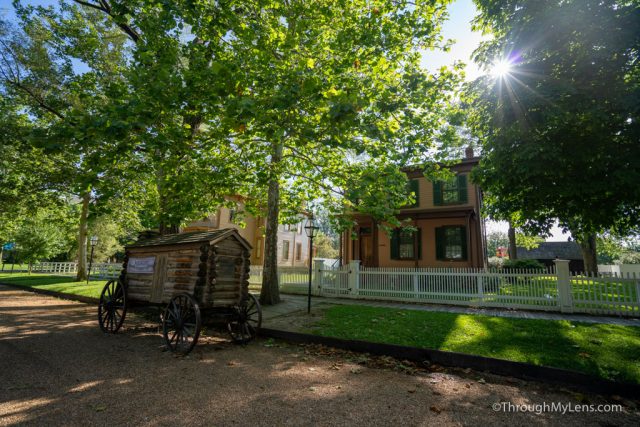 Springfield was the home of President Abraham Lincoln before he moved to the White House. Because of this, there are a ton of President Lincoln related places you can see in the city. I would recommend planning at least a half to a full day though, if you want to experience them. Here are the three main attractions.
Lincoln's House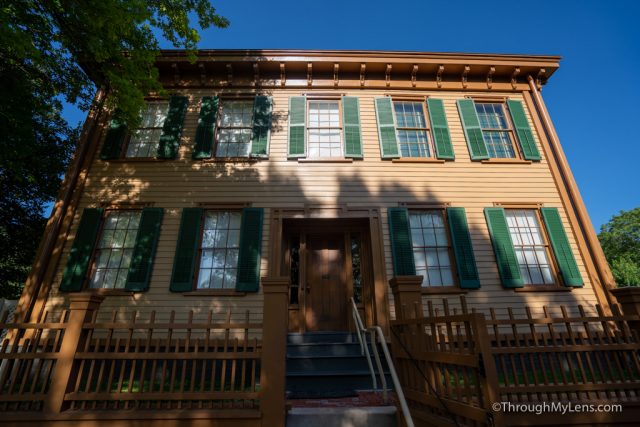 In the national park site in the middle of the town, there are two restored streets that look basically like they would have when President Lincoln lived here. In the middle is his house, and you can take a tour of it multiple times per day if you are interested.
Lincoln Museum and Presidential Library
The Lincoln Presidential Library and Museum is in the city as well. I really wanted to see it, but we didn't get a chance to on this trip.
Lincoln's Tomb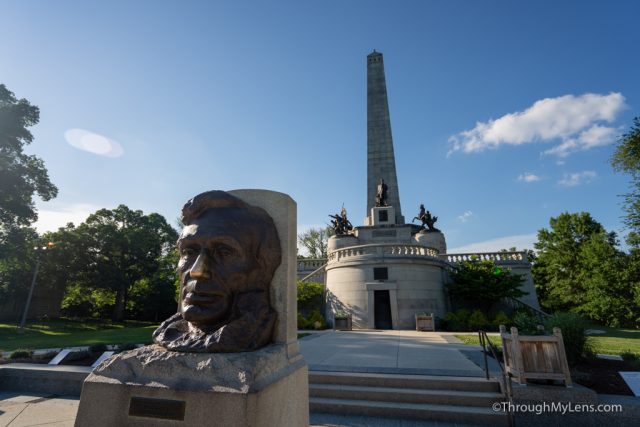 This is the last President Lincoln stop in Springfield. If you go when it is open, you can go down into the tomb and see where he is actually buried. If you go when it is closed, then you can still see the fantastic granite memorial that sits on the gravesite.
The Mill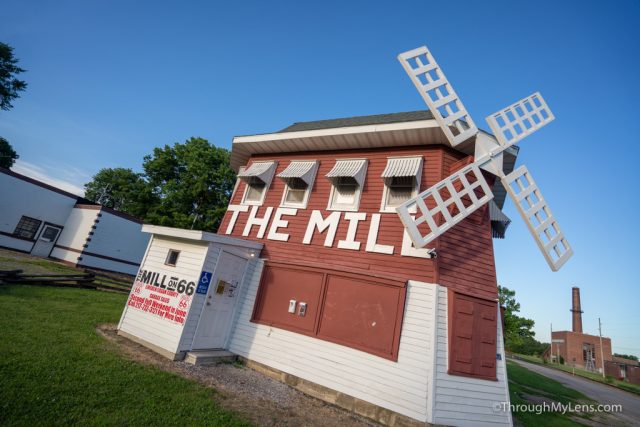 The mill is a historic building on Route 66, which featured a full windmill attached to the roof. It was built in 1929 but went into disrepair until it was renovated in 2006. Now it houses a small gift shop that you can visit if it is open.
Largest Covered Wagon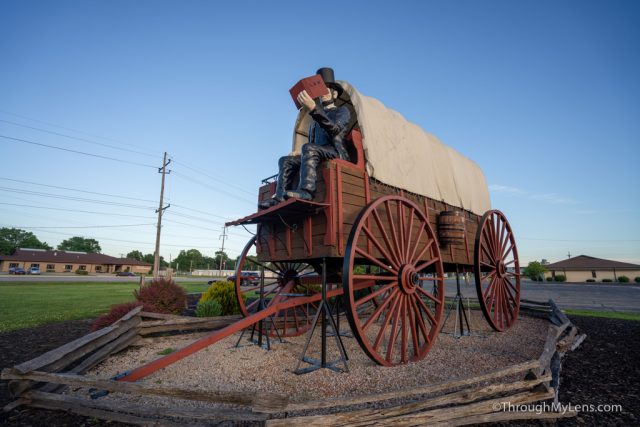 The rail-splitter wagon features Abe Lincoln reading a book, and it is in the Best Western Parking lot in the town of Lincoln, Illinois. The Guinness Book of World Records recognized it as the largest covered wagon in the world, and it is a quick stop for a few photos.
Lincolns Courthouse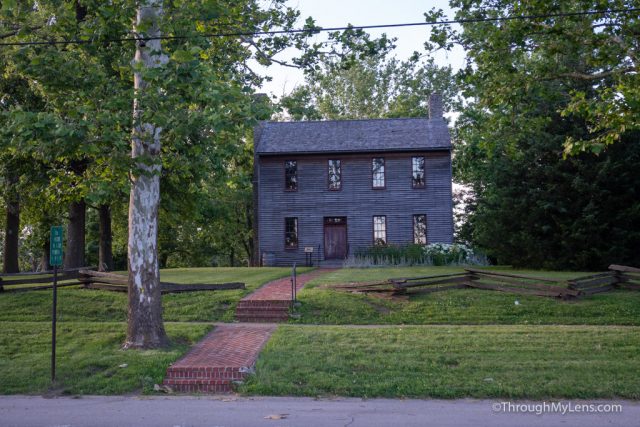 As you drive through town, you can see this old courthouse, which is where Abe Lincoln practiced when he was a lawyer in the county. I did not go in, but it is an awesome building to see from the outside.
Lincoln Watermelon Seed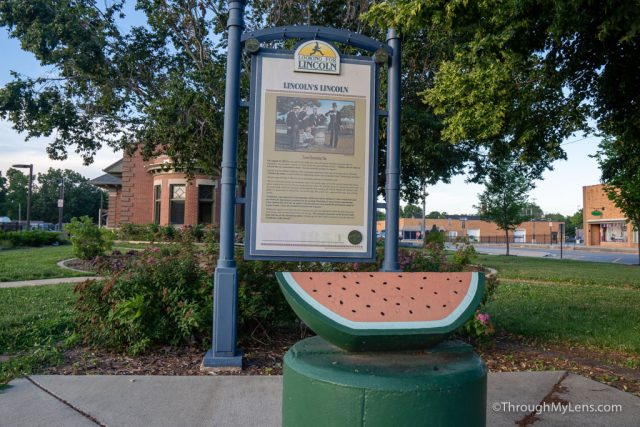 In the middle of the town of Lincoln, there is also a memorial at the site where he christened the town with watermelon juice. A plaque features the story of the event, and there is a small watermelon painted to memorialize the spot.
Muffler Man of Atlanta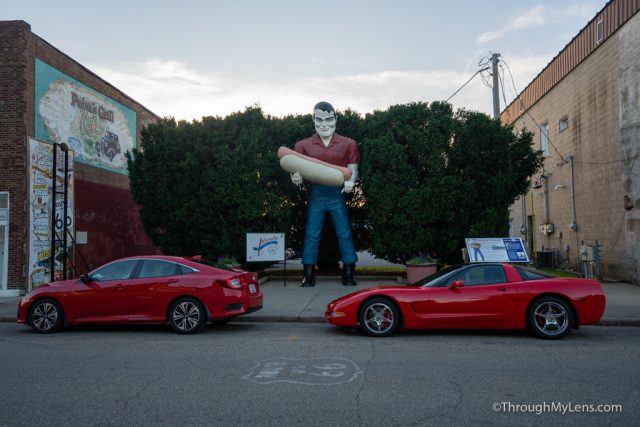 The muffler man of Atlanta, Illinois, is one of the most photographed attractions on Route 66. The large sculpture stands there, holding a hot dog, and greets visitors in the downtown area of Atlanta. It was moved here from its original location closer to Chicago, and it was a highlight for me of the drive.
Highlight
Jeff – Hare It Is, because there was a ton of unique stuff with the cars in the ground, the old ads on the trucks and the live rabbits in the store. Trying the original corn dogs and seeing all the old maps they had was the second highlight.
Josh – Downtown St. Louis is a mess to park in, but it was impressive to see the arch. It was so much bigger then I expected it to be. Also, Hare It Is was a lot of fun too.
That is the end of day 12 on our Route 66 journey. Let me know what we left off in the comments. You can read
about all of the days here
.