I combined the last two days on our 14 day Route 66 journey into one post because we spent most of day 13 with my grandma and just stayed in the Bloomington-Normal area. If you are following my guide, then you will combine these days into one and end in Chicago. Hopefully, you have enjoyed this road trip series and let me know if you have any questions in the comments.
Details
Mileage: 130 Miles
Bloomington-Normal to Chicago, IL
Read about the whole trip here
Day 13
Funks Grove Sirup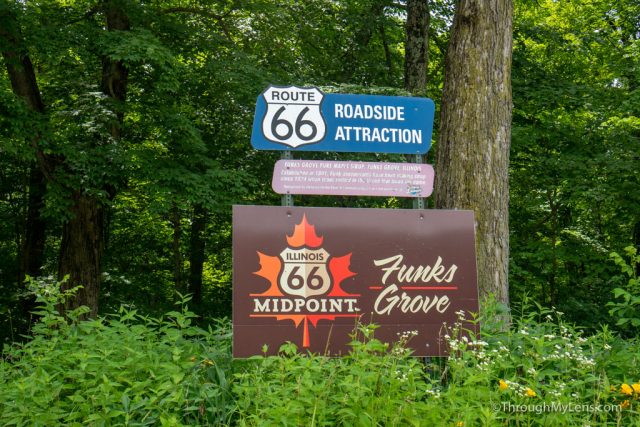 This is a must-stop for the maple lover. They have been producing pure sirup (the correct spelling according to them) since 1824. It is delicious.
Lucca Grill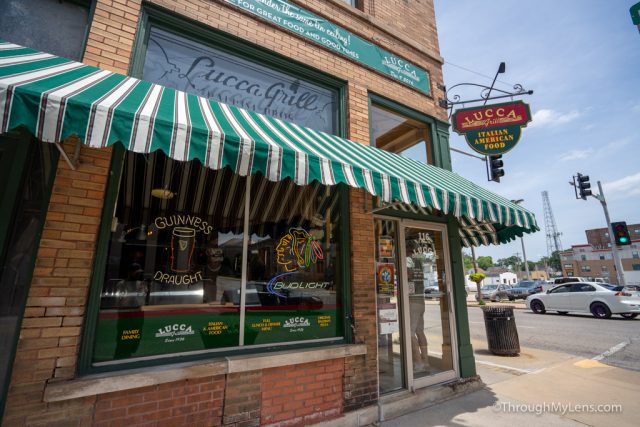 Established in 1936, this restaurant has been a staple along Route 66 in Illinois. Its Italian cuisine is worth the stop.
Normal Theater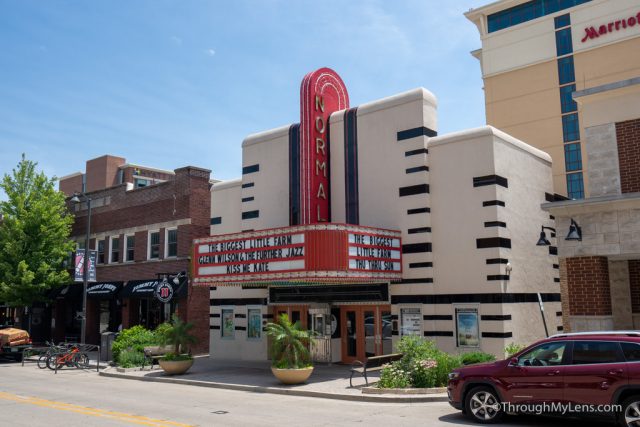 The old Normal Theater is a landmark in downtown Normal and is still in operation. Opened in 1937, it was designated a "local landmark" in 1991.
Sprague Super Service Station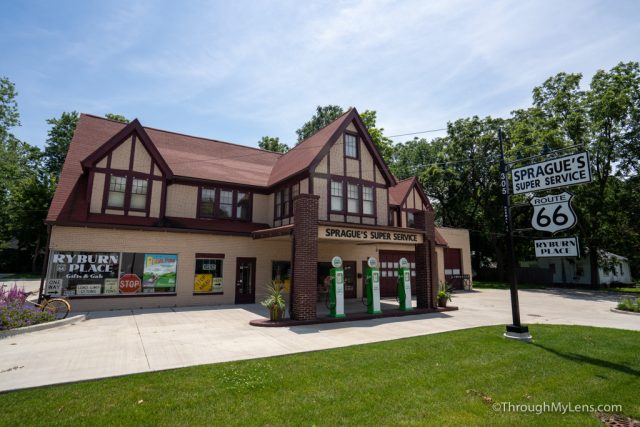 The Sprague Service station in Bloomington Normal has a small collection of artifacts and a gift store. The caretaker at this time is a true expert on Route 66 and it was a fun stop in the city.
Beer Nuts Headquarters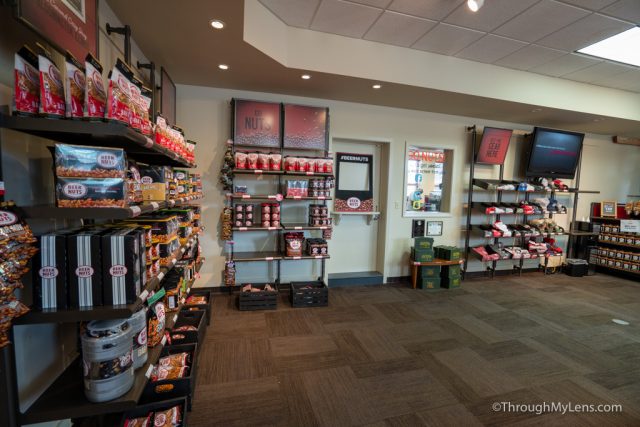 The famous sweet and salty snack was created in Bloomington, Illinois in 1937. You can sample and purchase various snack offerings at the store.
Towanda Original Route 66 Road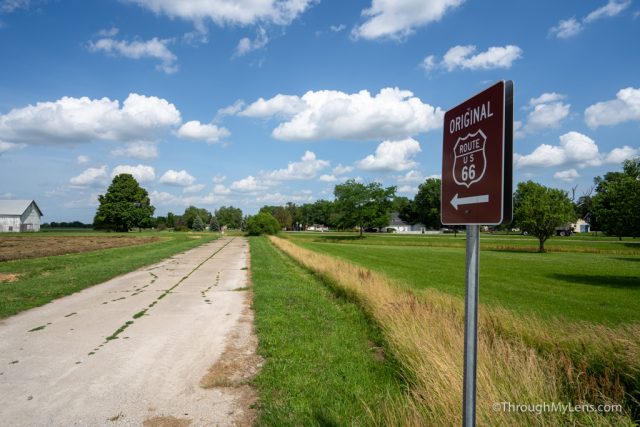 An interesting, short stop for Route 66 enthusiasts; in the town of Towanda you can see and walk on a very short section of the original concrete road.
Day 14
On Day 14, we left Bloomington-Normal and headed towards the end of our journey, Chicago.
Lexington Sign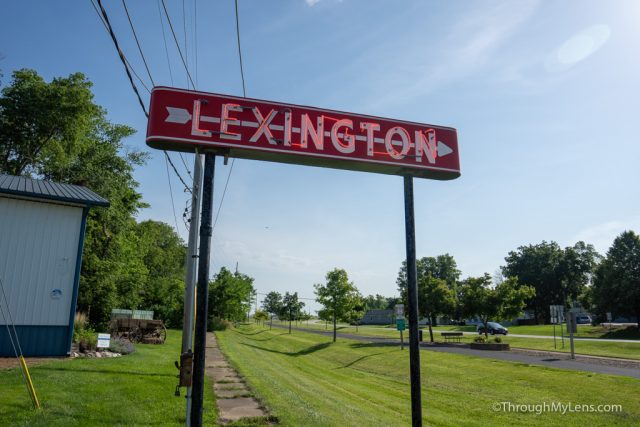 Pontiac 66 Museum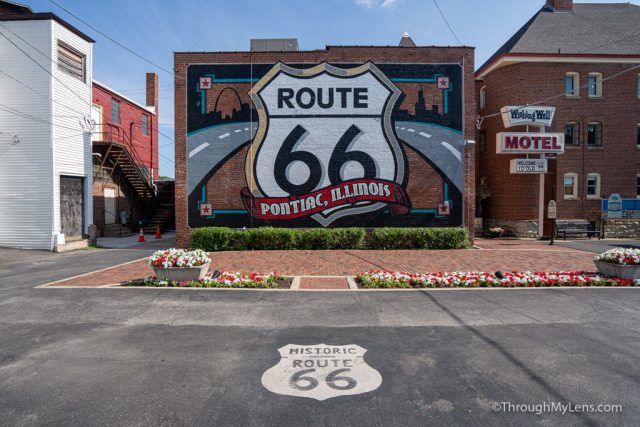 The Route 66 Museum in Pontiac, Illinois is an absolute must stop. Not only does it include time period artifacts and information about the major stops along the road, it also has a great deal of information is provided on Bob Waldmire, son of the Cozy Dogs owners, who is arguably the artist of Route 66. He converted a school bus to an RV and towed his VW bus as he traveled the route. Both can be seen along with his art at the museum.
Walldog Murals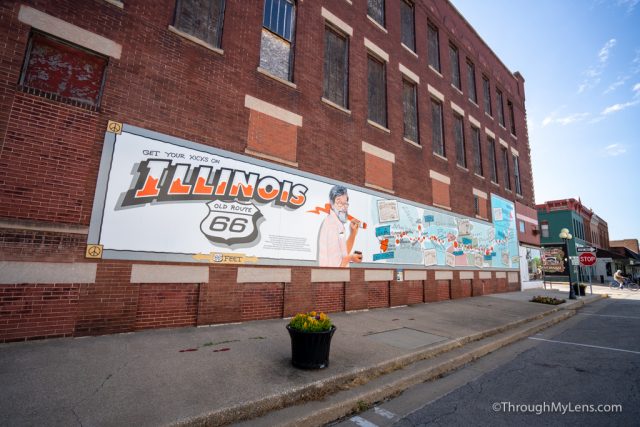 The City of Pontiac is filled with various murals one can see on what is called the Walldog murals walking tour. Many of the murals are from Bob Waldmire.
Pontiac Oakland Auto Museum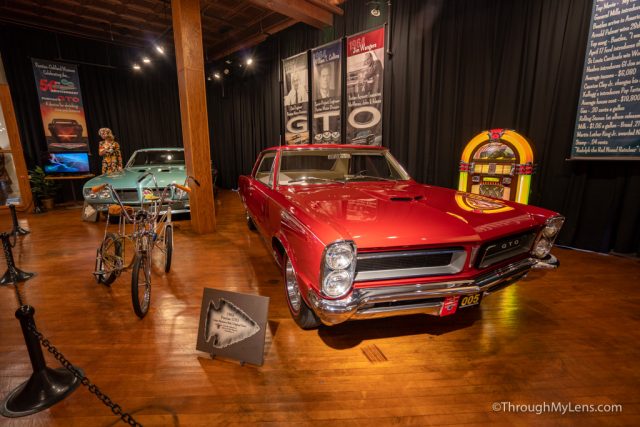 The museum has a lot of great cars on display and is a must stop for those that like old automobiles.
Standard Oil Gas Station in Odell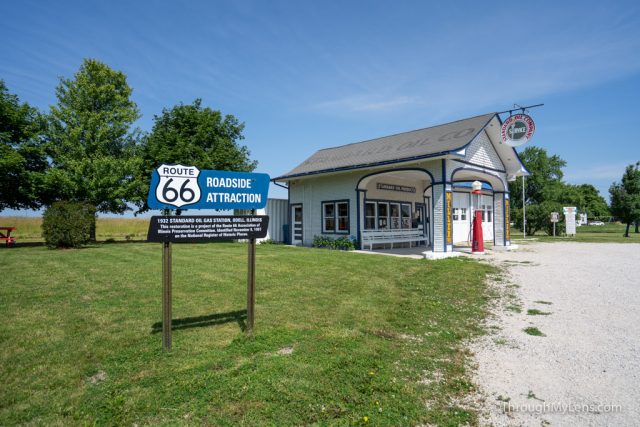 A beautifully restored station in the typical style that allows you to walk through the garage and see some old artifacts.
Texaco Gas Station in Dwight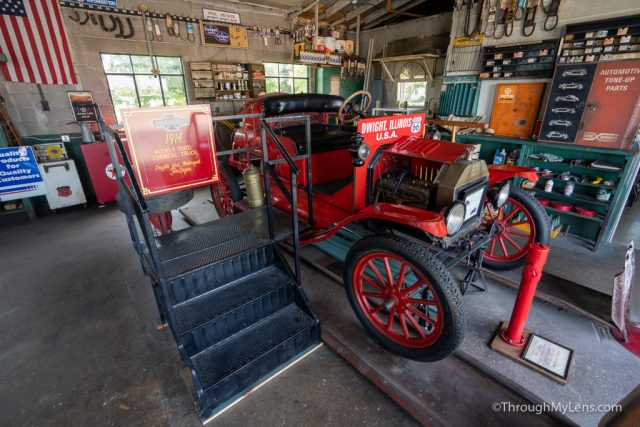 The Texaco Service Station was one of our favorites in Illinois. At it, you can see a lot of Route 66 history, sit in an old firetruck and talk to the owners who are really knowledgable people.
Windmill Dwight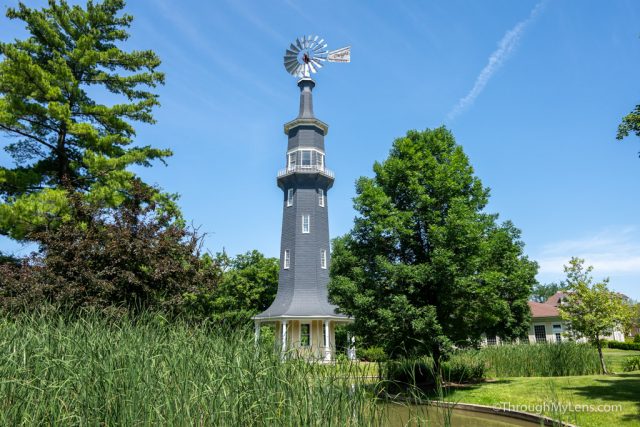 Here there is an expansive old property that includes a windmill that was built in 1895. One of the buildings has also been converted into a restaurant.
Braidwood Zoo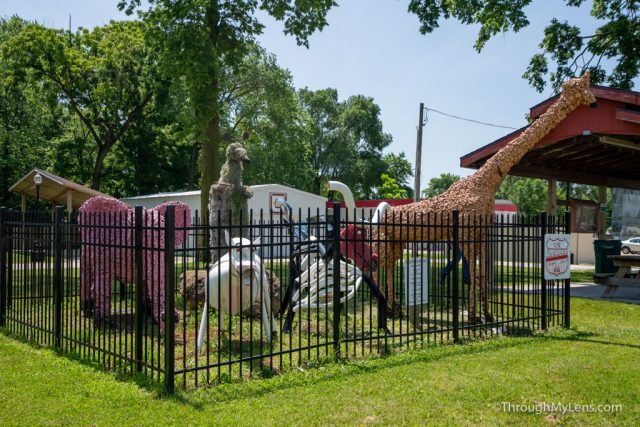 This is one of those quirky spots along the route. Six animals made of various materials reside within a small fenced area. It is a fun brief stop.
Polk-A-Dot Drive-In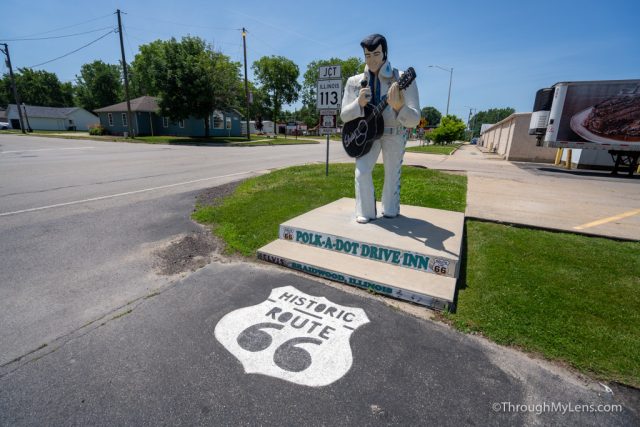 Polk A Dot Drive In is an authentic 50's style diner down to the jukebox playing 1950s-60s music.
Sinclair Dino Gas Station
Sinclair gas stations used to use a green brontosaurus and their mascot. Here you can see one still posing on top of the old gas station.
Gemini Giant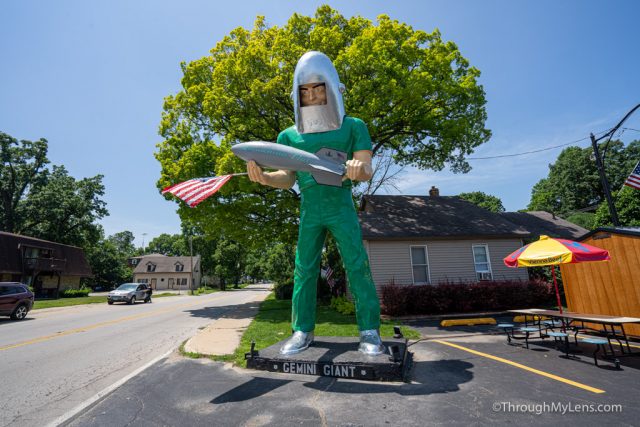 The Gemini Giant is a must see. The large spaceman holds a missile as he looks over the Launching Pad restaurant that was established in 1965.
Rialto Theater in Joliet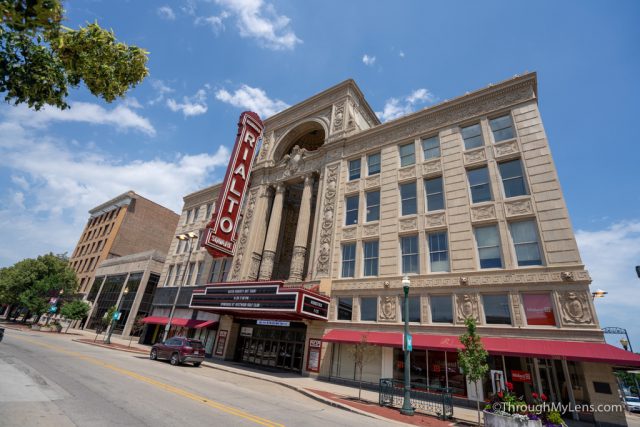 The beautiful old theater continues to show movies and boasts a stunning crystal chandelier. Tours are available if you are interested.
Joliet History Museum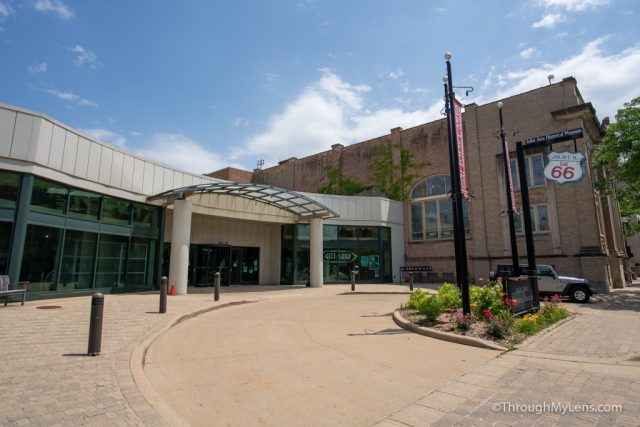 Joliet has embraced the Blues Brothers in part because of "Joliet Jake." This museum has a lot of exhibits on the area's history and a few small exhibits on Route 66.
Dicks on 66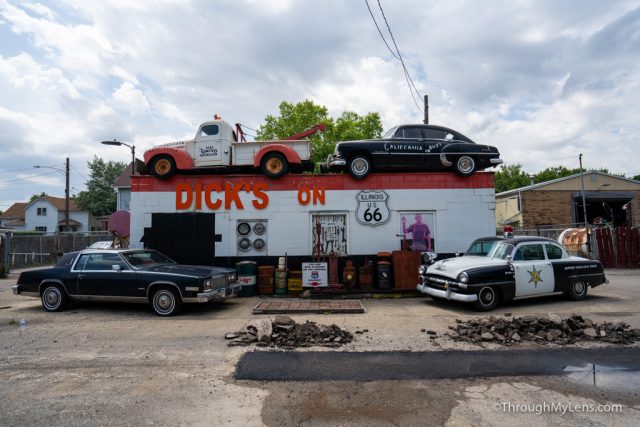 Dicks on 66 boasts an original piece of Route 66. It is an artistic take on an old auto shop with cars on the roof and a 1950s era police car.
Rich and Creamy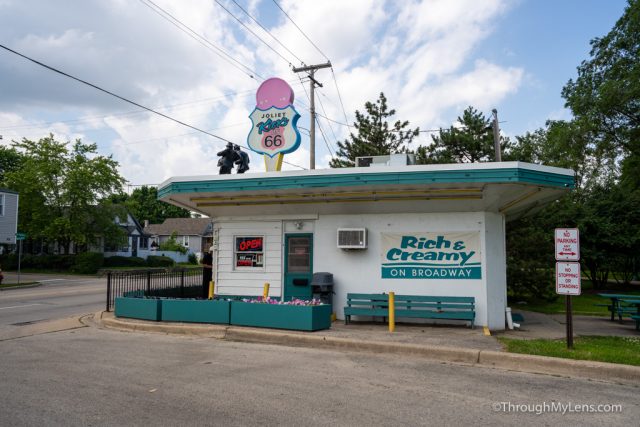 The Blues Brothers dance atop a great stop for ice cream on the way our of Joliet.
Henry's Chicago Style Hot Dog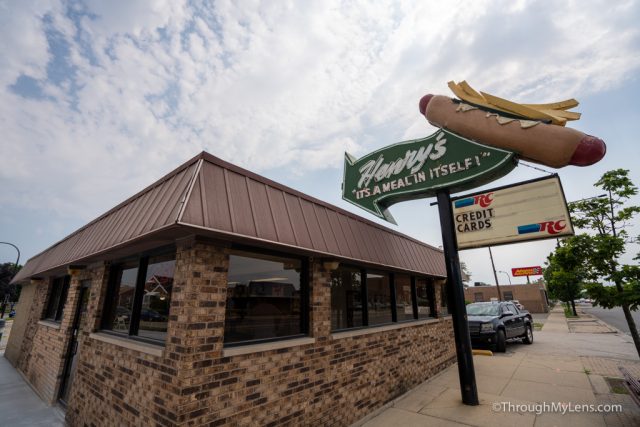 When you get to the outskirts of Chicago, be sure to stop and see this historic neon sign. Plus, you can also get a hot dog while you are there as well.
Castle Car Wash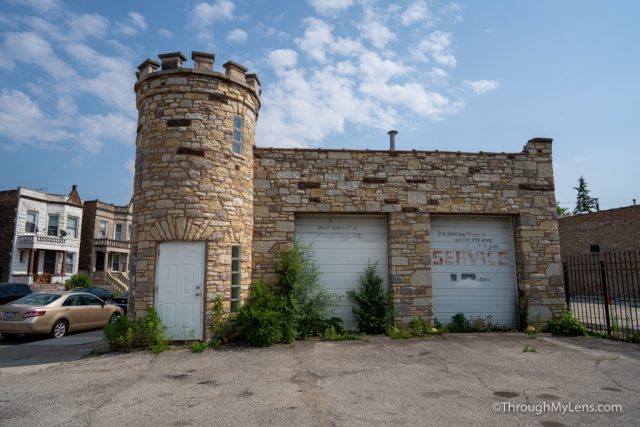 Castle Car Wash is no longer open but it was built in 1936.
Cloud's Rest (the bean)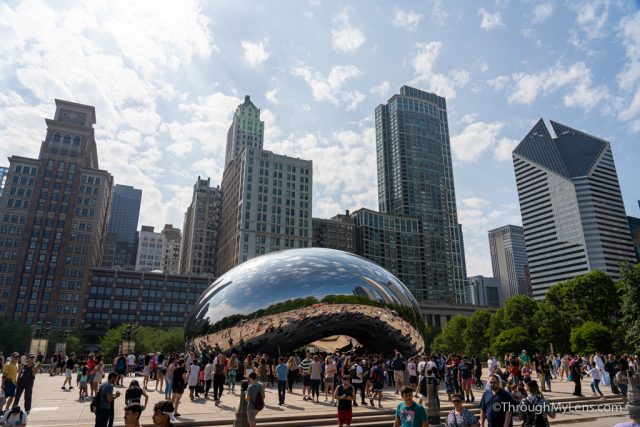 Near the beginning/end of Route 66 (depending on if you are starting of finishing) is Chicago's art installation known as the bean. It looks like a giant, chrome kidney bean that is a fun spot for pictures and people watching.
End of Road Sign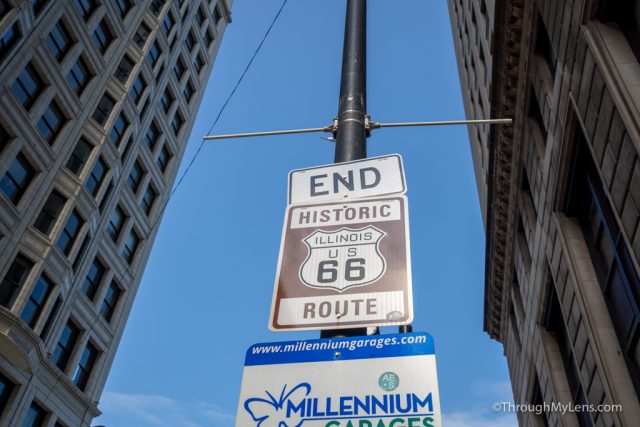 A block from each other, Chicago has signs indicating the beginning of Route 66  if you are heading west (Adams St. & Michigan Ave.), or the end of the Route if you are heading east (Jackson Blvd. & Michigan Ave.). It is a bittersweet way to end your journey on Route 66.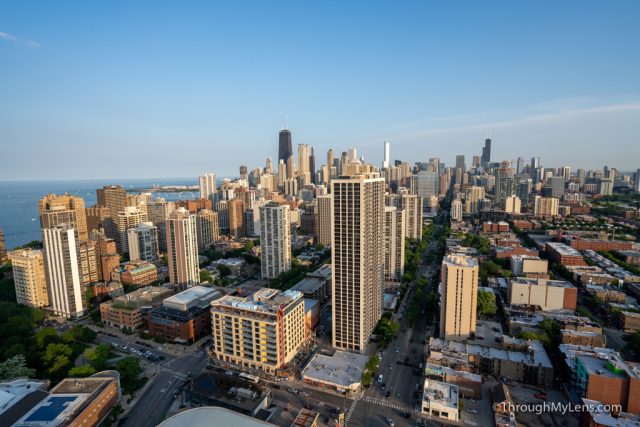 Highlight
After traveling 2448 miles, it is great yet sad to come to the end of such an adventure. As we walked up to the sign, it signaled the end of two amazing weeks on Route 66. Another highlight for the day were the cities of Pontiac and Joliet and the effort they put into keeping the route alive. But Pontiac deserves special mention because of the Bob Waldmire exhibits and the way they cover "heroes" of Route 66 across as well.
Hopefully you enjoyed our Route 66 series. Let me know your thoughts in the comments. You can read about all of the days on Route 66 here.