Day 11 of our 14 day Route 66 journey took us from Springfield to St Louis, Missouri. It was one of the longer days since we had a shorter day 10 to spend time at Bass Pro Shop World, but it was full of fun stops. If you do this drive the same way that we did, make sure to note when Meramec Caverns closes as it is towards the end of the day, and it is not a spot you want to miss. Here are the stops on day 11 of our Route 66 road trip.
Details
Mileage: 250 Miles
Springfield, MO to St. Louis, MO
Read about the whole trip here
Rest Haven Court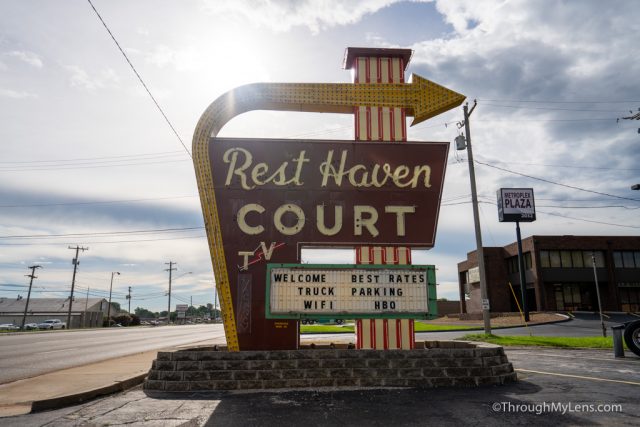 Rest Haven Court is an excellent example of a Route 66 neon sign in the city. We didn't see it lit up at night, but it was still fun to see during the day.
Replica Hubble Telescope in Marshfield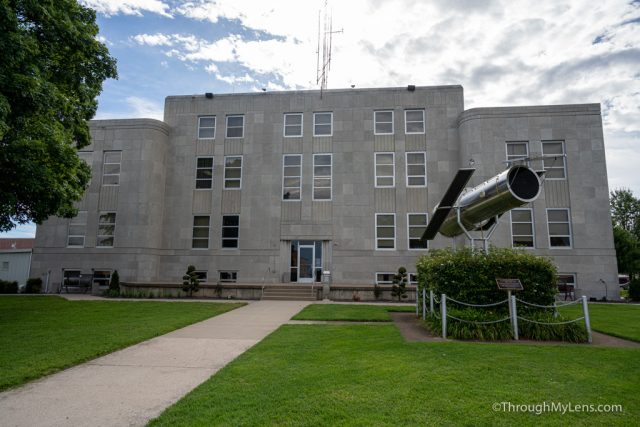 The town of Marshfield is the birthplace and home of Edwin Hubble, who created the Hubble Telescope. Right next to the courthouse is a replica of the famous telescope at a third of the scale that you can see if you are interested.
Abbey Lee Court Trees Sign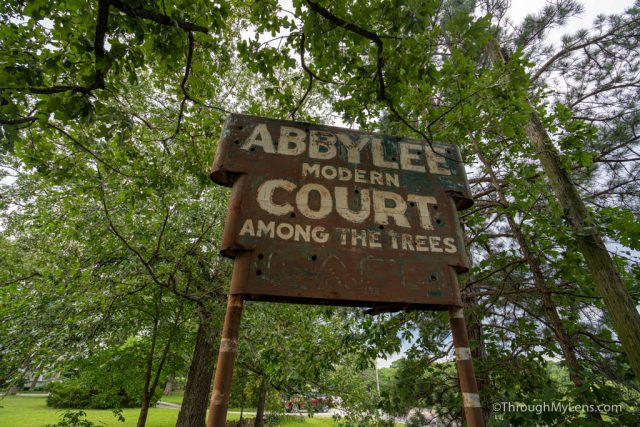 Another old sign that you can blink and miss, I liked stopping for this one because the sign was in good condition, and it sat nestled in the trees, which was unusual for a photo.
Route 66 Museum in the Lebanon Library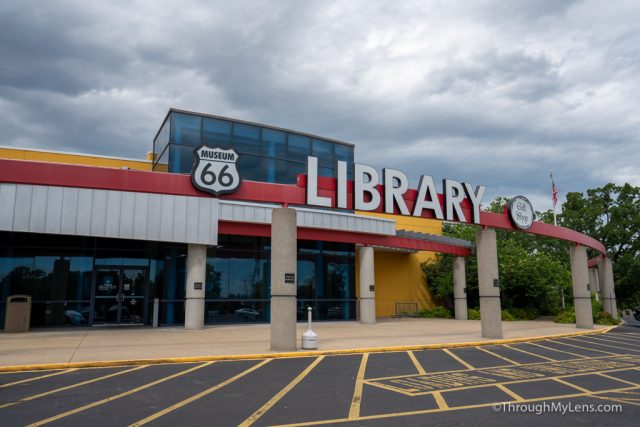 The next stop is the town of Lebanon, which has a small Route 66 museum in the town library. It is not something you have to stop at, but they are a stamp spot for the Route 66 passport, so it is worth seeing if you are collecting the stamps and it is a pretty good museum.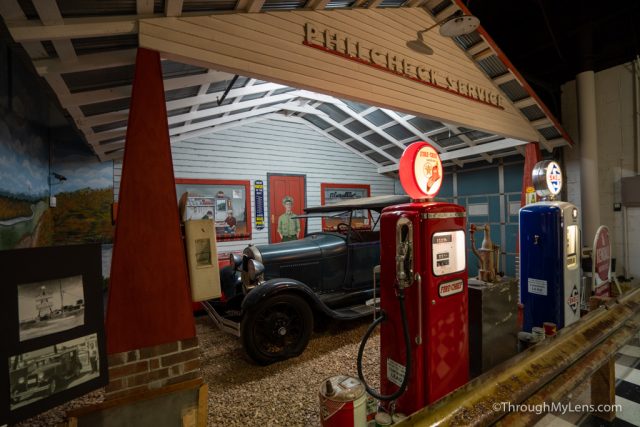 Wrinks Market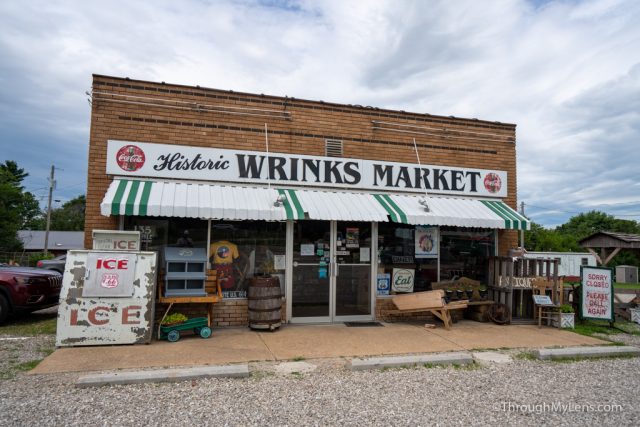 On the way out of town, Wrinks Market is worth visiting. It is a traditional market but it has a lot of history on Route 66. It was built in 1950 and served travelers for the better part of 50 years.
Munger Moss Motel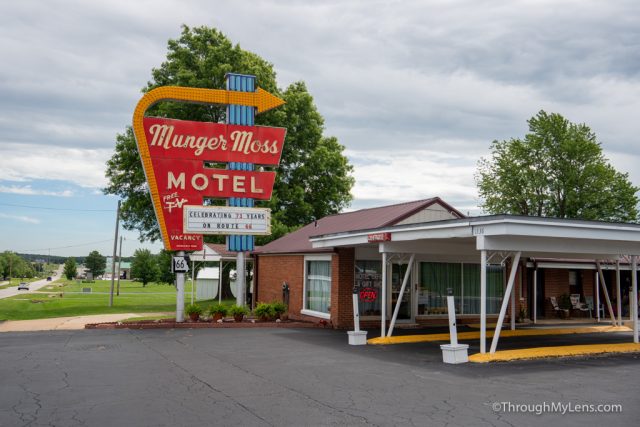 Right down the street from Wrinks is the Munger Moss Motel, which is a historic Route 66 motel. It was built in 1946 after the popular Munger Moss sandwich place from 1936 had become a staple on the route. You can still stay here today, or you can go take photos of the well preserved old sign.
Waynesville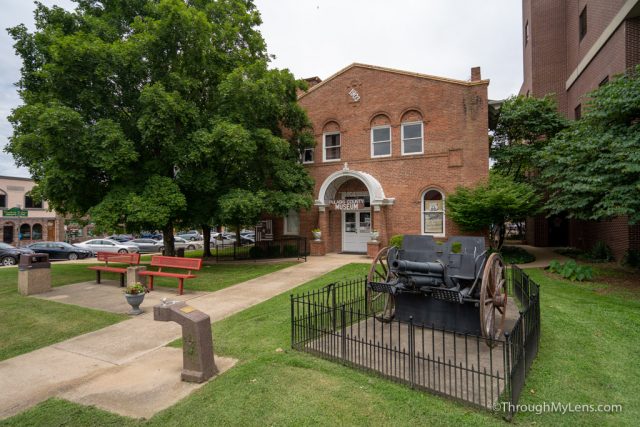 Waynesville is a mining town from before Route 66. It still has a lively downtown area (for a small town), and it features a museum next to the courthouse, a museum on stagecoach travel, and a historic house called the Talbot house that is now a storefront.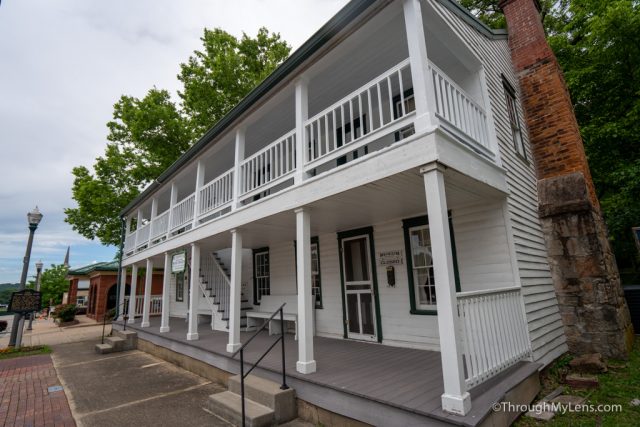 Uranus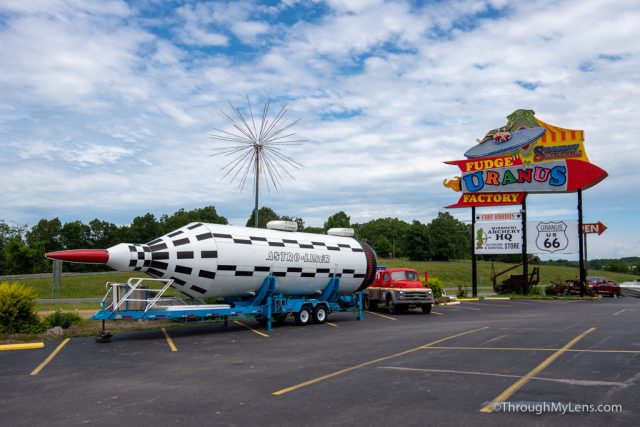 Uranus is a silly tongue in cheek stop where everything is a joke on the word Uranus. They have a popular fudge shop (fudge from Uranus), gift shop, gun range, and museum. They also have the world's largest belt buckle on display as well. I had a lot of fun here, my dad, not as much.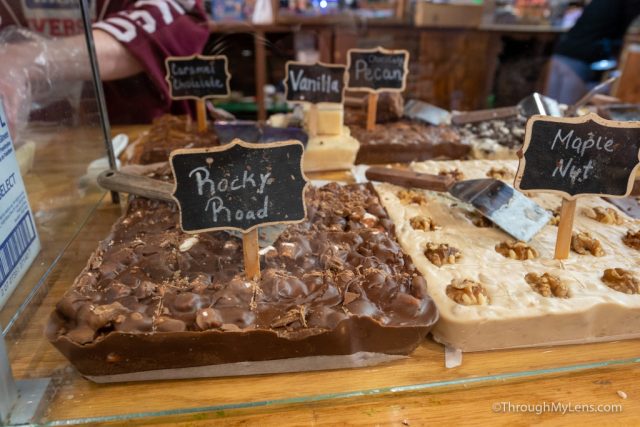 Devil's Elbow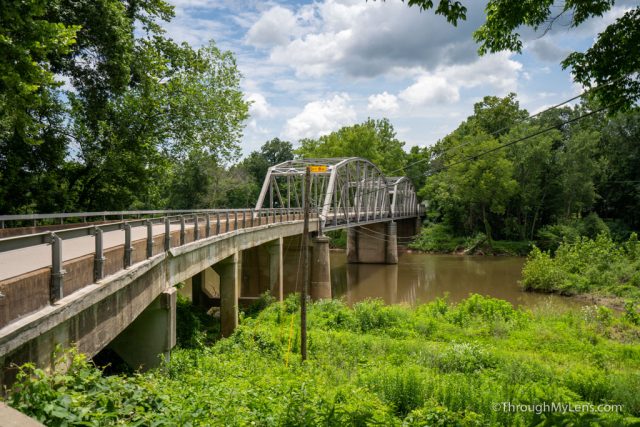 The Devils Elbow was one of the worst bends along the route. This area was realigned early because it was hard for military vehicles to make it through. There is an old market in the devil's elbow area that you can see as well as a beautiful old bridge.
Trail of Tears Memorial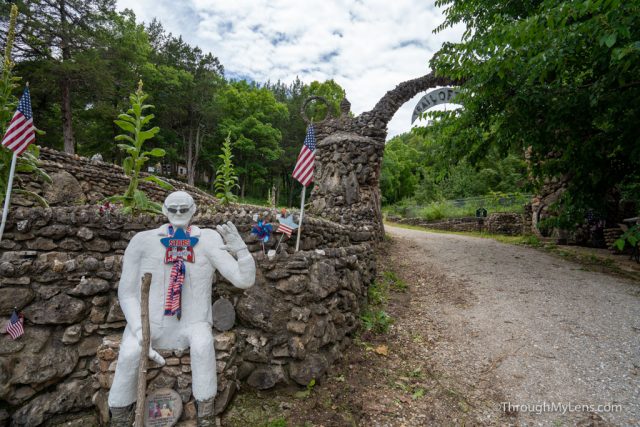 During this section of Route 66, you will be driving mainly on the highway. It is worth getting off here though, since the memorial features some beautiful artwork that honors the horrible trail of tears part of USA history. It is not always open, so you may have to view it from the road.
Rolla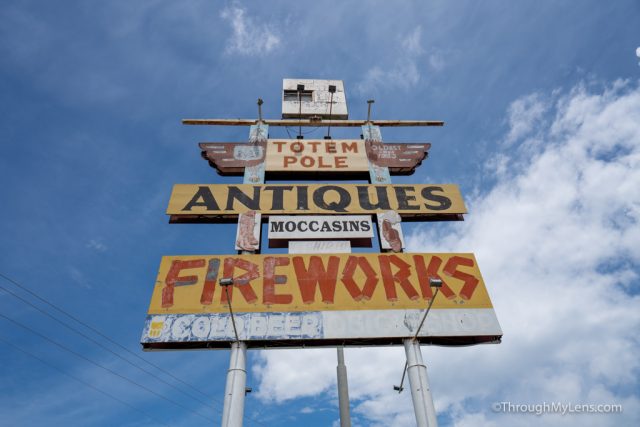 The town of Rolla is one of the larger towns you will see today. This town has a few stops, with the main two being service stations that are still in use. The first service station used to feature an old totem pole on top of the building. It doesn't have the totem pole anymore, but you can still see it in the service station gift shop.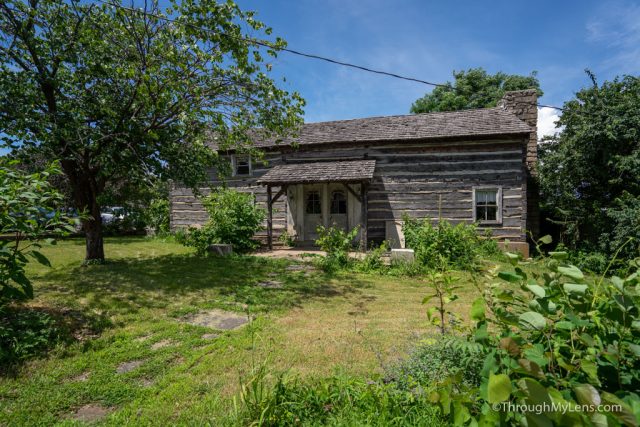 While driving through the city, you can stop and see an old wooden cabin that used to serve as the high school for the town in the early 1900s.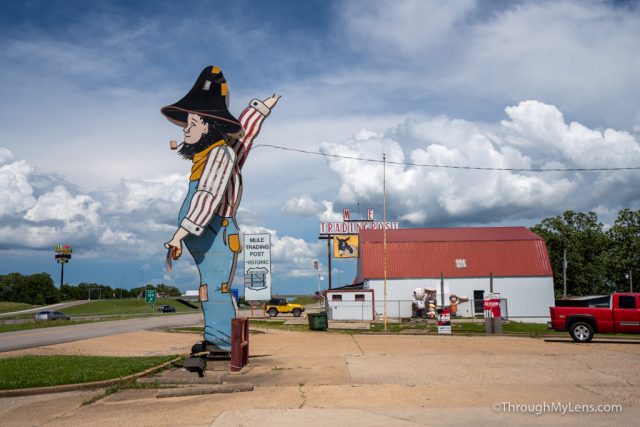 Then on the way out of town, stop and see the mule trading post with their hillbilly statue that has arms that move around.
World's Second Largest Rocking Chair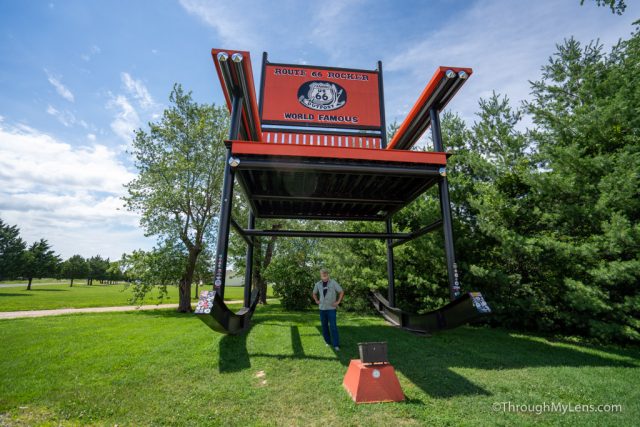 In the town of Fanning, MO, stop to see the world's second largest rocking chair (it just lost the claim as the largest a few years back). It is a giant rocking chair, and there is a large gift shop with all sorts of different kinds of popcorn that you can indulge in as well.
Cuba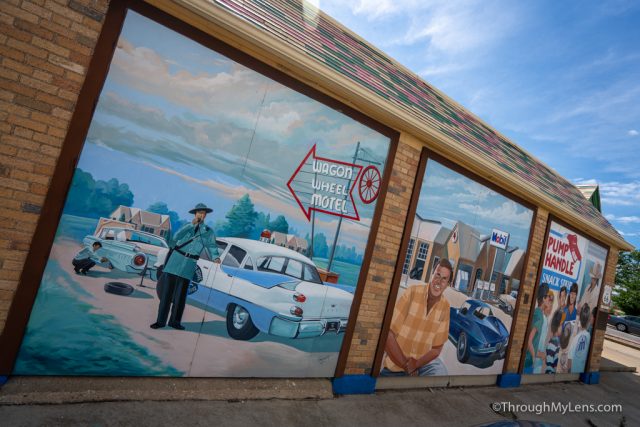 The town of Cuba is known for the murals that are all over town. I didn't get to see them all, but I saw a few of them as I was driving around.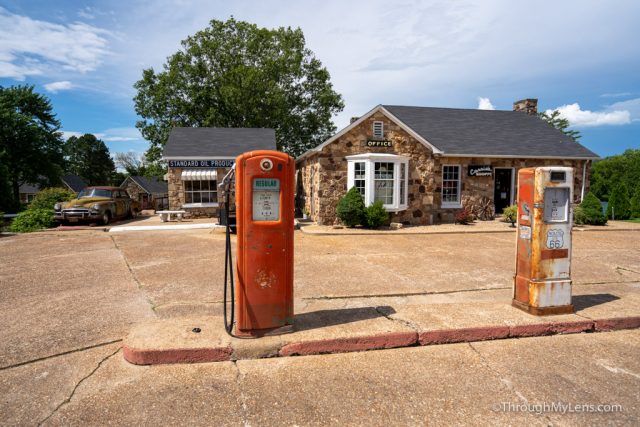 The town also has an old hotel known as the Wagon Wheel, which has a beautiful neon sign you can photograph and it is one of the oldest motels along Route 66.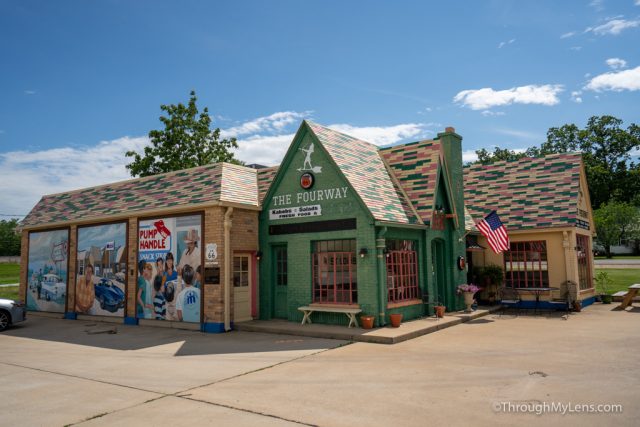 Lastly, there is a vintage Phillips gas station that is now a sandwich shop in the middle of town.
Bourbon Water Tower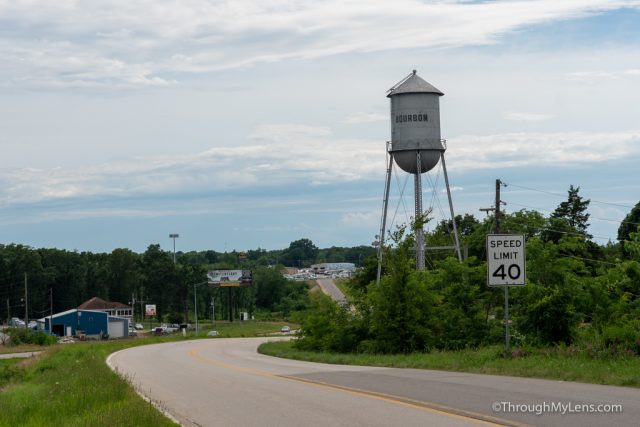 Continuing on, you will arrive in the town of Bourbon. This town has multiple water towers, all with the words bourdon on them, that have become popular for photos. The oldest and most photogenic of the towers is on the northeast side of town.
Jesse James Wax Museum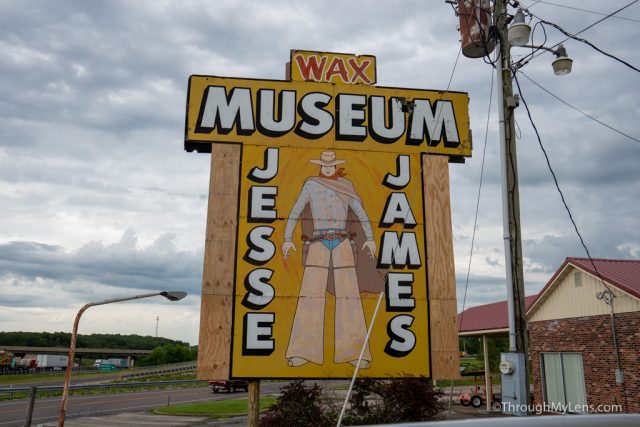 When you get off to go to Meramec Caverns, you can stop at the Jesse James Wax Museum if you are interested in learning more about the famous outlaw. They do not allow photos in this museum.
Meramec Caverns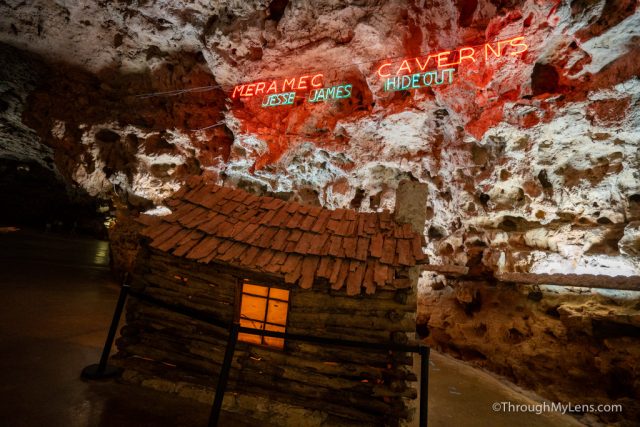 Meramec Caverns was a famous Route 66 destination for people wanting to explore a cave while traveling west. There are signs for this cave painted on barns hundreds of miles from it in each direction. The cave is fascinating to tour with over a mile of walking, lots of water running through the cave, and some awe inspiring formations.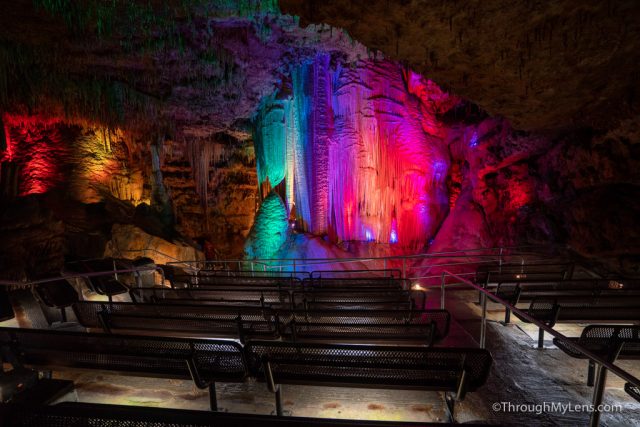 Also, at the end of the tour, they even have a movie that they project on one of the most impressive of the formations. It is a silly thing they have been doing for decades but something I have never seen at any other caves. The cave was also a hideout for Jesse James as well which is why many people want to see it.
Sunset Motel Sign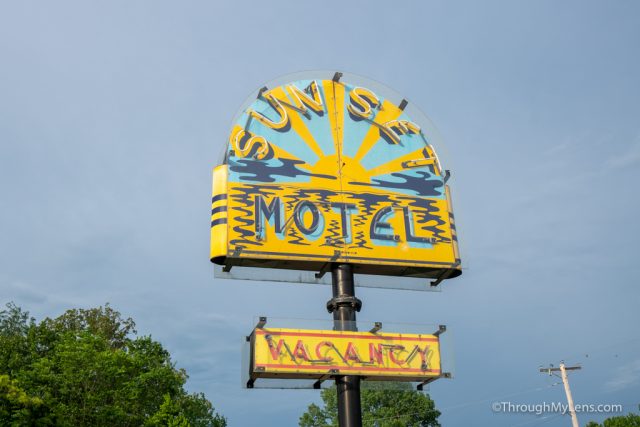 This sign has been well preserved with a piece of glass in front of it to protect it, and it is a good photo stop if you are looking for signs like this.
Big Chief Roadhouse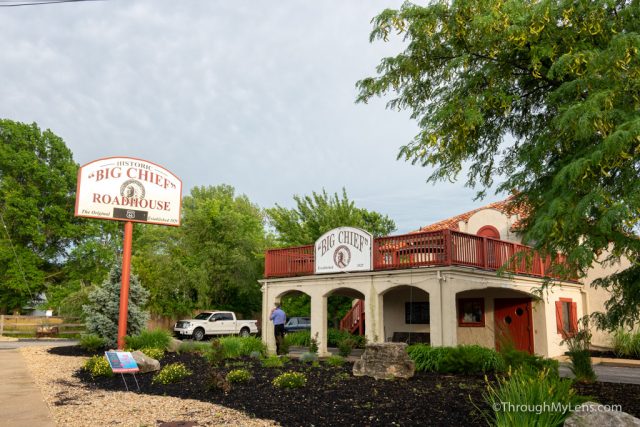 Lastly, Big Chief Roadhouse is a great dinner stop on the north alignment of Route 66 heading through St Louis. We didn't want to stay in the city, so we stayed out this way and then headed into the city the next day.
Highlights
Jeff – Loved the sign at the Munger Moss Hotel and the bourbon tower as it was fun to see. Also, the old bridges were great; loved the one on devil's elbow.
Josh – Uranus was really funny with all the shirts and stuff. Also, Meramec Caverns was a lot of fun. It was a beautiful cave with lots of unique things to see and a fun theater show I had never seen in a cave before.
That's the end of day 11 on our Route 66 road trip, let me know what I left off in the comments. You can about
all of the days here
.