Day 4 of our Route 66 journey started in Flagstaff, Arizona, and took us to Gallup, New Mexico. Along the way, we found a lot of fun places to stop at and enjoyed being able to get to know this part of the country. Some of the highlights were Twin Arrows, Petrified Forest National Park, and Jackrabbit Trading Post, but there are a lot of great stops on this part of the drive. Here are the stops that we made during this portion of the drive.
Details
Mileage: Around 190 miles
From Flagstaff, AZ to Gallup, NM
Read about the whole trip here
Fire Creek Coffee Company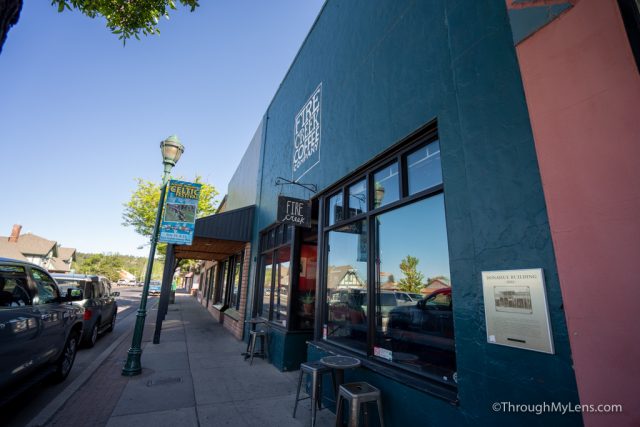 Before leaving Flagstaff, our first stop was at Fire Creek Coffee company for a morning drink. It was a great coffee shop that I highly recommend.
Flagstaff Route 66 Visitors Center
From there, we went a few blocks west to the Flagstaff Route 66 Visitors Center right along the train tracks. They had a stamp for our passport, so it was a good quick stop.
Twin Arrows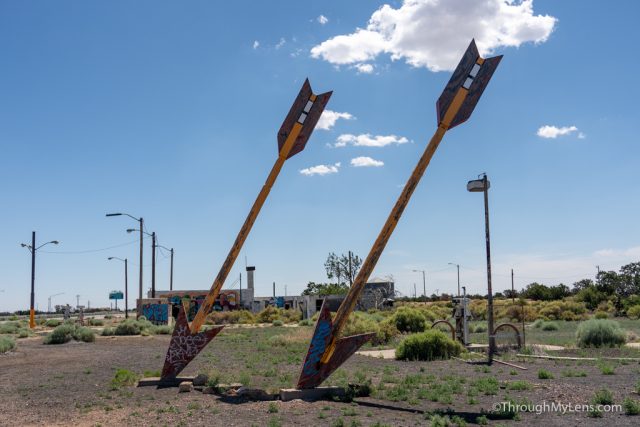 After leaving Flagstaff, our first stop was at Twin Arrows. Twin Arrows used to be a popular trading post on the route with large wooden arrows that served as a roadside attraction for visitors. Like many other spots along the route though, it basically died with the creation of the highway. You can still see the arrows and what's left of the trading post, but it is very run down today.
Twin Guns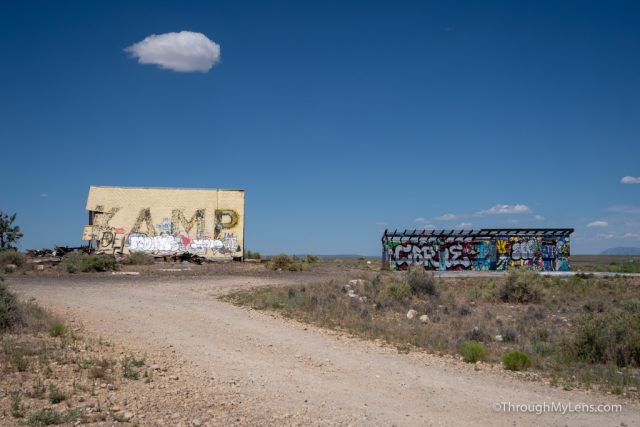 Much like Twin Arrows, Two Guns was another stop along the route, but there is not much left to see. There used to be a large cowboy painted on the water tower and some buildings, but most of it is in disrepair with lots of graffiti.
Meteor Crater National Landmark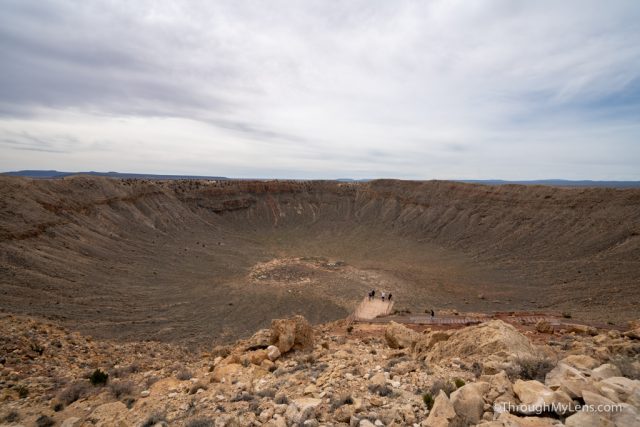 From Two Guns, you will want to make a stop at Meteor Crater National Landmark. This protected area has the impact area of a 150-foot meteor. It is insane to see how massive the impact crater is, and while it can be expensive (around $25 a person), it is worth a stop if you haven't seen anything like this before.
Meteor City Trading Post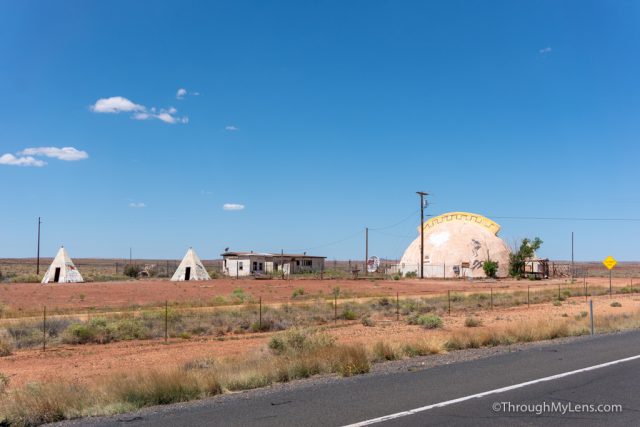 This trading post was known for the fact that it had a circular structure. It is no longer open either, and the exit off the freeway wasn't even accessible for us, so I had to take this picture from the freeway shoulder. This spot is well known though, because there is a building like it in Cars Land at Disney's California Adventure.
Winslow Visitor Center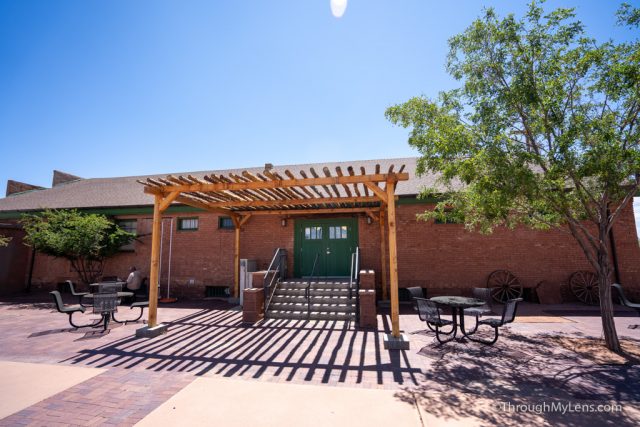 Traveling on, we made it to the town of Winslow, AZ, and made our first stop at the visitors center. The visitors center was small, but it had a few exhibits and another passport stamp.
First Street Pathway Park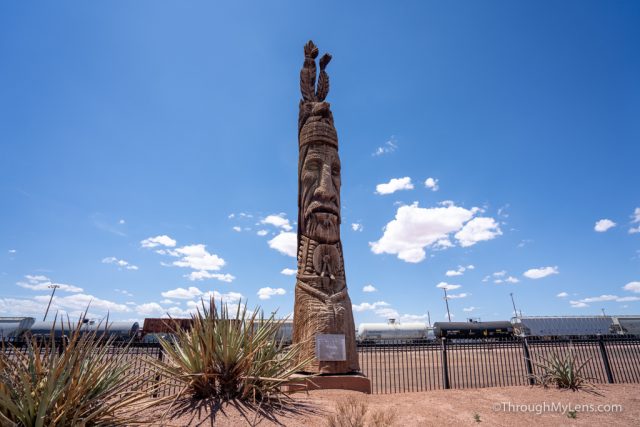 First Street Pathway Park is right next to the visitors center, and it is worth the stop. It has a totem pole created by Peter Toth, which is impressive to see. It also has some old train cars and a few Burma Shave Signs.
Standing on the Corner Park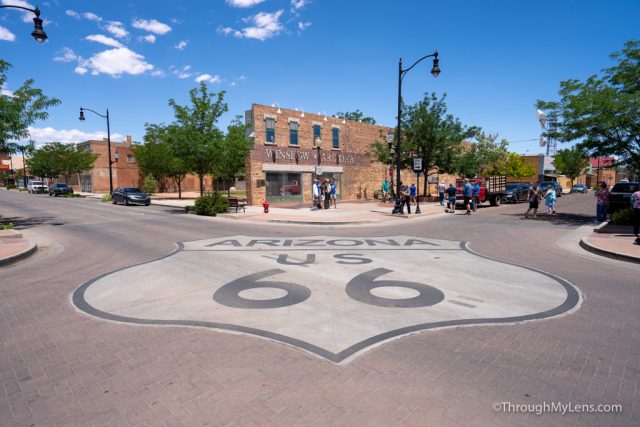 The main draw in Winslow is Standing on the Corner Park, which was spotlighted in the famous Eagles song "Take it Easy." This park has statues of members of the band, a flatbed Ford from the song, and a couple of plaques. I have been a fan of the song for a while, so it was fun to see.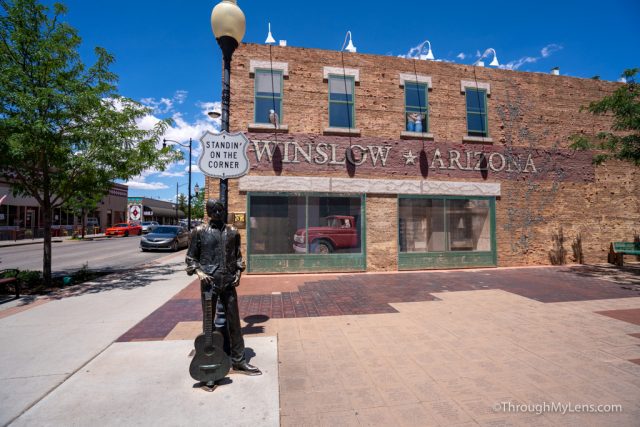 Old Trails Museum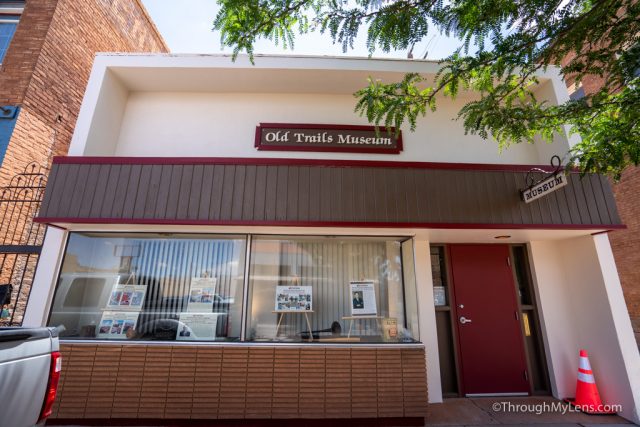 There is also a museum right next to the park that has a lot of area history (not much Route 66 history) if you want to see it.
La Posada Hotel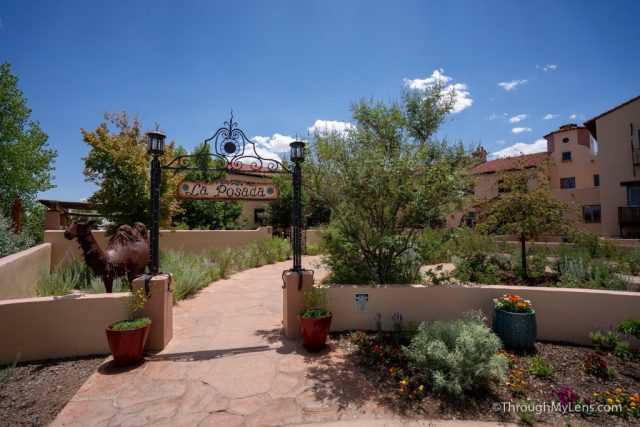 On the way out of Winslow, be sure to stop at the La Posada Hotel. This was a Harvey House which has been transformed into a beautiful hotel. We just walked through the lobby, but if you are looking for a nice sit-down dinner or a place to stay, check it out.
Jack Rabbit Trading Post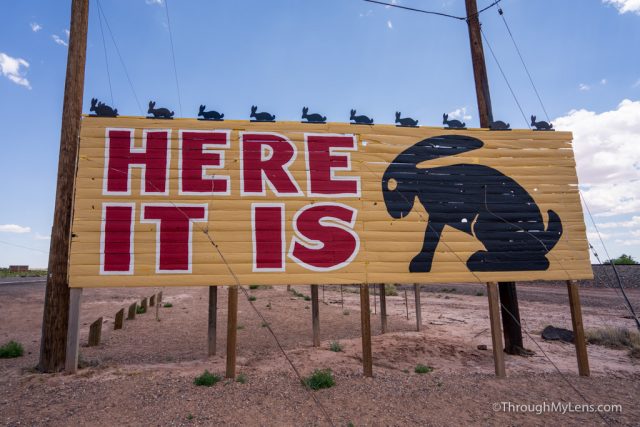 Jack Rabbit Trading Post is one of the most famous spots along the Arizona portion of Route 66. This trading post has a large plastic jackrabbit outside that you can sit on for photos, but the main reason it is well known is for the "here it is" signs that you can see advertising it all along the route. It is fun to finally stop at this spot after seeing all of the signs, and you don't want to miss it.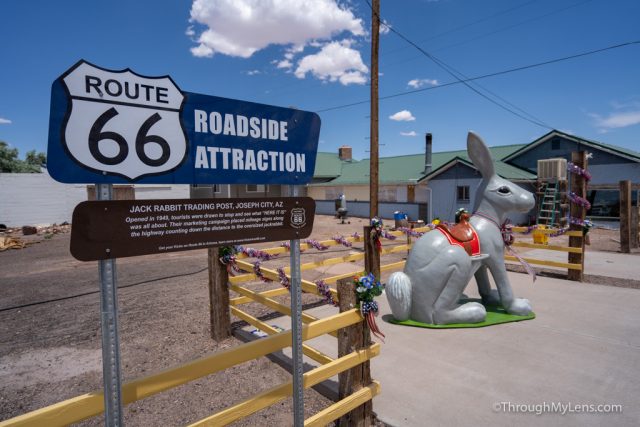 Holbrook Wigwam Motel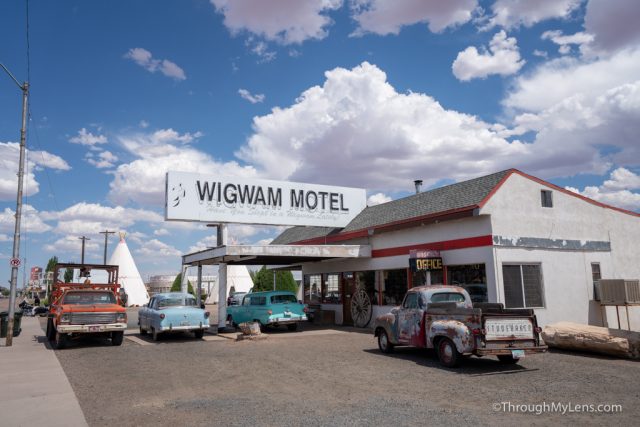 In the town of Holbrook, you will see the second (of two) Wigwam Motels on the route. We stayed in the one in San Bernardino, so we didn't stay at this one, but it is great and if you want to stay at there make sure to call in advance as it sells out.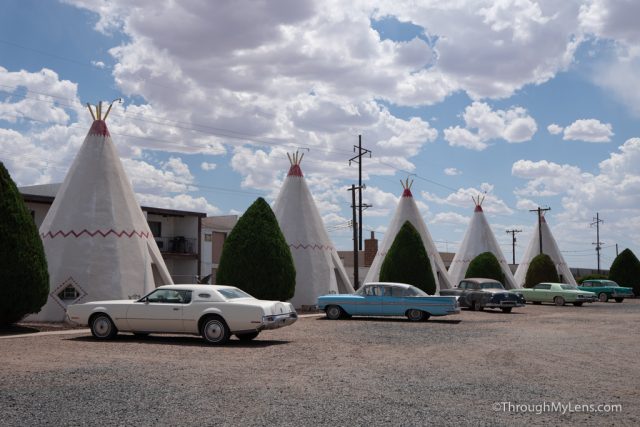 Navajo County Museum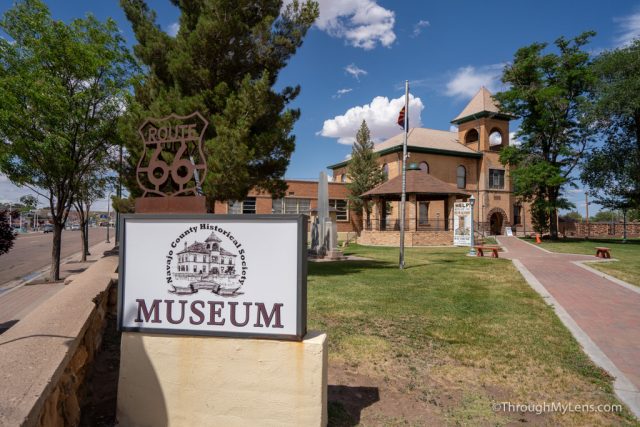 If you want to see another museum, there is a good one on the way out of Holbrook. It has an interesting old jail cell you can go in and a few things on Route 66 (but not much).
Petrified Forest National Park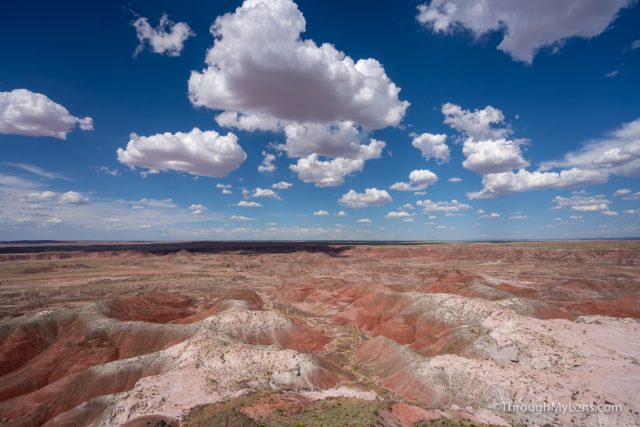 From there, we drove along the highway all the way to Petrified Forest National Park. This park is the only national park in the USA that Route 66 went through. While the park itself is impressive (more on that here), you at least want to drive in about 15 minutes to the Route 66 area that has an old car and electrical poles the note the original route through the park. If you have more time, this is an excellent park for a half-day of exploring.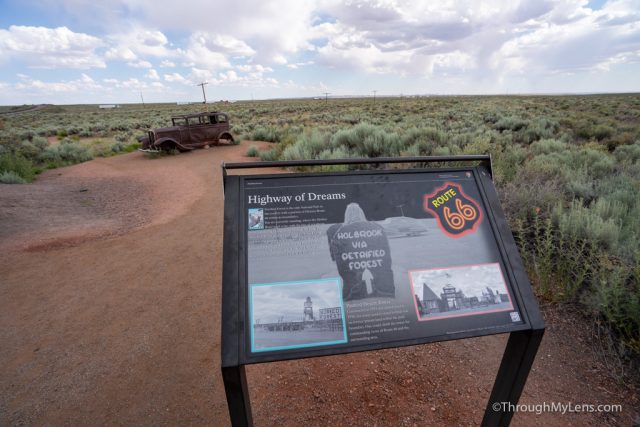 Fort Courage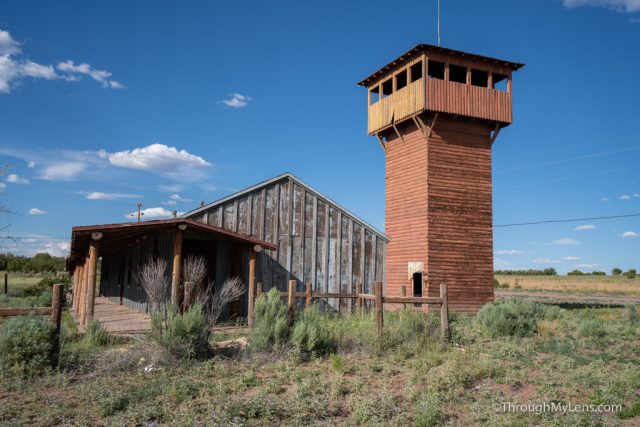 On the way to the New Mexico border, we stopped at Fort Courage, which is a replica of the fort in the old TV show "F Troop." It is abandoned now from what I could tell, but we walked around a little bit because my dad liked that show.
Yellowhorse Trading Post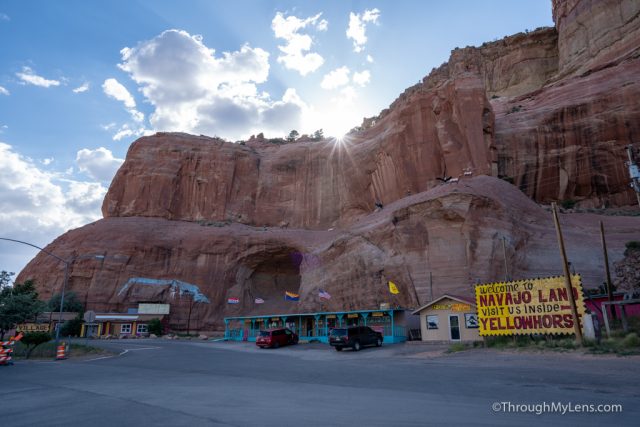 On the actual state line between Arizona and New Mexico, there is a Native American trading post known as Yellowhorse. It was closing when we got there so we didn't get to see much, but it was still a good stop.
New Mexico State Line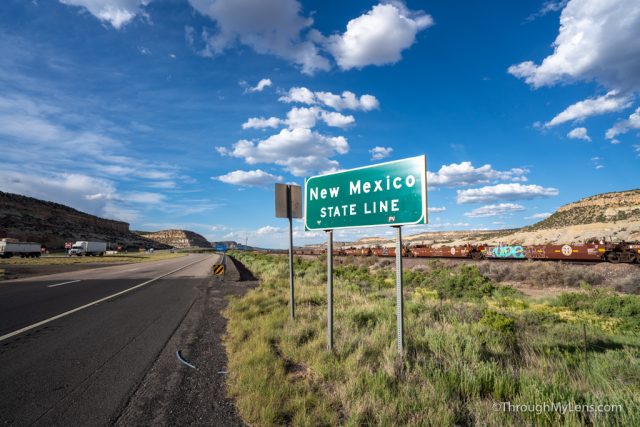 From here, we crossed over the state line into our third state, New Mexico.
El Rancho Motel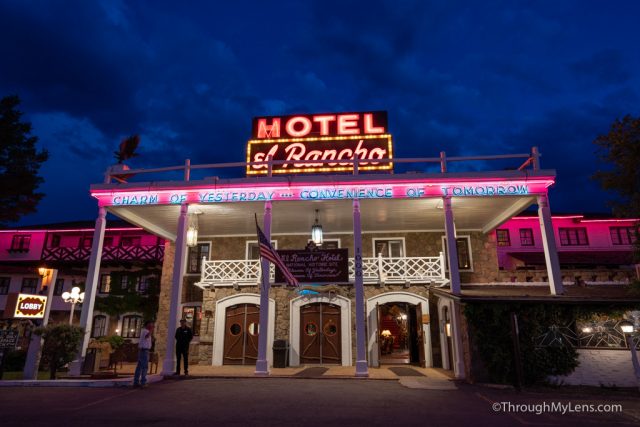 About 25 minutes later, we were at our hotel, the El Rancho. It is an excellent, historic hotel along Route 66 and one of my dad and I's favorite places we stayed on the route. Check it out if you get a chance and at least see the beautiful lobby if you don't stay there.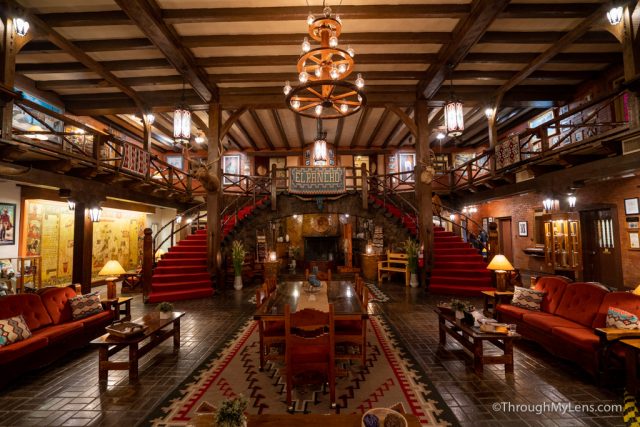 Day Four Highlight
Jeff – Twin arrows. It was interesting and simple, so quintessential Route 66. Crazy to think that things like that are unowned and just trashed.
Josh – Standing on the corner park. It is just really fun to see this classic spot from a song I have listened to for a long time.
Read more about our Route 66 journey here.