If you are reading this, then you probably know how insanely popular Mesa Arch is as a sunrise spot. This is for good reason, as it is one of the most amazing sunrises I have ever seen and it was overcast when I was there. But make sure you know what you're getting yourself into, Mesa Arch is remote, popular and requires planning. Here is all the info: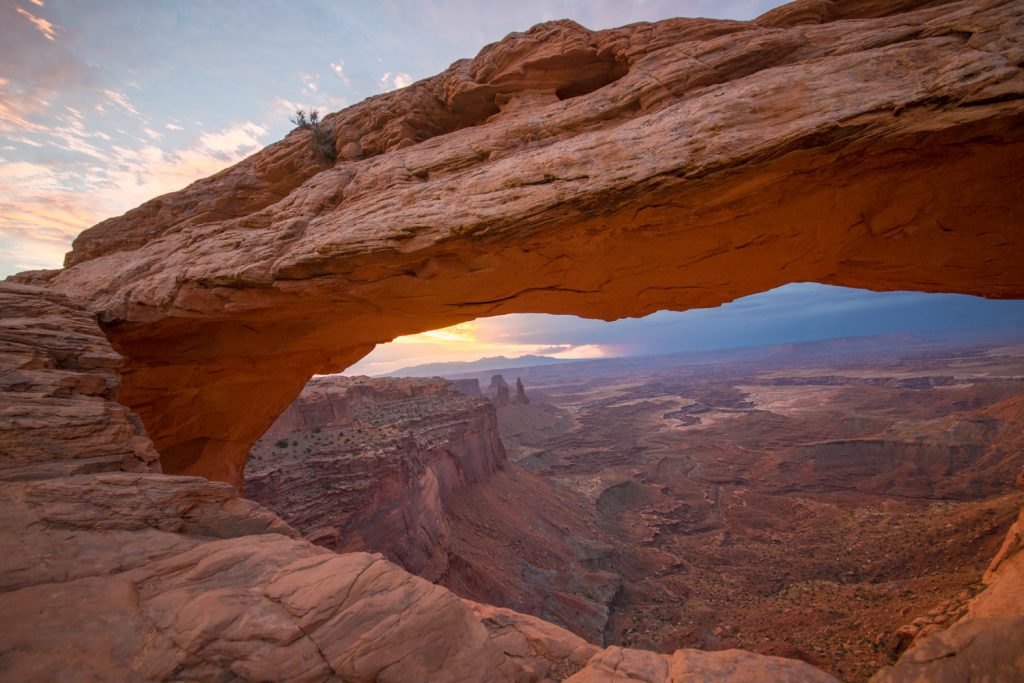 Main Details
You need to get there pre-dawn in order to get a chance to get a good spot. I have seen as many as 2 dozen photographers here at first light and the arch is tiny

It is about a 10 minute walk so make sure to have a headlamp if you will be there in the dark.

Bring a tripod

Wide angle lens is a must to capture the full arch
I was staying at the Motel 6 in Moab and planned on a 50 minute drive to get to the trailhead. Add to this a 10 minute walk and wanting to get there early to claim a spot and I ended up leaving an hour and a half before sunrise. 
The drive to the trailhead was anticlimactic in the dark, but make sure to watch out for deer and cows on the road as they are windy so you can't see very far ahead of you. When we got to the trailhead there were a few other cars in the lot. We set out on the trail and while it is relatively easy to follow be sure to look for the worn sections so you do not get off of at the wrong area. Here is a photo of the light levels when I got set up
Ten minutes later we were at the arch and there were only two other photographers. I claimed a spot with my tripod and waited for the light to start. 20 minutes later the entire area was full of photographers and there were no spots to set up your tripod. Here is a photo:
I sat next to my 20 new friends for the next 45 minutes as the light started to come up. Like I said, I had claimed a spot and with so many people there was not a lot of opportunities to move around and get other shots. Towards the end of the sunrise though people started to leave so I left my spot and wandered around getting a few different angles.
I would say that you want to use the app Photographer Ephemeris and plan where the sun will be coming up so that you can grab a spot with the sun slightly off-center like the above photo.
All in all, I was happy with the spot and got a few photos I am proud of. Even with the mayhem that is photographing sunrise at this spot I still highly recommend it if you are a budding photographer. It has earned its title of best sunrise in the South West and it is probably the most beautiful I have ever seen as well.