Delicate Arch is probably one of the most well-known attractions in any park in the United States. I would put it up there near Half Dome and Devils Tower as one of those spots everyone has seen, even if they don't know where they saw it at. I got a chance to check it out myself and I have to say it should be on everyone's bucket list as it is even more amazing in person. That being said it can be busy and I would recommend visiting at sunrise to miss the rush. I sat at the arch with 15 other people on a busy 4th of July weekend and on the way down after sunrise I passed 150 people coming up the trail. Here is all the info if you want to do what I did.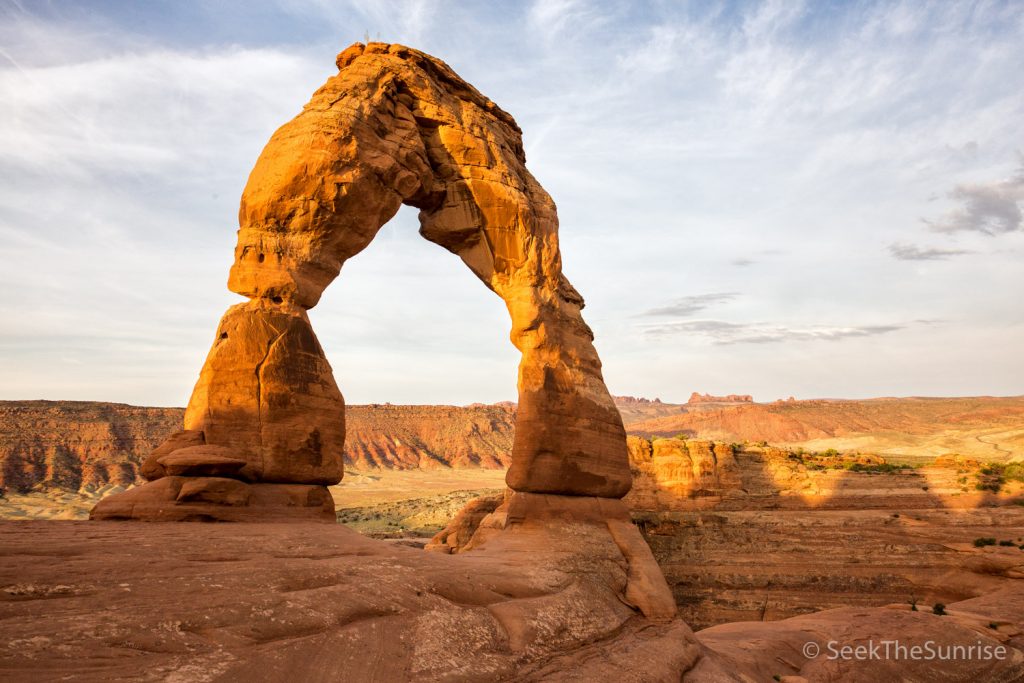 Details
Need to get to the trailhead about 45 minutes before sunrise as it is a 1.5 mile hike with 500 feet of elevation

Small parking lot so early is better to get parking

Bring a headlamp
Sunset is the popular time at this attraction and it is easy to see why, the colors dance all over the arch. Sunrise is not as majestic, but you have fewer people so it can be more relaxing to experience, especially if you are not a professional photographer.
I was staying at the Motel 6 in Moab so I checked Google Maps the night before and realized it would take about 45 minutes to get to the arch parking lot in the morning. Knowing that it was a 1.5 mile uphill climb I left about an hour and a half before sunrise. I was in the parking lot walking towards the arch in the pre dawn light. It was a full moon so I didn't need a headlamp but you should bring one just in case.
The hike to the arch this early in the morning is not too memorable as you are just trying to get to the destination. It does head over single track most of the way, then you are just walking up a large sandstone slab towards the end, be sure to follow the cairns in this section.
Once at the top of this hill you will proceed through small trees and brush till you reach a small slab of trail that hugs the side of a mountain.
From here do not forget to make it up to frame arch, which is a perfect spot to view Delicate from as it is framed within the arch. It requires a small scramble but you can see it from the trail.
After this you will proceed around the last bend and see the first view of Delicate Arch. This view will probably take your breath away as it is awe-inspiring. 
In the predawn light the arch is beautiful as it is still fully shaded. As the sun goes up it will slowly light the arch up from the top down. I stayed for the entire lighting process and just sat at its feet taking it all in. 
Many people came and went during this time but there was never more the 15 people at the arch with us, it was fantastic. 
After that we proceeded down the hill and like I said, passed over 150 people, including two tour buses full of tourists. I cannot stress more how amazing it is to be here for sunrise and even though the light is not as good as sunset fantastic, the experience of fewer people at this famous spot is not to be missed.