Arches National Park is one of the most famous of Utah's Might 5 (Capitol Reef, Bryce, Arches, Canyonlands and Zion) and because of that it truly is a fantastic place to explore. You can spend weeks here and not see it all, but if you are looking for what to explore in the park I have created this guide for most of main stops. That way you can see a photo of the stop and organize what you want to see most with what time you have. So without further ado, Arches National Park.
Visitor Center
After passing the entry station you will arrive at the Visitors Center, which is a great place to get accustomed to the park and get maps and souvenirs. I stopped in to pick up a magnet and a map but that was about it.
Moab Fault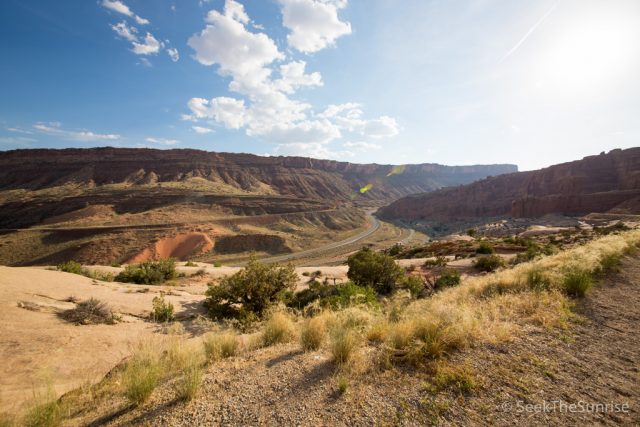 After heading up the twisty road that leads you to the park, the first viewpoint you will see is for the Moab Fault. It is a great stop for a photo as it lets you look over what you just drove up as well as the city of Moab itself in the distance.
Park Avenue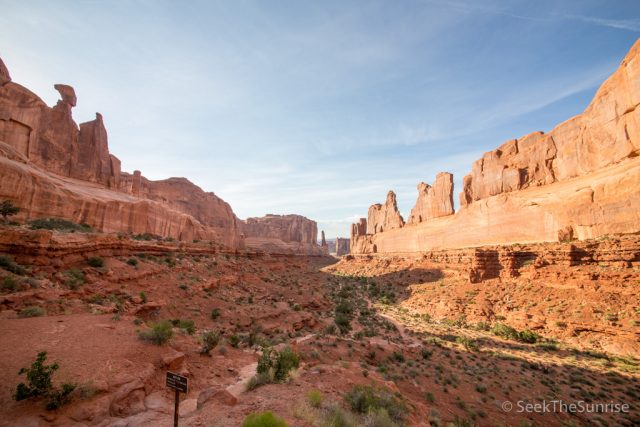 Next is Park Avenue on the left-hand side. This stop takes you up close and personal with one of the larger canyons in the park. You can even hike from here through the canyon and out the other side if you feel so inclined.
La Sal Mountain Viewpoint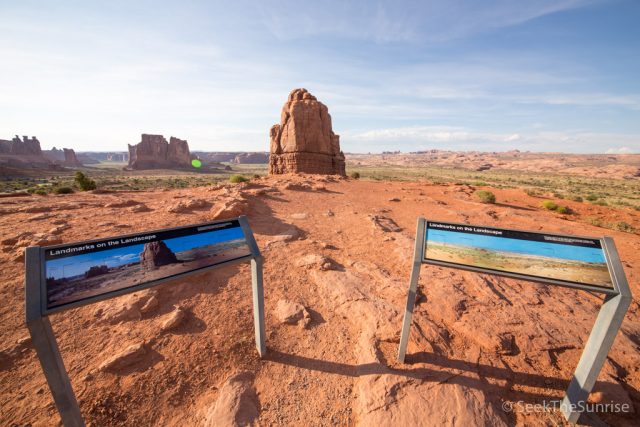 This viewpoint provides a great vista of the Courthouse Towers area of the park, as well as La Sal Mountain in the distance.
Courthouse Towers Viewpoint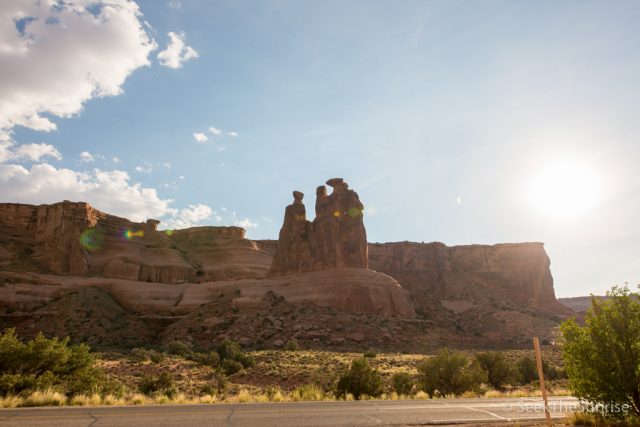 From here you can see the Courthouse Towers across the road and this is also where the hike through Park Ave ends as well.
Petrified Dunes Viewpoint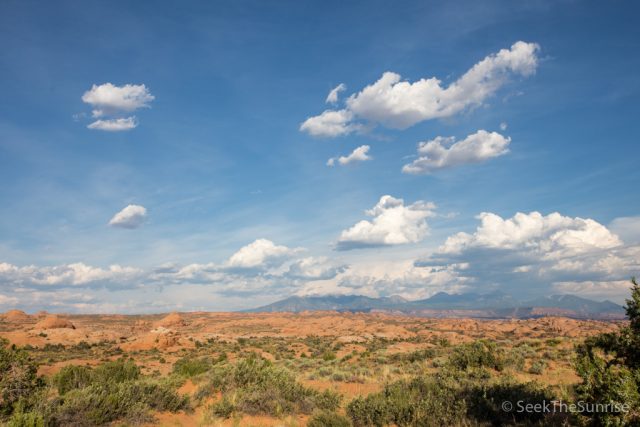 One of the more unique spots in the park, the petrified dunes are a section of hills that were once sand dunes but have now hardened up. They go for as far as the eye can see and the above picture doesn't do it justice.
Balanced Rock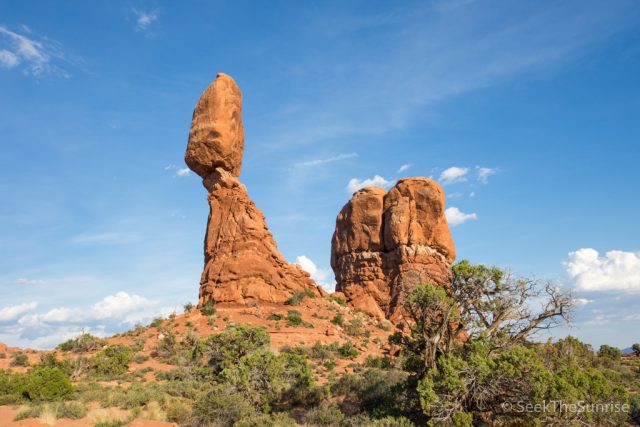 Right near the turn off for the Windows, you will see the Balanced Rock sticking out right in front of you. You can hike to it in a .1 mile hike and it is a pretty crazy rock that is worth the stop.
The Windows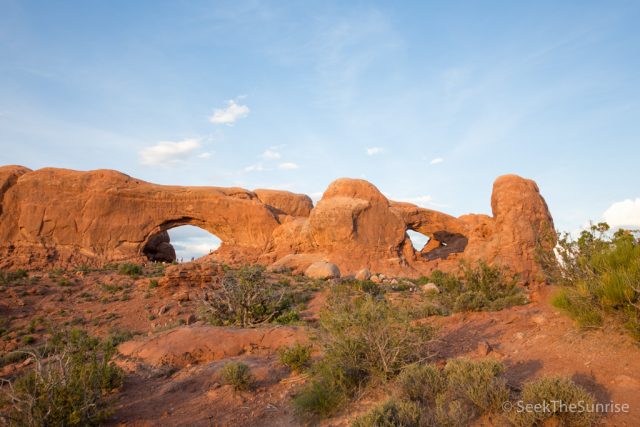 This road leads to a lot of the parks best attractions, here they are:
Garden of Eden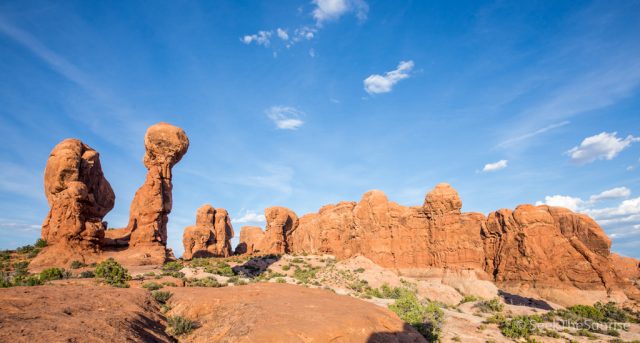 I always think this area resembles people in the way the rocks jut out of the landscape. It is a short stop but is a unique geological area.
Parade of Elephants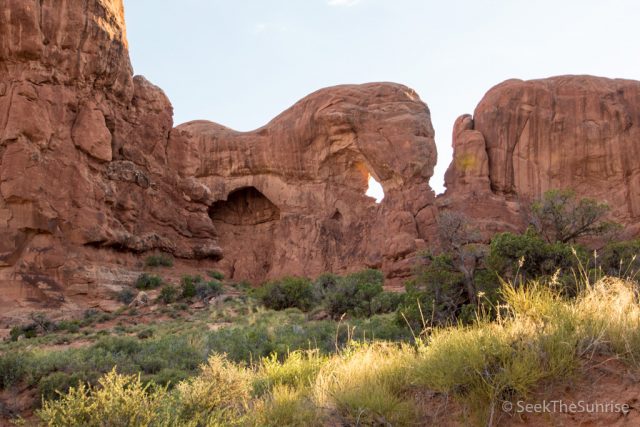 After parking near the Windows you can head left to see the Parade of Elephants and the Double Arch. The rock does resemble an elephant to me with its trunk sticking down to the ground, forming the arch. This is the same short hike you will take to see the Double Arch.
Double Arch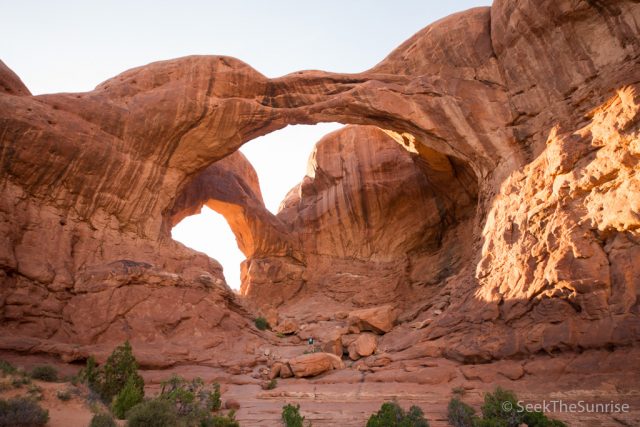 Double Arch is one of my favorite spots in the entire park. The way the two arches come together and form a triangle is amazing to see and you can actually climb up under the arches if you are feeling like the extra work. I love this spot, especially at sunset.
Turret Arch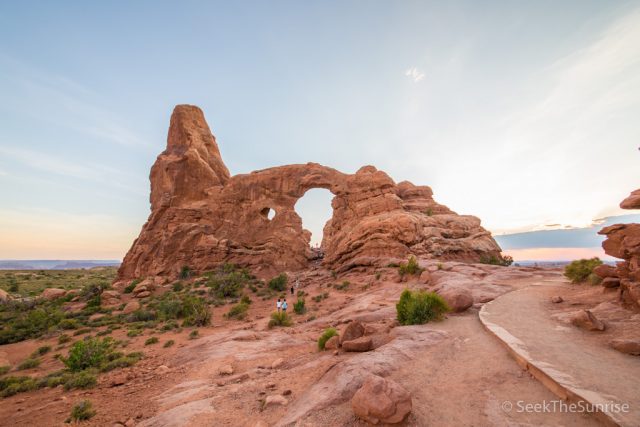 After taking in Double Arch and Parade of Elephants head over to turret arch, which is one of the crazier looking rocks. It does look like some type of crude castle or turret to me and it has one big middle arch and a small side arch. This is where you see many photos of the windows from the small arch but it is sketchy to climb up to and I would not recommend it.
South Windows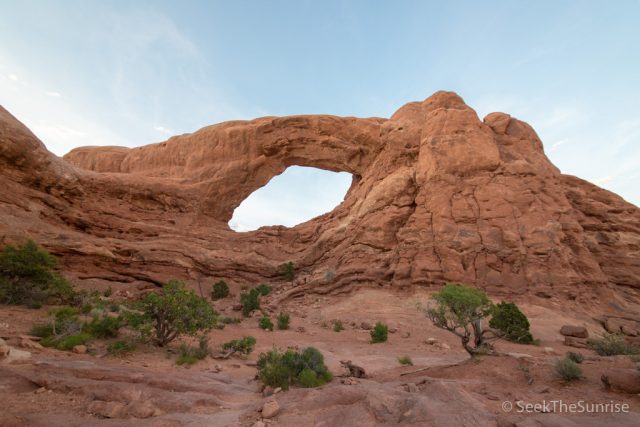 The less popular of the two, South Windows is a massive arch, but one that is not visible from the road so people often overlook it. When I was there North windows had 30 people at it and South had 0. They are both awesome.
North Windows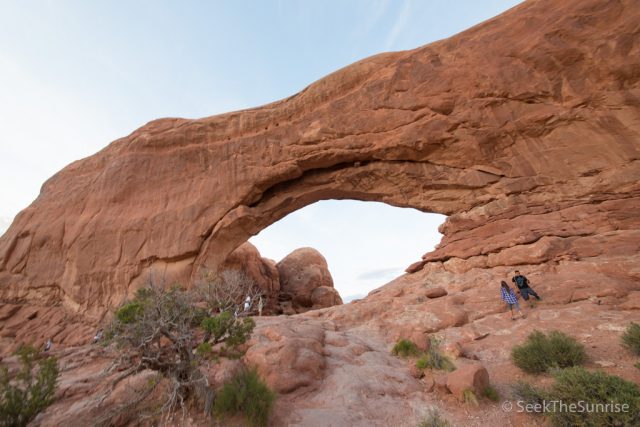 One of the most popular arches in the park is North Windows and it is a majestic arch for sure. It is easily seen from the road and features rough stairs that you can use to walk right into it. This is a fantastic spot to see the sunset from and I highly recommend it.
Delicate Arch Hike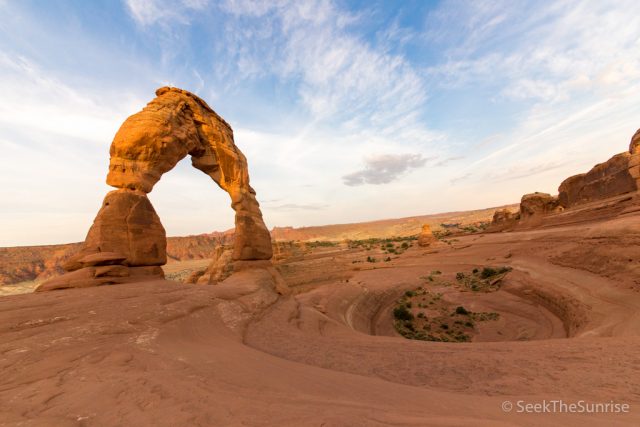 After leaving the Windows area you will proceed down to Delicate Arch and start the 3 mile round trip hike to the most famous spot in the entire park. It is amazing and it is worth the accolades it receives. I recommend heading there for sunrise as it is not very busy, but sunset is best for pictures and worst for crowds.
Delicate Arch Viewpoint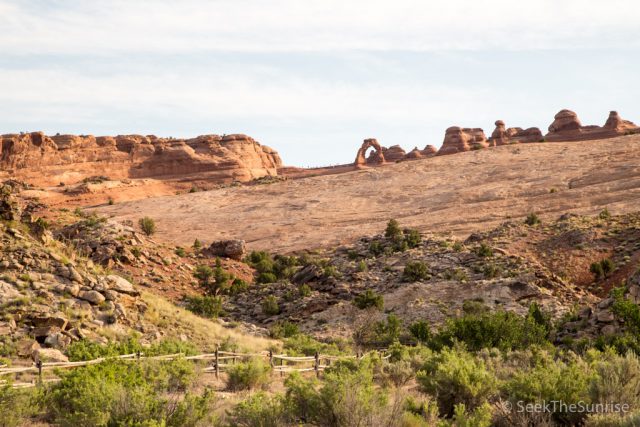 If you don't want to make the hike you can just drive to the viewpoint and walk 10 yards to see the arch from afar. It is not nearly as majestic though so I highly recommend you try to do the hike.
Salt Valley Overlook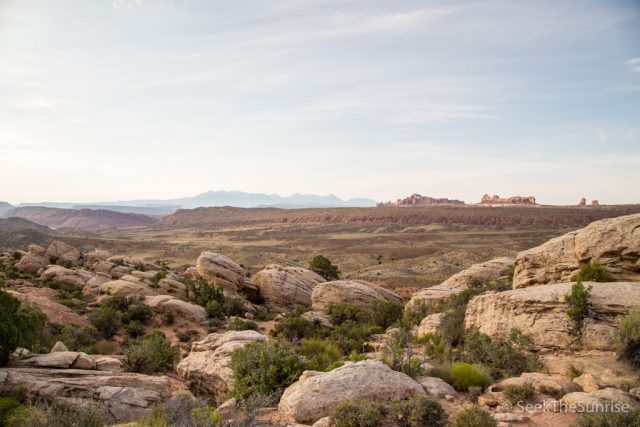 This stop is a great place for a panorama of the park itself. You can see for miles up here and it is beautiful.
Fiery Furnace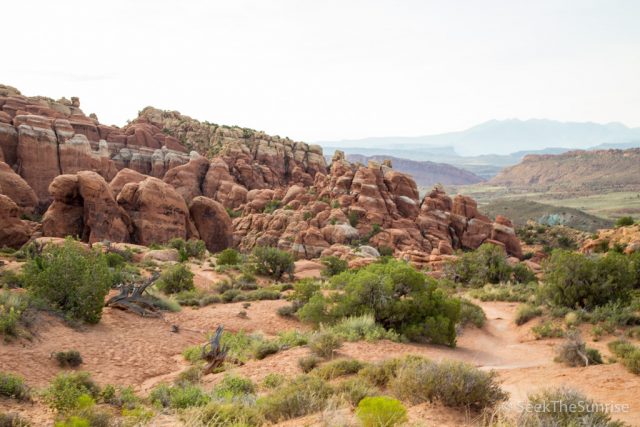 The rocks jut out of the landscape here in a red hue, which is where the name comes from. This area is only able to be hiked with a permit or a guide though as it is very easy to get lost. You can look at it without a permit though if you would like.
Skyline Arch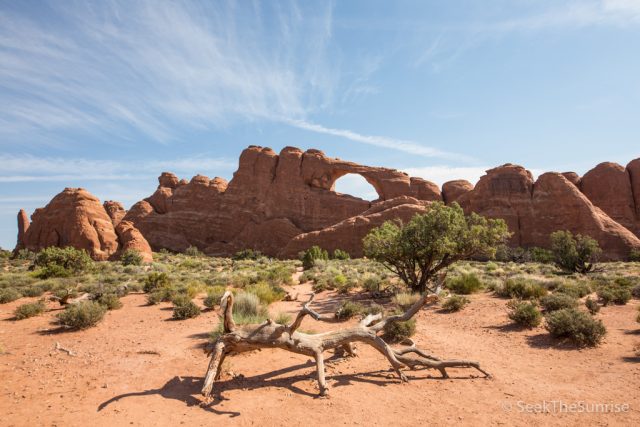 A short .2 mile hike will take you up to this massive arch. It is beautiful, but when you have seen the others in the park it doesn't seem as amazing.
Devils Garden
This trailhead will take you deep into the park to some of the more further away arches. I only saw the three most popular here though and here they are.
Tunnel Arch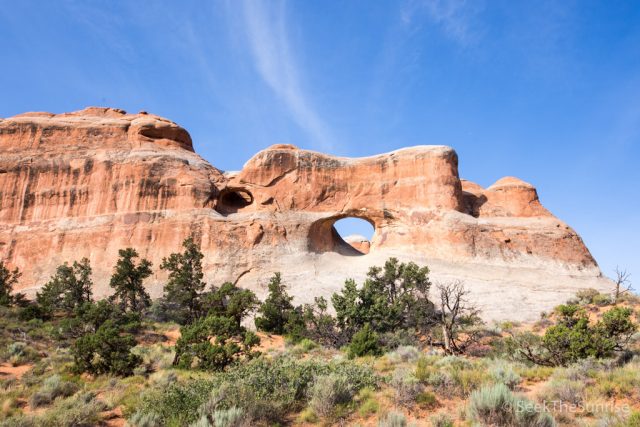 Right off the main trail sits this arch that does appear like to tunnel coming down from the top of the arch. You can only see it from afar but it is awesome.
Pine Tree Arch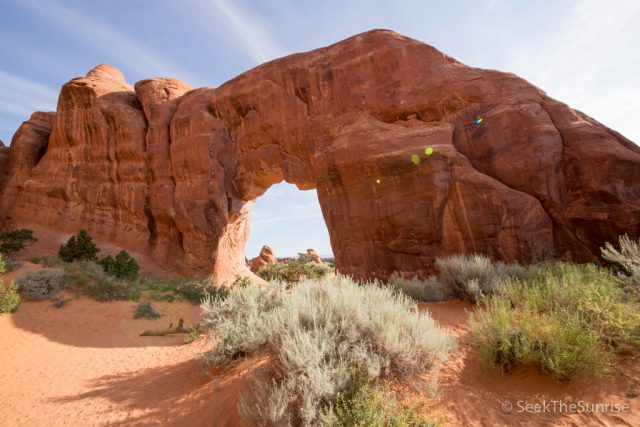 I really liked this one as you can walk right up into it and it is part of a really big larger rock. A great arch that is less busy than the others.
Landscape Arch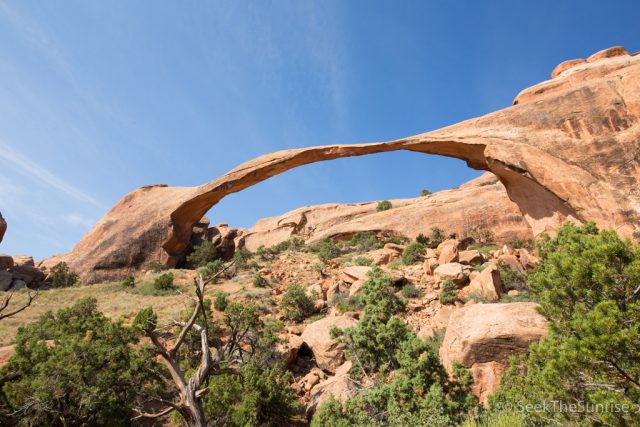 The longest natural arch in the world, it has to be seen to be believed. It looks really thin as well so you never know how long it will be here. 
Sunset at Arches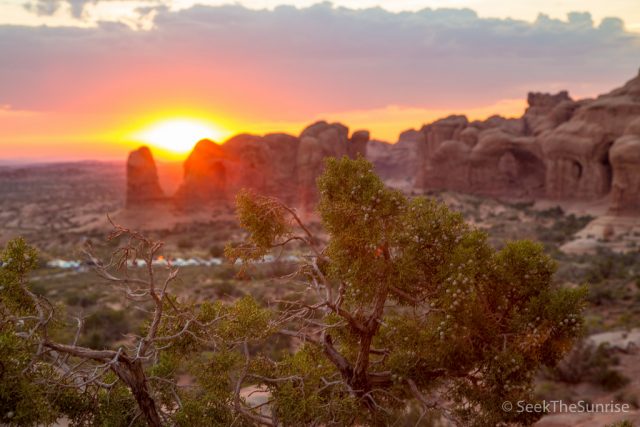 I just threw this in to give you a taste of the wonderful desert sunsets that you can see at Arches National Park and as further encouragement to get out and explore it.
So there it is, my photo guide to Arches National Park. Since there are over 2,000 arches in the park I am sure there are tons of other great ones I missed. Let me know in the comments what your favorite spot is.