While most people know about all of the fantastic paid attractions there are to do in Las Vegas, from the top of the Stratosphere to the Shark tanks of Mandalay Bay, the city has a surprising amount of fun free attractions that you can explore on a trip as well. While this is not a complete list, it includes incredible shows, fun public art, and lots of other free activities that you can do while in the city of Las Vegas. Let me know what I left off in the comments, and if you want to see a part 2, let me know that in the comments as well. This list works from south to north, and some of the attractions are a decent drive from the Las Vegas Strip. Let's jump into it.
Video
Seven Magic Mountains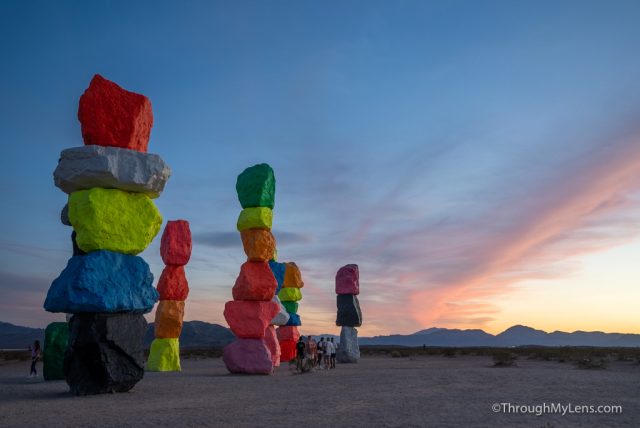 First up, Seven Magic Mountains is a public art installation that many people visit when driving to Vegas from Los Angeles. The insulation features seven large stacks of rocks that are painted different colors and stand out from the stark desert that surrounds them. The art installation was only supposed to be here for a few years, but it has become so popular that it continues to get extended. Be sure to see it on your next trip to Las Vegas; it is about 20 minutes from the Strip.
Silverton Aquarium and Bass Pro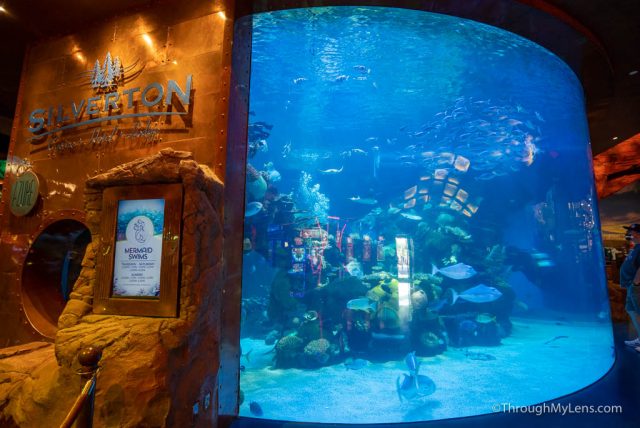 Heading north from Seven Magic Mountains will bring you to the Aquarium at Silverton Hotel and Casino. This Aquarium is massive and is located right in the lobby. They even have mermaids that swim in it at specific times during the week. While there are better aquariums, like the one at Mandalay Bay, this is an excellent free aquarium to visit while in Vegas. Plus, it is right next to Bass Pro shops which has a fun water element as well to see.
Shelby Heritage Center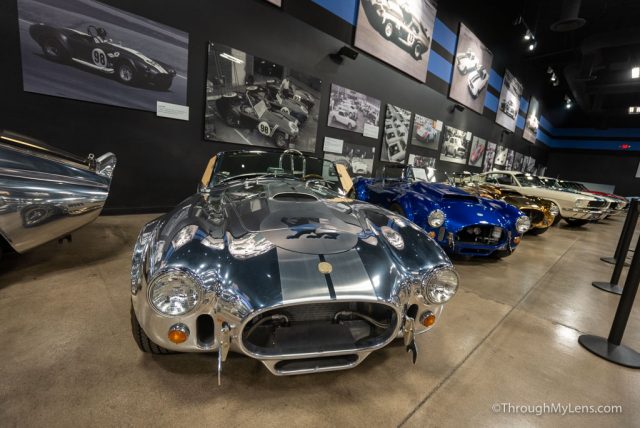 Driving towards the strip, the next free stop is at the Shelby Heritage Center. This warehouse is where they make Shelby cars, and you can pay to take a tour of the factory if you would like. If you don't want to pay though there is still a terrific car display right in the lobby with dozens of fantastic cars on display. You can walk around and view them, with one of the highlights being the cars from the movie Ford vs. Ferrari, which is great if you haven't seen it. It's a quick stop but a great one for car fanatics.
Las Vegas Sign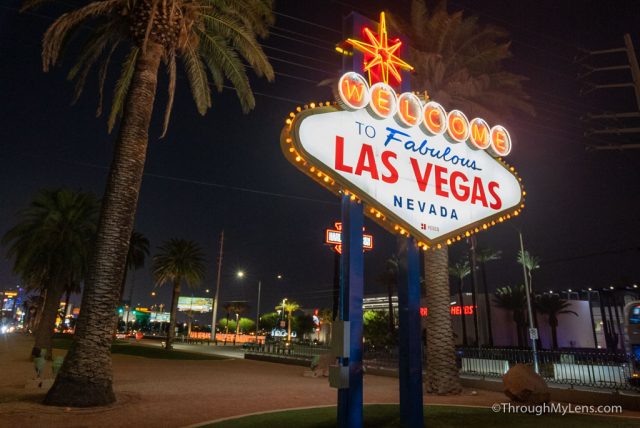 The next stop brings us to the Vegas Sign. The welcome to Las Vegas sign is a must visit for people wanting a picture of their time in the city. There is always a line pretty much 24 hours a day, but it never takes too long to grab a photo here. Alternatively, there is also a Welcome to Vegas sign inside of the world's largest Chevron near the exit for Seven Magic Mountains, so you could always take a photo there as well.
Pinball Museum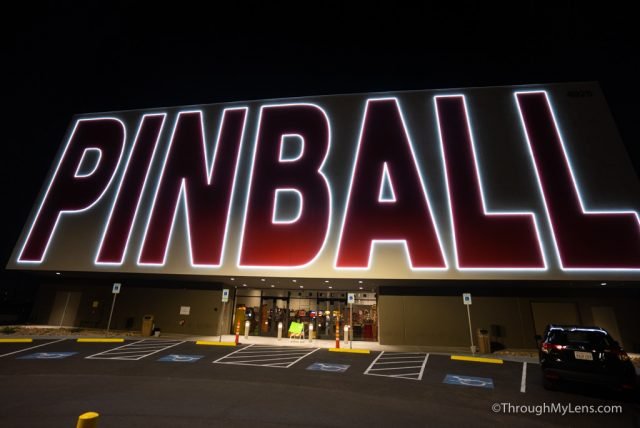 Ok, so this one is not technically free, but I had a blast here, and it is as cheap as you want it to be, so I wanted to include it. The pinball museum is home to dozens and dozens of old pinball machines. It is free to enter, but of course, you have to bring your quarters to play any of the machines. I love pinball, so I enjoyed just walking around and seeing all of the different machines from over the years and playing a few that called out to me. Check it out if you are into pinball like I am.
Bellagio Fountains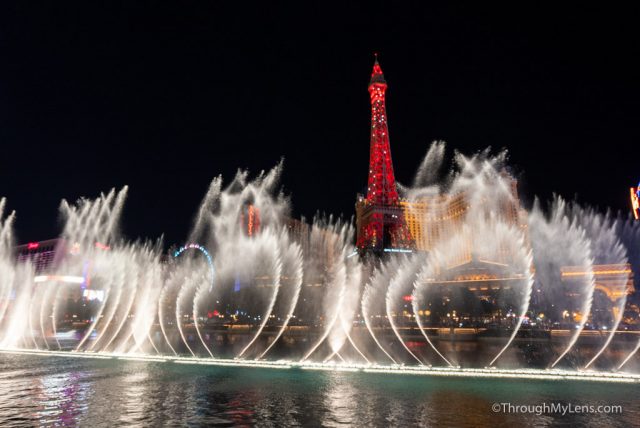 Our next stop brings us to the Las Vegas strop and one of the most well-known attractions, the Bellagio Fountains. The Bellagio Fountains go off every 30 minutes at night, and they are a sight to behold. Many different shows are all choreographed to music and shoot columns of water 50-100 feet in the air. If you are looking for a fun family attraction, you can watch this show multiple times and always see a different song. It is a stunning and a must-see attraction in Las Vegas.
Bellagio Conservatory & Botanical Gardens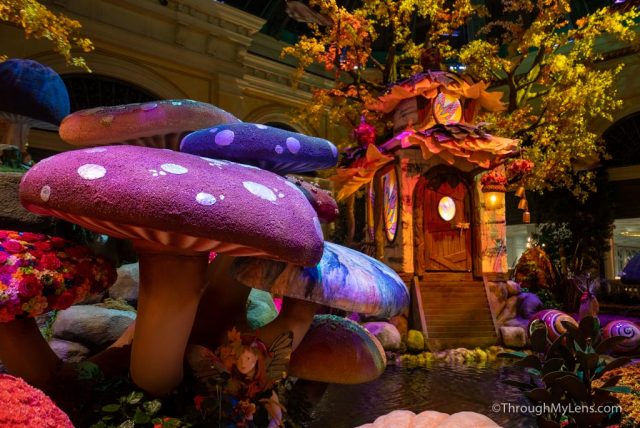 Next up is the Bellagio Conservatory, which is so amazing it deserved its own spot on the list, instead of just being included with the fountains. This area is right near the lobby, and it features floral arrangements that make the whole area appear like it is part of a fantasy realm. It is beautiful, and the show changes a few times a year. Every time I have visited, it is packed, but it is worth it since it is so well done.
Mirage Volcano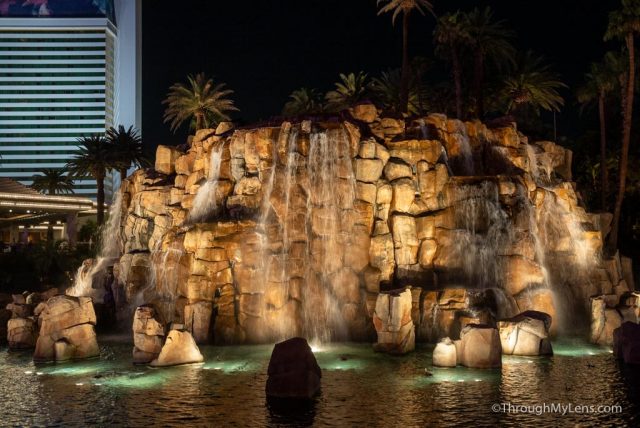 Much like the Bellagio Fountains, the Mirage Volcano is also a great free attraction on the strip. This show only happens a few times per night so check before you go. The show feature music, fire, and water elements. It is cool and does a great job of making it feel like a volcano. It is not too far of a walk from the Bellagio, so you can see both of them on the same night.
Flamingo Wildlife Habitat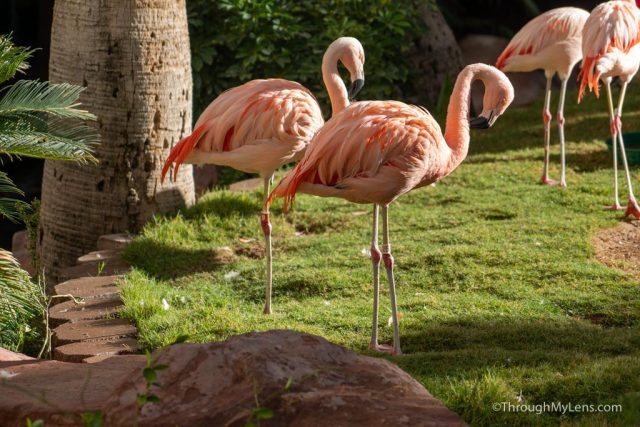 If you are walking the strip during the day, then consider stopping at the Flamingo to see all of the Flamingos they have on display. There is a large open area in the middle of the hotel where they have a nice creek and rainforest-type plants, and which has dozens of flamingos. A few times a day, you can even hear someone talk about the animals and feed some of them as well. The whole area is beautiful to walk through, but the flamingos are pretty fun to see for free.
Lake of Dreams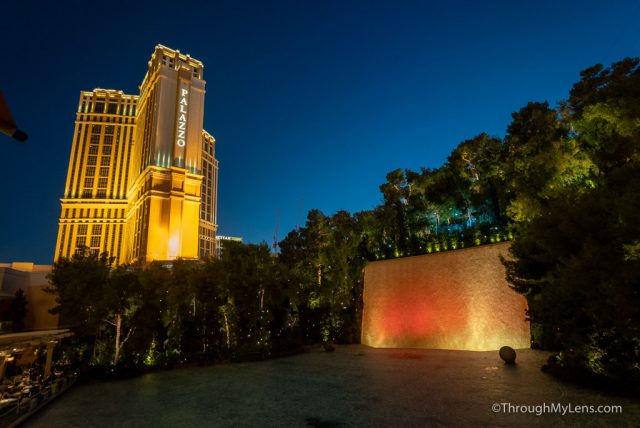 For my last show on the strip for this list, check out the Lake of Dreams at the Wynn. This show is best viewed from the restaurants that surround the lake, and you have to have reservations to see it from there. They do have a viewing area on the second floor that you don't need reservations for, and it is a great vantage point for the show. The show is fantastic because it is a large screen with water flowing over it that has images and video displayed on it. Surrounding the screen is a lake of water that adds s unique element to the display. It is not on the same level as the volcano or Bellagio fountains, but it is still pretty cool.
Area 15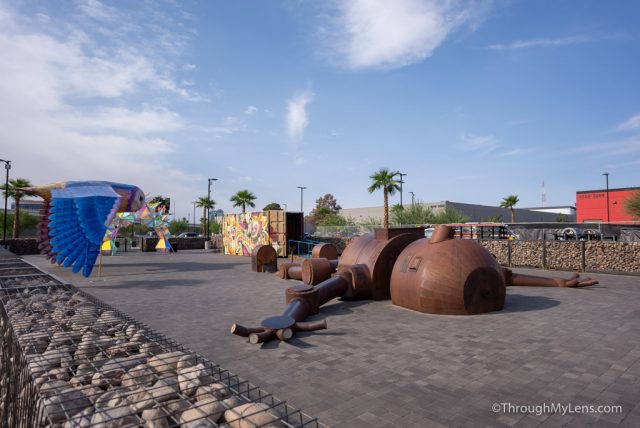 On the other side of the freeway from the Las Vegas Strip is the large warehouse known as Area 15. This spot is fun to explore and has Meow Woof, which is one of my favorite attractions but which is not free. The free element is the outdoor art they have here, ranging from a robot that is lying on the ground to a sign that looks like it was out of Fallout New Vegas. It's a crazy spot with some great photo opportunities.
Freemont Street Experience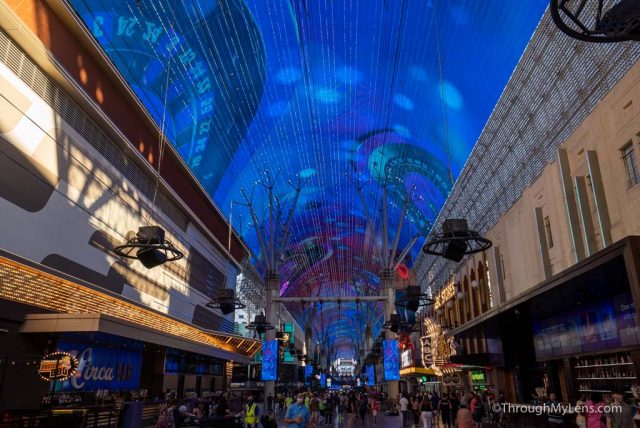 These next few recommendations head to old Vegas and Freemont Street. First up is the Freemont Street Experience.
If you have been to Las Vegas, then you have probably seen the Freemont Street Experience. This massive LED screen display music, photos, and videos as you walk along the street. While the screen pretty much always displays stuff now, some programs happen on the hour each night and feature different musical artists and are fun to see.
Downtown Art Murals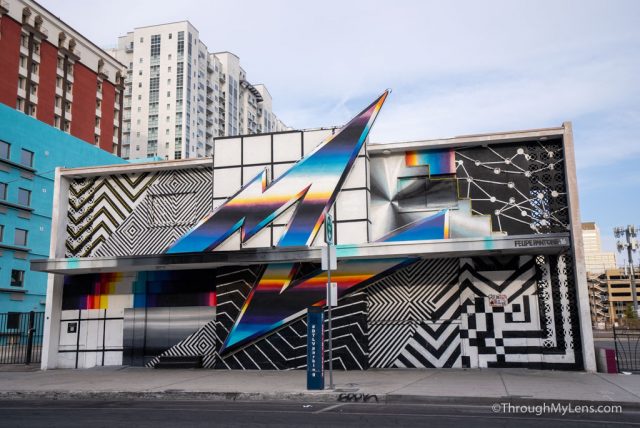 If you are exploring the area during the day, then my next free recommendation is to visit the downtown murals. The murals in this area of Downtown have become an attraction on their own. They are often painted to coincide with the Life is Beautiful Festival which happens every year. There are dozens of them all around the downtown area, and there are some impressive ones to see. I took about 45 minutes and just drove around to see as many as I could while I was there.
The last two recommendations are about 20-25 minutes outside of Las Vegas but they are fun free stops as well.
Sam's Town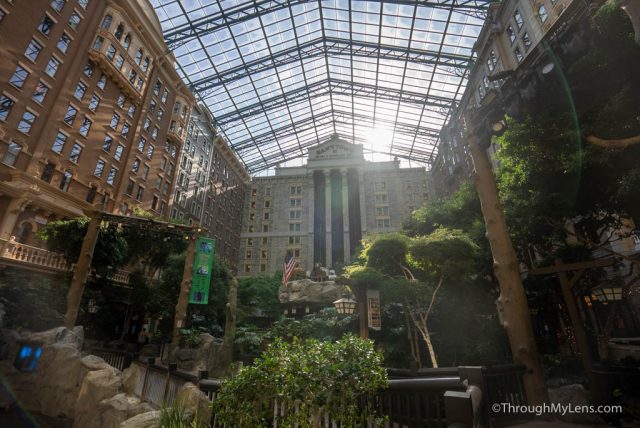 First up is a visit to Sam's Town. Sam's town has the Mystic Falls Park which is basically the middle of the hotel. This area has trees, creeks, and even a waterfall. It is beautiful to walk around and I heard it is lit up nice at Christmas as well. At night the waterfall has a show you can see and it is just overall a fun free spot to explore.
Ethel M Chocolates Factory & Cactus Garden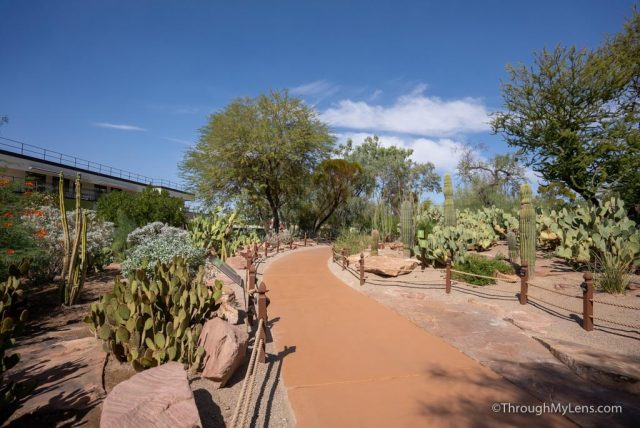 My last recommendation is Ethel M Chocolates and Gardens. This spot makes amazing chocolates and when you visit they usually give you a free sample and if you get lucky you may even see them making the chocolate right in front of you. They have a chocolate tasting you can pay for and an awesome peanut brittle milkshake in the summer that is worth buying as well. Outside of the factory you can walk the beautiful garden they have of cactus and other desert plants. It is just a fun spot to explore that's not what you would expect when you visit Las Vegas.
So there you have it, some of my favorite free attractions in Las Vegas. Let me know if you have something I left off in the comments and let me know if you want to see a part 2 of this post!