Our Route 66 journey took us from California to Illinois over 14 days. It was a once in a lifetime trip where we visited eight states and had countless unique experiences. I have a full video series I am making on this drive, but I also wanted to include the daily stops in blog post form as well. Here is day one of our Route 66 journey, in which we traveled from Santa Monica to San Bernardino.
Details
Santa Monica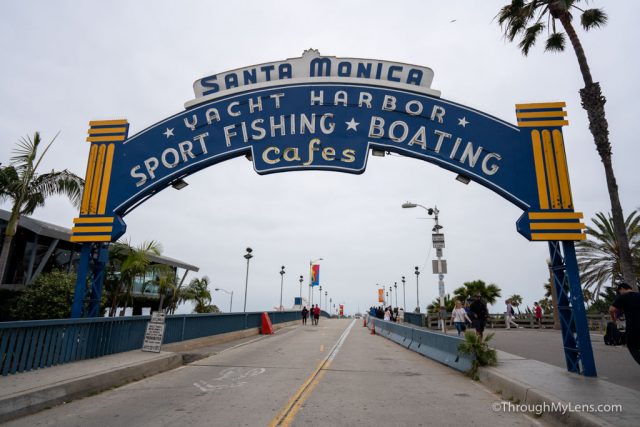 Santa Monica is the official endpoint of Route 66 and has a famous sign right out on the pier noting the endpoint. While the route never actually ended here but ended a few blocks away, it is still a great beginning or end to your Route 66 journey. We just walked along the pier and saw the historic Will Rodgers plaque on the corner of Ocean Ave and Santa Monica before heading on.
Hollywood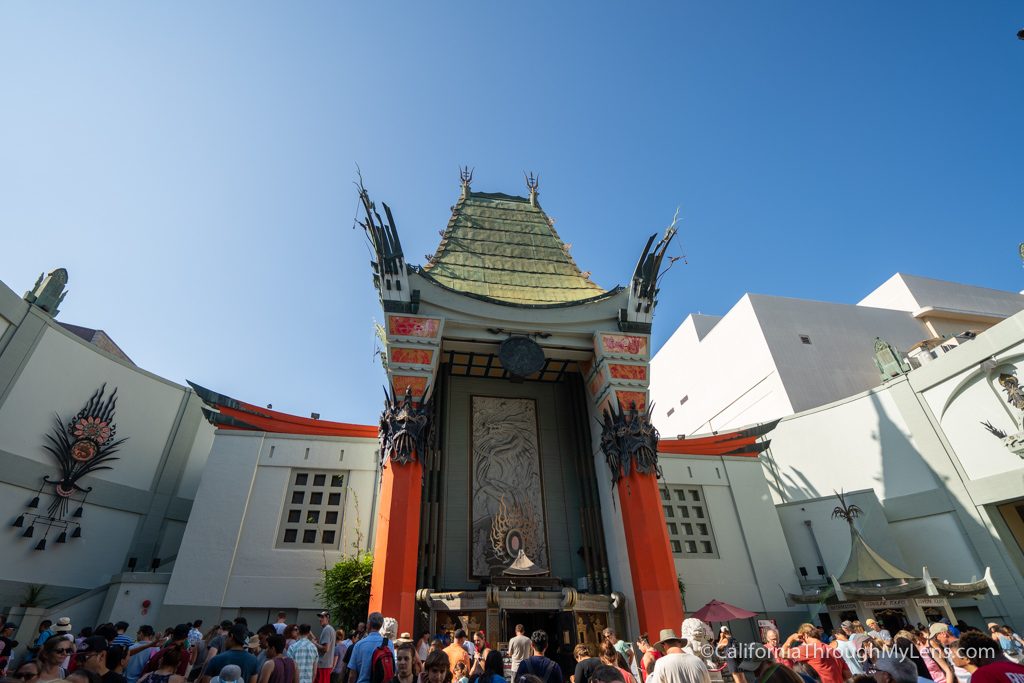 My dad and I didn't stop at all in Hollywood, as you need a half to a full day to really see it. If you have time though, you can stop in Beverly Hills, Sunset Boulevard, the Hollywood Walk of Fame, and Griffith Observatory, just to name a few. Here are some links to some of the content I have created on LA and Hollywood.
Downtown LA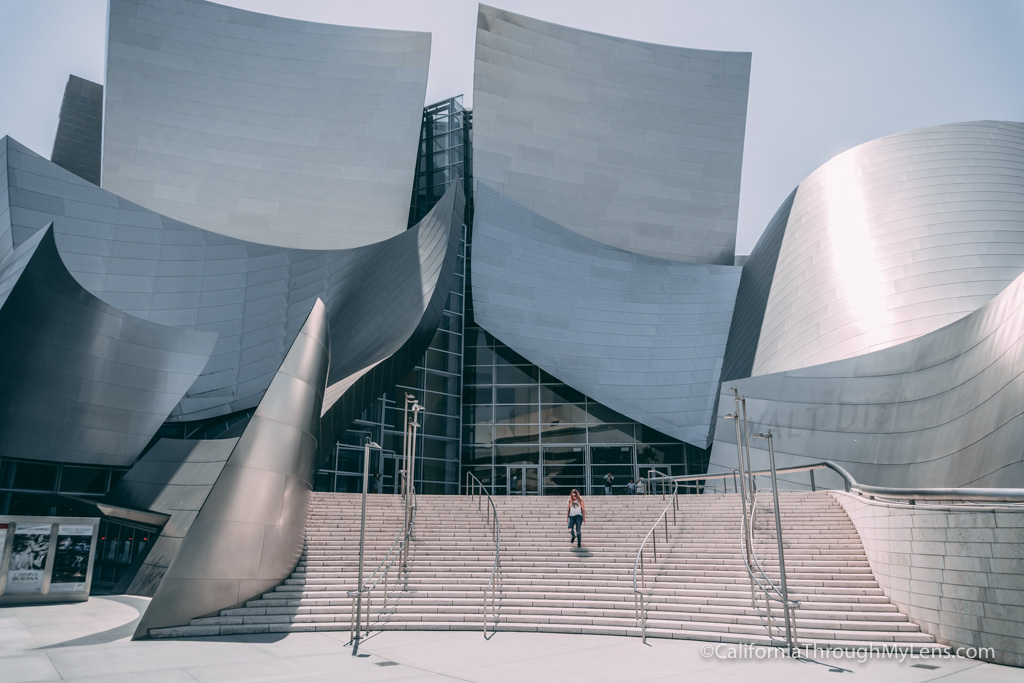 Downtown LA is also full of historic spots to see, but again it depends on how much time you have. I would recommend seeing Angels Flight, the Bradbury Building, and Grand Central Market if you have the time since they are important parts of Downtown LA. You can see more things to do in Downtown LA here.
110 Freeway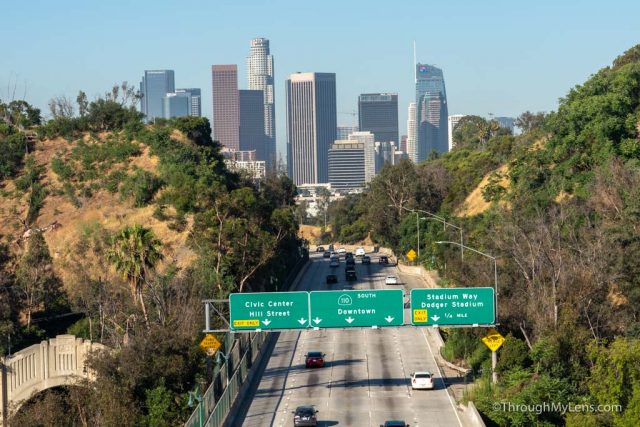 The Arroyo Secco Freeway is known as one of the first freeways in the United States. You will be driving this freeway as you make your way to Pasadena on Route 66. There is a great lookout point at Elysian Park if you want to get a view of the city as you drive away.
Chicken Boy Statue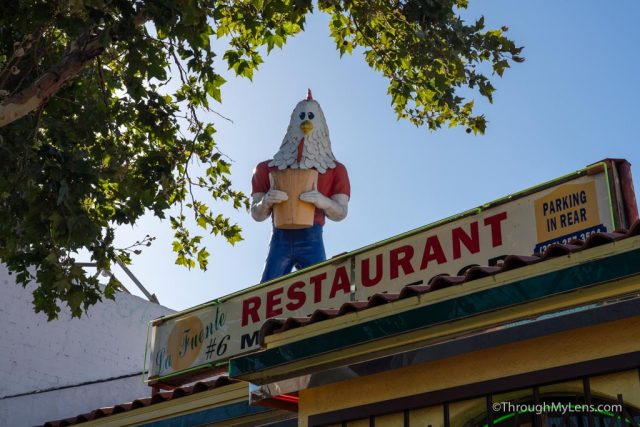 Getting off of the 110 Freeway at Figueroa Street will connect you with an old alignment of Route 66, and the first stop is the Chicken Boy Statue. This statue was a muffler man that had its hands turned in to hold a bucket of chicken and its head replaced with a chicken head. It is fun for a couple of photos.
Galco Soda Shop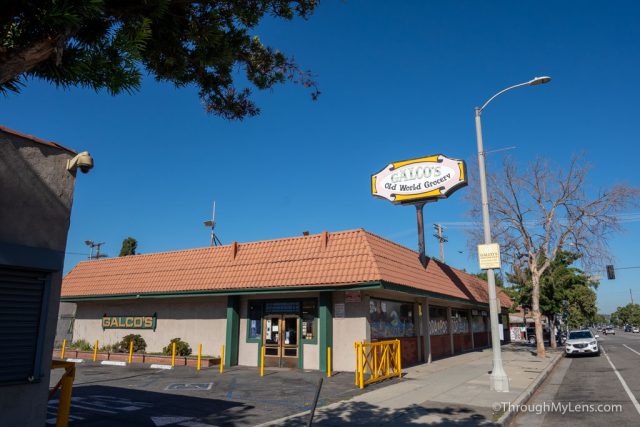 Galco Soda Shop is only 5 minutes away, and it is a historic store with over a century in Los Angeles. The store has more than 700 different types of soda and all sorts of fun candy from different decades as well.
Rialto Theater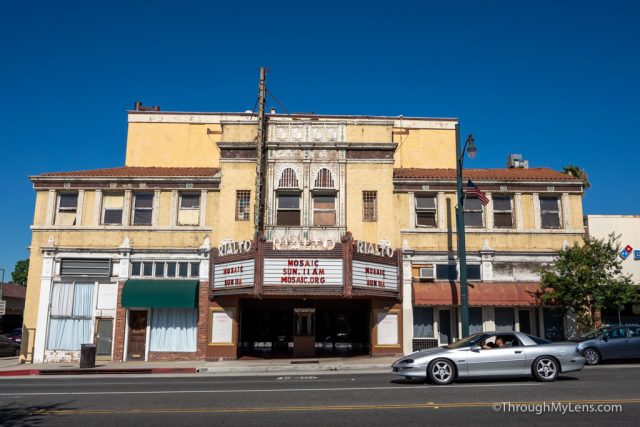 The Rialto Theater was built in 1925 on Route 66. It is pretty run down from the outside now, but hopefully it will be restored to its former glory one of these days.
Fair Oaks Pharmacy and Soda Fountain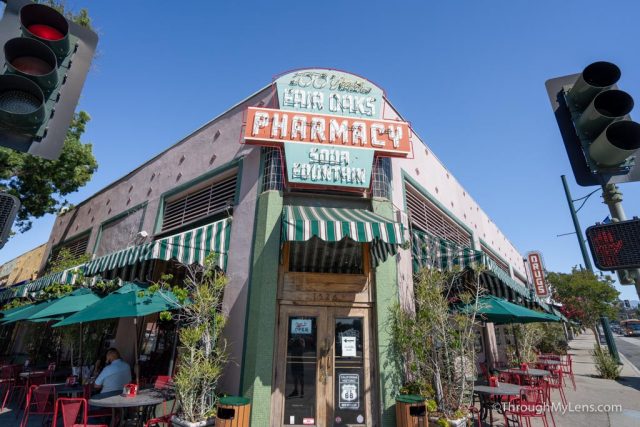 Fair Oaks Pharmacy and Soda Fountain is probably the best stop on this section of the drive. This place has been on Route 66 through multiple alignment changes, and it still serves phosphate sodas like they used to make them back in the day. There are dozens of different types of favors for you to choose from when you order your soda, and it is just a cool place in general.
Public Storage Co. Big Sign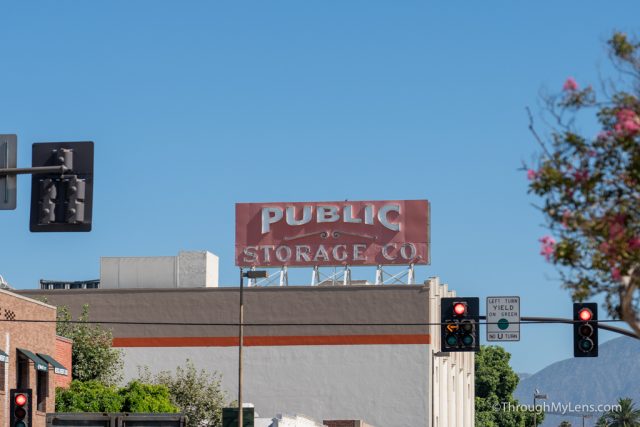 As you drive towards Pasadena, keep your eyes peeled for this big sign on the left, which has been here for decades. These signs used to be prevalent on the route, but this is one of the only ones left.
Colorado Street Bridge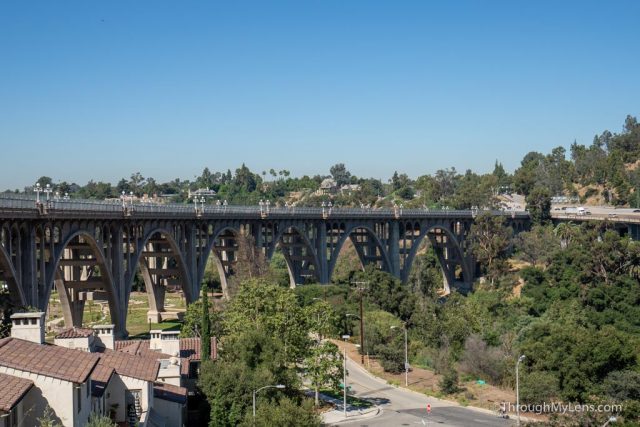 Colorado Street Bridge is the iconic bridge in Pasadena that was built in 1912. Its one of my favorite bridges in California to photograph, and I always love seeing it as I drive along Highway 134. You can park at the end of Grand Ave, but make sure to read signs, so you don't get a ticket.
Howard Motor Company Building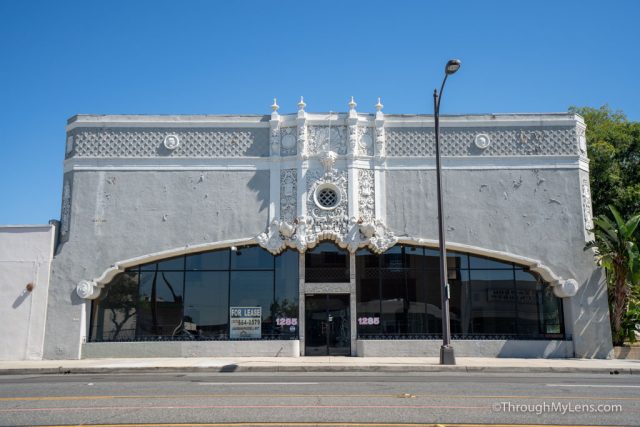 This is an old Howard Motor Company building from the 1920,s but all you can see is the exterior.
Mile Marker Sign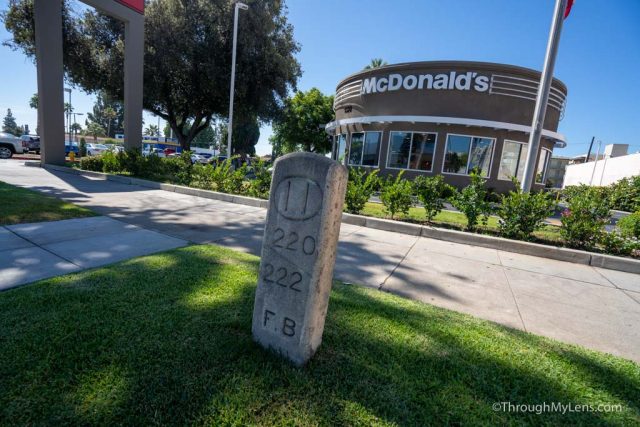 Across from the Howard Motor Company Building is a mile marker sign, one of many that used to be along Foothill Boulevard, but it is the only one that is remaining.
Aztec Motel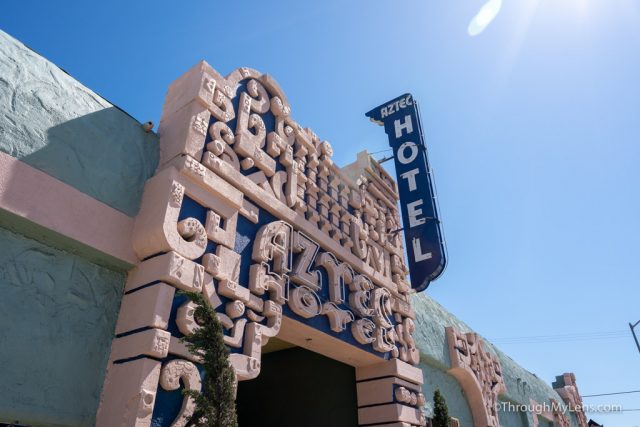 In the town of Monrovia, the Aztec Motel has been here since 1924. It is not currently in business, but it is being renovated so that hopefully it will be open to stay at in the future. it has an awesome exterior that is worth stopping by to see though.
Donut Man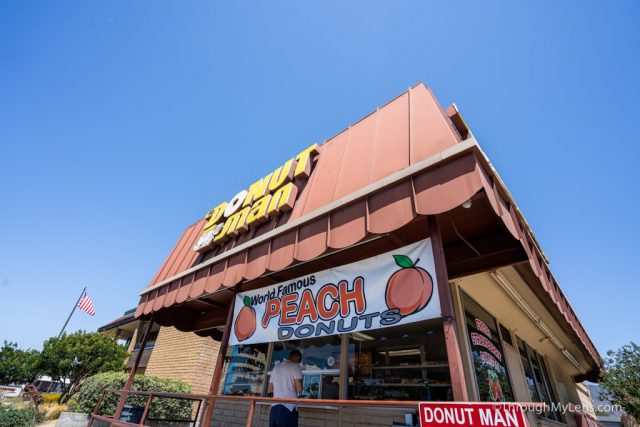 Donut Man has been a fixture on Route 66 since the 1970s, and it still serves up amazing donuts. The highlights here are the two fruit donuts, which are strawberry or peach, and are only available at certain times of the year.
Madonna of the Trail Statue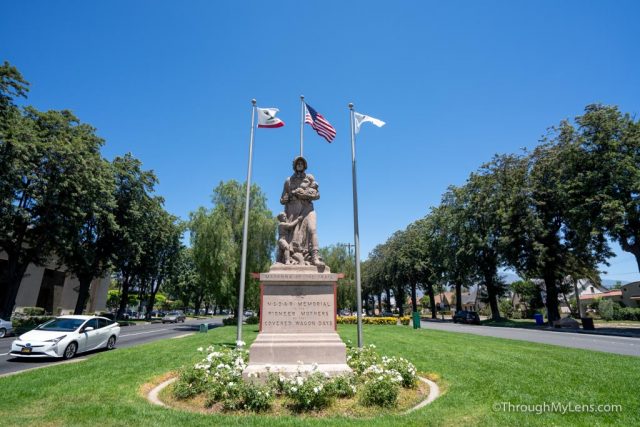 There are 12 of these statues between California and Maine, and they were designed to honor the spirit of the Pioneer woman. There are two on Route 66, one in Upland and the other in Albuquerque.
Magic Lamp & Sycamore Inn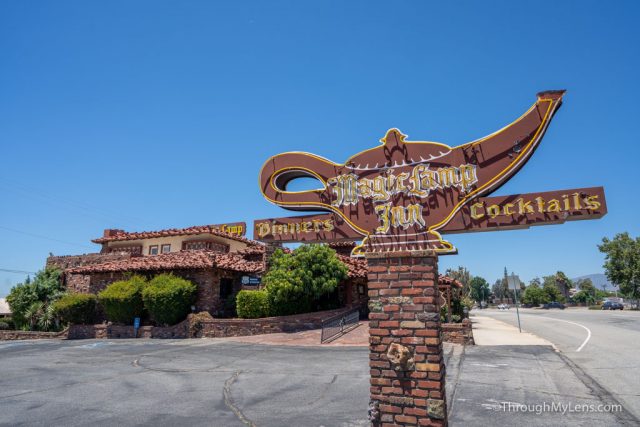 Both of these restaurants have been on the route for decades, with the Sycamore Inn being here since the late 1800s. If you are looking for a nice meal, this is an excellent place to stop.
Freeway Overpass with Route 66 Mural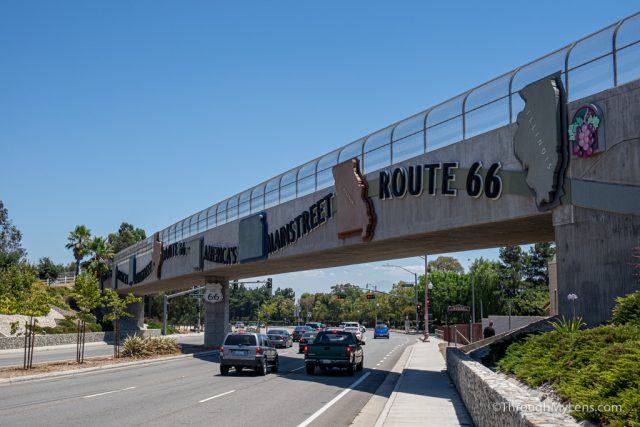 A few minutes away from the above restaurants, you will see an overpass that has a Route 66 mural on it.
Cucamonga Service Station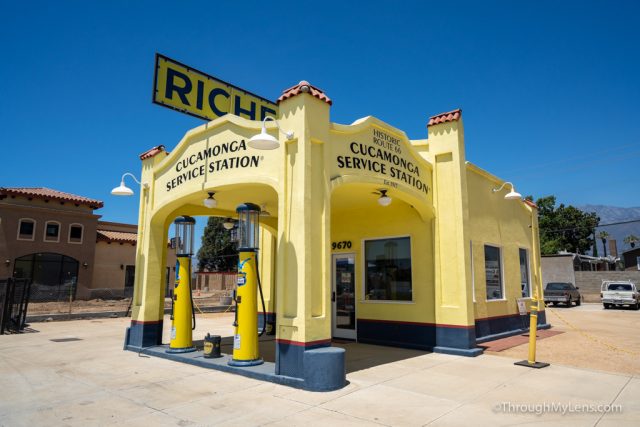 The Cucamonga Service Station is a recreation of a gas station from the early 1900s. It is one of the best spots to stop on your Route 66 journey in California, and if it is open, you can go inside and see a few of the exhibits. The volunteers that worked there were excited to talk to us about Route 66 as well.
Bono's Historic Orange Stand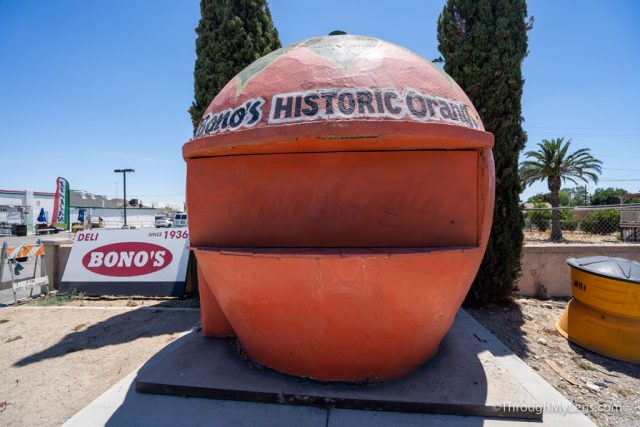 After passing Victoria Gardens, you will see the Bono's Historic Orange Stand on the right. These orange stands were used by farmers to sell their fruit and attract customers off the route. I believe this is the only one left today on Route 66 though.
Wigwam Motel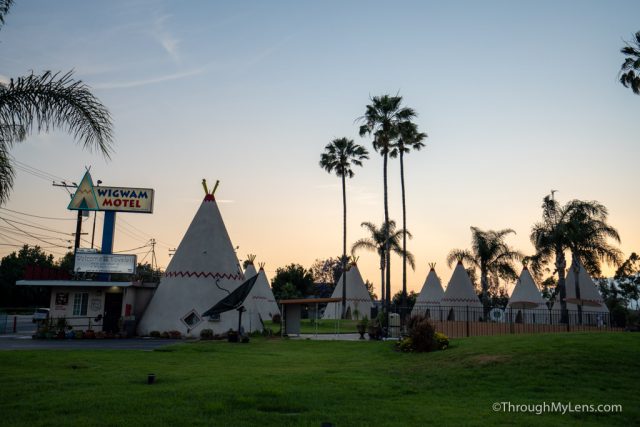 In San Bernardino is the first of two wigwam motels on the route (the other is in Holbrook, AZ). If you want to stay at either of these, make sure you get a reservation in advance as they often book up. We loved being able to stay at the Wigwam Motel, and it was a great first night on Route 66.
Mitla Cafe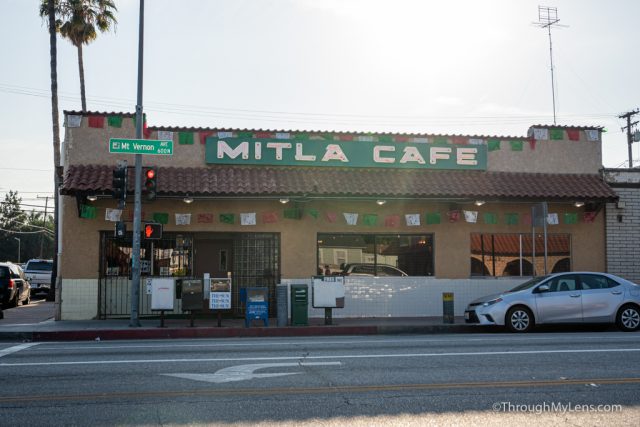 For dinner that night, we drove to Mitla Cafe, which has been here since 1937 and which was supposedly the inspiration for the Taco Bell taco. It is much better than Taco Bell though, and it is a great, historic spot for dinner.
Day One Highlight
Dad – Fair Oaks Pharmacy & Soda Fountain because it had a bunch of old school toys, a real soda fountain, and a nice friendly owner.
Me – Cucamonga Service Station because it was a great representation of the gas stations on Route 66, and it had a fun bell that you could step on that was like what it would have been like when someone drove in.
Route 66 Videos
Here is a playlist of all the videos I made on Route 66.
That's the end of Day 1 on our 14 day Route 66 journey; you can continue the journey here and let me know what I left off in the comments.